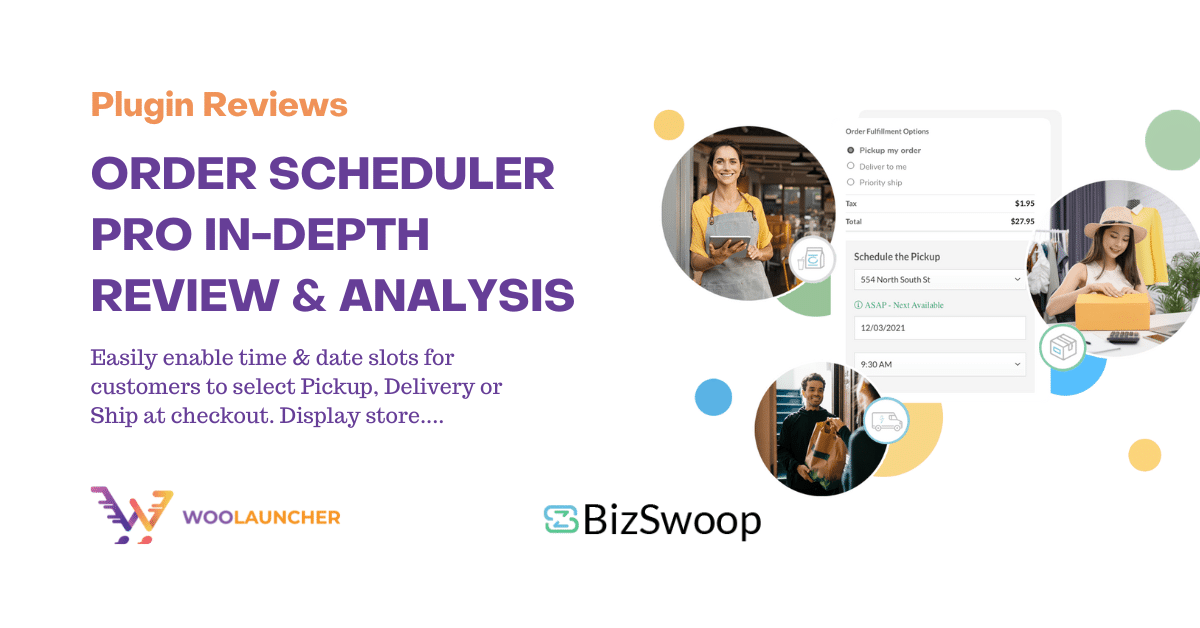 Remember the last time when you were to order something online and couldn't select a suitable time for delivery? It's often a common scenario for online shops. Adding custom dates and time slots offers customers the flexibility of online shopping.
For WooCommerce shop owners, here's the good news. Order Scheduler Pro schedules your orders and enables delivery/pick-up as per customers' preferable time. It is a WooCommerce extension that brilliantly manages your online orders by simplifying online and in-store operations. But there is more!
Today we will learn everything about Order Scheduler Pro and how it improves the checkout process by introducing an intelligent schedule system.
What Does Order Scheduler Pro Do?
Order Scheduler Pro by BizSwoop is a well-developed WooCommerce extension. It introduces versatility and order to a regular and monotonous checkout process. Whether pick-ups, delivery, or shipping, you can offer customers custom slots for everything.
It is the key to delivering your products safely and effectively in customers' hands and going easy on your staff. You have upper control over the store's checkout configurations and seamlessly add different options to the checkout.
Order Scheduler Pro offers a systematic and comfortable platform for admin and customers. There is more to it, and the next part will describe the smart features of this remarkable scheduler.
Need help with WooCommerce products? Checkout 7 Best Tech Essentials for WooCommerce.
Loving what you read?

Join our newslettter today!
Order Scheduler Pro: Features and Benefits
In this part, we will explore all the features of Order Scheduler Pro and learn more about how they help to get more sales by improving the WooCommerce checkout experience.

Schedule Delivery
The idea of order scheduler pro is to introduce flexible delivery options to customers. Thousands of online shops are active, but only a few offer custom delivery/pick-up times. With Order Scheduler Pro, you can now offer different time slots. Customers can select their suitable delivery time with their preferred delivery options. With such a comfortable solution to checkout, prospects will be more interested in confirming the cart and making a sale!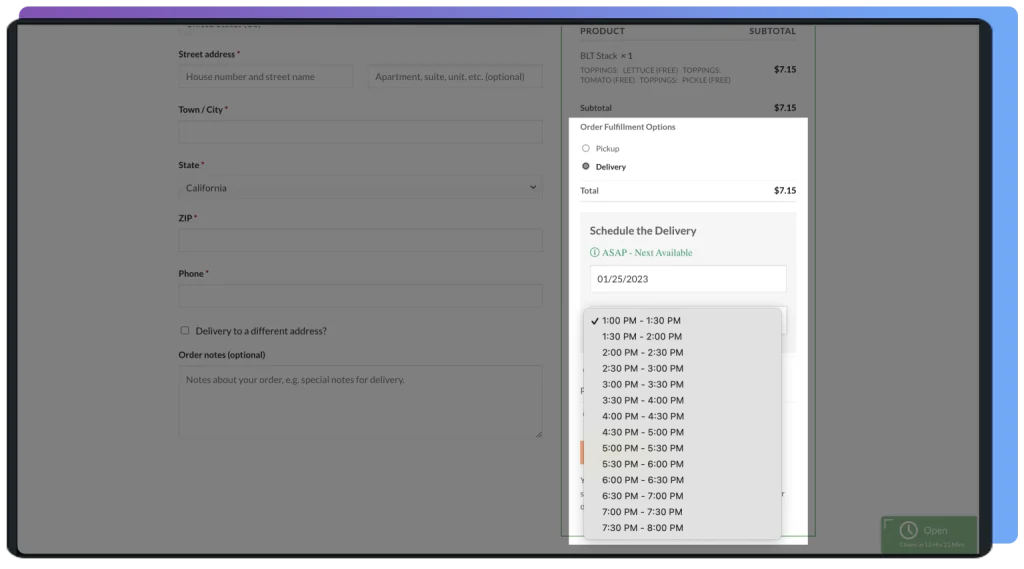 Checkout Options
With Order Scheduler Pro, let your customers select between different delivery options. You have – Pick-up, Delivery, Ship, Curbside Pick-up, Click & Collect, White-glove in-home setup, FedEx Ship, or any other custom method your service needs.
Besides, there is a clever trick that Order Scheduler Pro has. You can show or hide delivery options depending on the checkout address and create delivery zones—for example, set rules for free delivery within a 10-mile radius and $5 for farther.
Order Volume
Set order volumes as you like and let your orders come smoothly. For each time slot, you can set limits to orders and accept only the ones you are capable of. You can also define minimum waiting times, delivery cut-off, pre-order options, click-and-collect, fulfilment zones, and more using the calendar option.
Order Scheduler Pro introduces the smart scheduling system to your WooCommerce store. For example, suppose there is no booking available for any specific slot. In that case, Order Scheduler Pro will automatically suggest the next available time slot and auto-select it for an effective checkout.
Order Hours and Widgets
There are store close and open hours pop-ups. Releasing your store open/ close hours with Order Scheduler Pro is more exciting. There is a countdown timer to highlight your store closing hours.
You can set up your store hours. And Order Scheduler Pro will automatically display your open/ close hours. Based on availability, Order Scheduler Pro can also turn the store checkout on and off. Plus, you can create and use the floating hours widget to personalize your brand appearance. The floating hours widget acts as a digital sign.
Friendly Store Experience
Order Scheduler Pro enhances WooCommerce checkout with additional options. With the quick calendar view, customers can select their preferable order options.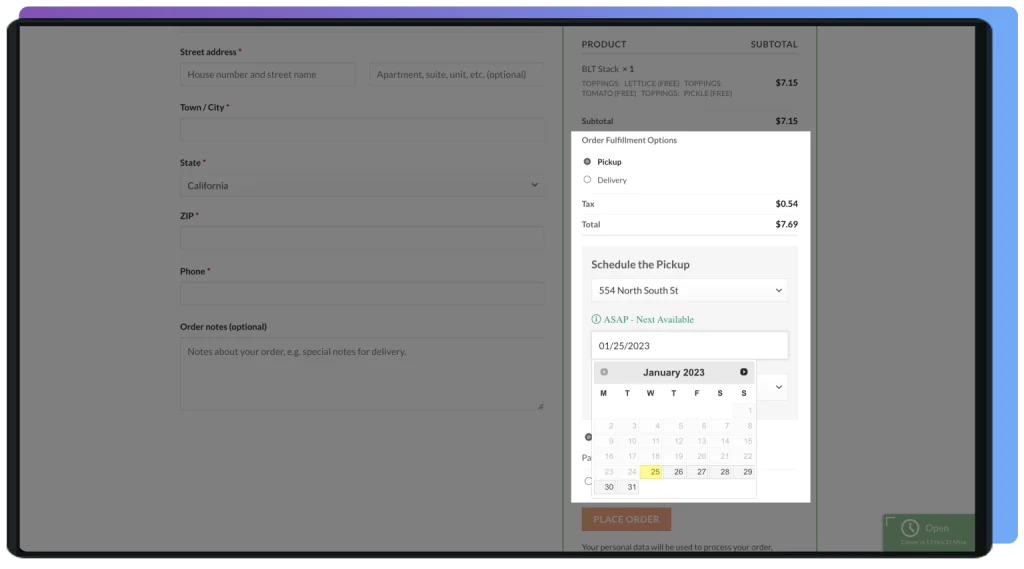 Conversely, admins can improve store experience by setting their terms like custom order volumes, minimum setup cart price requirements, order fees, unlimited pick-up locations, custom status, descriptions and tooltips, action icons, and many more.
Compatibility
This is a highly flexible plugin. Order Scheduler Pro gives you a broader scope to connect with other plugins. It is seamlessly compatible with BizPrint for seamlessly printing receipts and labels. This integration also ensures your order flows reach an efficient level. Besides, you can also use Order Scheduler Pro with Jovvie, an ideal point of sale for WooCommerce to have a synced inventory.
Easy to Manage
You can optimize checkout options differently with Order Scheduler Pro. Start with the preview feature to show all the order type information to simplify and organize all operations. You can also use the valuable sorting and filtering option to track orders effectively.
With Order Type Information, you can easily access the order details page and instantly change orders by date, location, time, and date.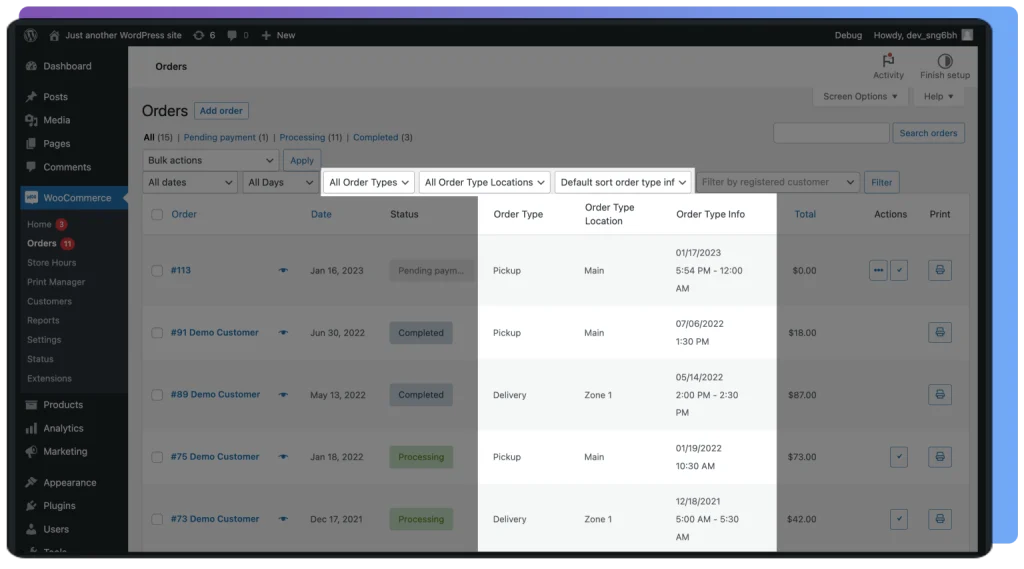 Digital Store Sign and Shortcodes
We already mentioned the floating hour widget. It works as a digital sign for your store. With this, you can develop a visually branded digital store hours to shut down or open WooCommerce checkout, depending on store availability.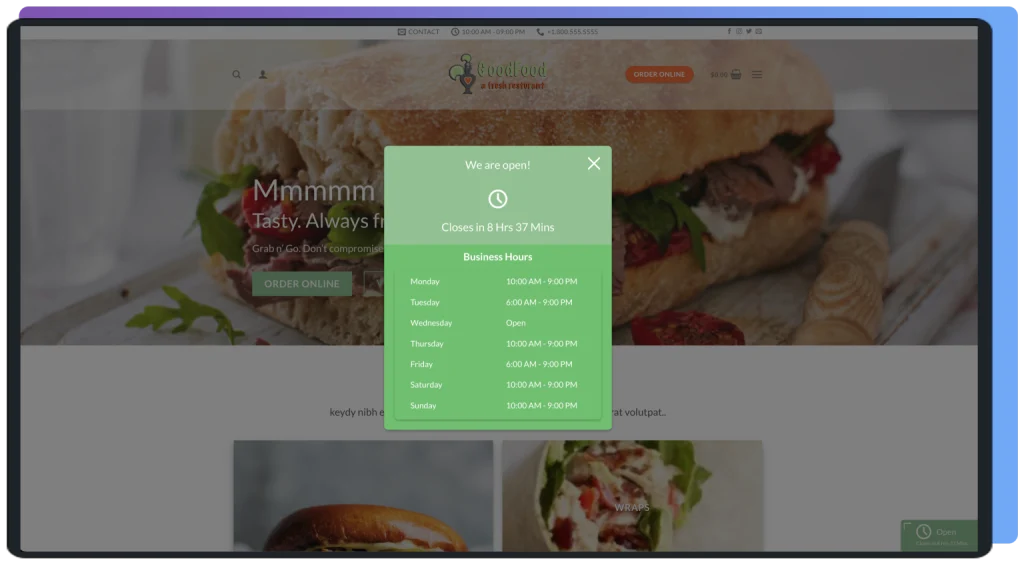 Besides you can also customize the widget as you like. Start with visual notifications, or go for the pop-up notifications. You can personalize the colors, and branding, add your logo or an icon and work with the dismiss status or duration too! You can also use shortcodes to display your store's dynamic open/ close hours.
Device Friendly
Overall, Order Scheduler Pro by BizSwoop is an excellent plugin to mobilize your checkout process. The developer team has put quite an effort into developing this plugin and made sure it is available to people using any device.
It is optimized for all screen sizes – desktop, mobile iPhone, Android, Tablet, iPad, computer, desktop, Laptop, Mac, Windows, MacBook, and Chromebook.
Here goes the feature list for Order Scheduler Pro. But there is more to it. Start using the plugin at $99/ year. And if this one doesn't turn out to be what you expected, you have a 30-day money-back guarantee without a blink!
Support and Price
"We are happy for support from a team of professional people. The response time was great. Before the earth rotated twice everything was working. "

– Matt Elderson, East Food House
BizSwoop allows you to use the plugin before you pay! You have a 30-day money-back guarantee to dismiss the plugin and move on! Besides, you have this easy installation guide to help you with every step of the WooCommerce extension. It covers everything you need to operate the plugin successfully.
The 5-star support team is always up-to-date to help you with your needs. Help is available in your language at any time of the day. But before you reach out to them, performing the plugin conflict test is recommended. However, don't run the test on a live site. Instead, make a clone to your store and put it on the test domain for further investigation.
As for price, Order Scheduler Pro is available at $99/ year at the WooCommerce marketplace. No different plans are available, and you have 1-year support and free plugin updates.
Final Words
Order Scheduler Pro is great for fashion & apparel, health & beauty, electronics, food, drink, restaurants, wholesale, & more. It is a simple, ready-to-use plugin that anyone can use. This could be an ideal solution if you want to simplify the checkout process and add flexible options. For more, you can always contact the support team and resolve any issue.
To read more articles like this, support us by subscribing to our daily newsletter at WooLauncher. 👏