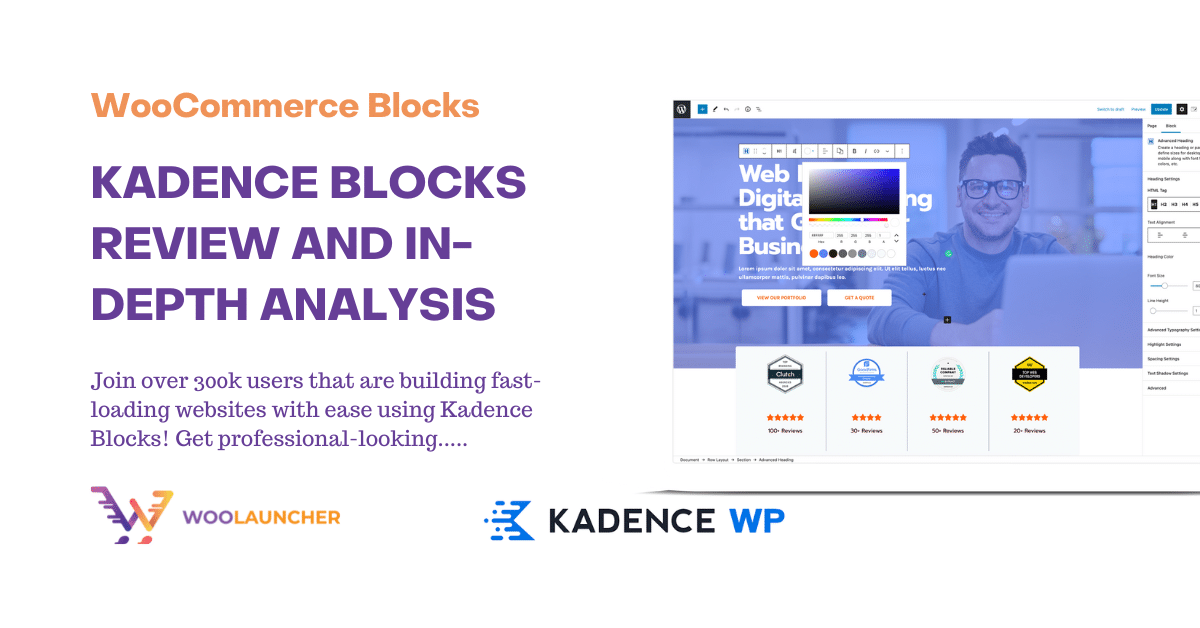 Have you heard the name Kadence? Kadence WP is best for its multipurpose and lightweight Kadence Theme. But that's not all. They are loaded with products that help your WooCommerce store to grow.
One of the unique tools from Kadence WP is Kadence Block. It is built to extend Gutenberg's default capabilities, and you can have custom blocks without prior coding knowledge. Kadence blocks offer higher customization features, usability, and present-time block solutions for WordPress.
But our point of discussion today is how extensive its features are and how it helps your WooCommerce store stand out from the competition.
What Is Kadence Blocks?
Kadence Blocks is a flexible block plugin for WordPress. It is designed to create custom blocks and enhance the editing functionalities of Gutenberg. It is available both in free and premium versions. The free version is significant in features. However, Kadence Blocks Pro is the right tool to enrich your online store with exciting lookovers.
It is compatible with all WordPress themes. But, it is wise if you use it with Kadence Theme for better and effective results. 
You can also create appealing and feature-rich websites with Kadence Block. It offers a set of pre-made design blocks. You can drag and drop and customize them endlessly to develop new web pages without any prior coding knowledge. However, you will need Kadence Starter Templates to use the pre-built templates. It is free and downloadable.
Loving what you read?

Join our newslettter today!
Kadence Blocks for WooCommerce
Kadence, with its completely packed tools for WooCommerce, is an ideal choice for your online store. They have multiple products to enhance your WordPress site and WooCommerce store. To enhance the user shopping experience with WooCommerce and make it more effective, Kadence has Shop Kit. It is specially developed for WooCommerce to build conversion-friendly pages. 
However, today's hot topic is Kadence Blocks and how to use them for WooCommerce. Let's get started.
Kadence Blocks Features
Kadence Blocks are genuinely like using Gutenberg Blocks. But it has more options for customization. The free version is enough to develop a fully functional website. However, if you want to offer a premium online experience, the Kadence Blocks Pro will blow your mind. Let's take a quick look at Kadence Block Features for both custom blocks and key blocks:
You can create rows/layouts with nested blocks (as columns or containers). You can even style the rows with custom backgrounds, overlay, padding, etc.
You can revamp your online store with over 1500+ SVG Icons with a fast loading speed. Plus, they are adjustable in size, color, and even stoke width.
Kadence Blocks only loads the CSS or JavaScript when needed, also for blocks on any specific page.
Get device-friendly blocks with Kadence. Kadence blocks are flexible for different screen sizes. You can edit tablet/ mobile settings while getting a live WordPress preview.
You can choose from 900+ google fonts and gain the ultimate typography control for your site.
Kadence Blocks offers you limitless options to customize. You can take control of the background and color with Gradients, Overlays, Blends, Parallax Backgrounds, Borders, and other options.
You can create powerful contact and marketing forms and style them accordingly using the form block.
Custom vertical and horizontal tabs are also available in Kadence Blocks. Tabs are the empty canvas that can associate any blocks with advanced styling.
Set up default settings with blocks for the first few times, and it will be automatically applied to other blocks.
Easily hide block settings from specific WP user roles. You can keep them away from block design and let them focus on content only.
Take confidence in your brand and preview valuable and appealing testimonials. Testimonials are available in the free Kadence Blocks too.
Display product/ post/ portfolio carousel with Kadence Blocks. It's a pro feature, and you must enable the license key to avail of these features.
Also, get custom fonts and custom icons to perfectly design your website. You can also upload Adobe Fonts.
To fasten up campaigns, you can set countdowns with Kadence Blocks. It's a pro feature.
You can enable Lottie animation control for animation playback speed, loops, and other setups.
That's not all. There are more! Kadence Blocks is a platform for creating unique content and a seamless online experience. We have highlighted both the free and pro features of Kadence Blocks here. In the next part, we will know how and which Kadence Blocks will enhance the WooCommerce shop experience.
Blocks for WooCommerce
Kadence Blocks offers some premium store blocks that will improve your shop experience. To use these blocks and build powerful landing pages or carousels, ensure you have WooCommerce installed on your WordPress site. Take a look at the WooCommerce Blocks by Kadence WP here:
Product Carousel: Give your products a chance to grow. You can add product carousels with Kadence Block. A carousel is the best way to showcase your products. You can apply this trick with Kadence Blocks Pro. Check out the demo here.
But that's not all. Kadence Blocks Pro allows you to add grids for portfolios and posts with heavy designs. You can customize the styling and select the carousel elements individually or by taxonomy.
Product Title: Give a shiny title for products. Like Gutenberg headings, you can add product titles with Kadence Blocks and assign a heading order.
Product Categories List: This block previews a list/ dropdown of all categories with existing products. Categories with no products won't be visible in the list.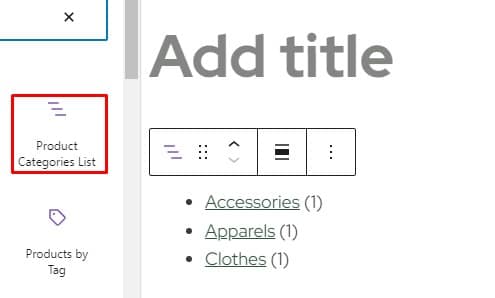 Products by (Category/ Tag/ Attributes): With this, you can select categories, and Kadence Block will automatically display them as a grid.
Products by Tag is the same as Products by Category. You only need products and assign them to tags to use this block. The same goes for Products by Attributes as well.
All Products: Display products from your store anywhere on your website here. You must ensure products are already available in the store to use this block.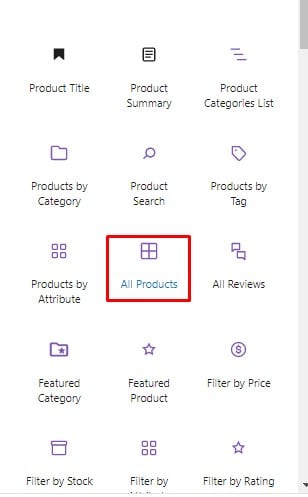 All Reviews: One of the most useful blocks is All Reviews from Kadence. With this block, you can attach product reviews to any page.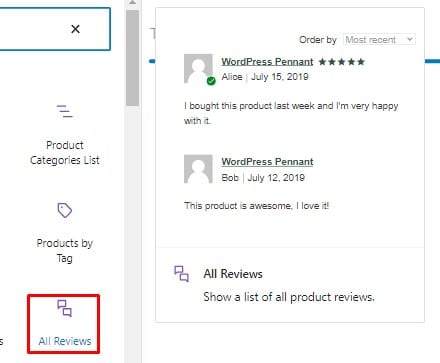 Featured (Category and Product): Highlight any one category or product you wish for promotion. Using these two blocks, you can do that.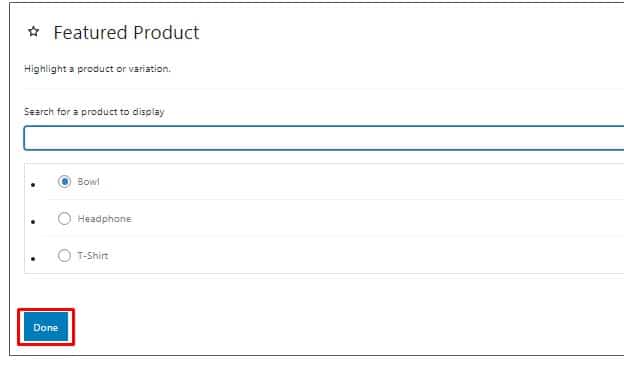 Filter by (Price/ Stock/ Attributes/ Ratings): There are four different Filter blocks for WooCommerce. You can allow your customers to filter products by price/ stock/ attributes or ratings.
Product Summary: Don't forget to add a little disclosure about your WooCommerce product. Kadence Blocks for WooCommerce makes sure you get one.
Hand-Picked Products: You can create a separate section for hand-picked products and assign products to that block.
Best-Selling Products: This block shows your store's best-selling products. You can highlight your best-sold products anywhere on the site.
Product Search: This block introduces a quick search bar for your customers. They can type and search through products easily from your site.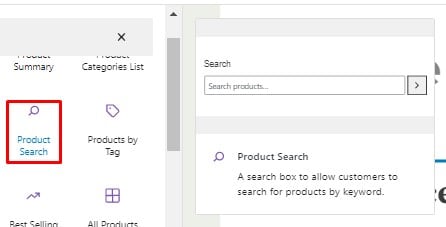 Newest Products: Enable this block, and Kadence will automatically pick up newly created products for your store.
Top Rated Products: It's the same as showcasing any special products. You can highlight your top-rated products anywhere on your site using this block.
On-sale Products: Let your customers know the products currently on sale in your online store.
Reviews by (Category and Product): You can also filter reviews by category and product. This is essential for product landing pages or category pages.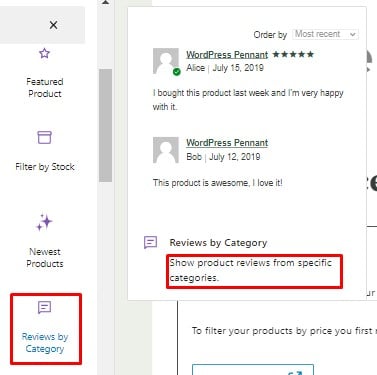 Cart: Enable real-time carts on your web page using this block. It's easy, fast, and highly customizable.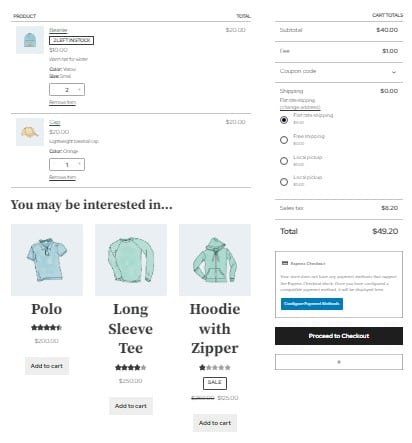 Checkout: This Kadence Block lets you add a quick checkout button anywhere on your site. You can configure the payment methods from WooCommerce Payments.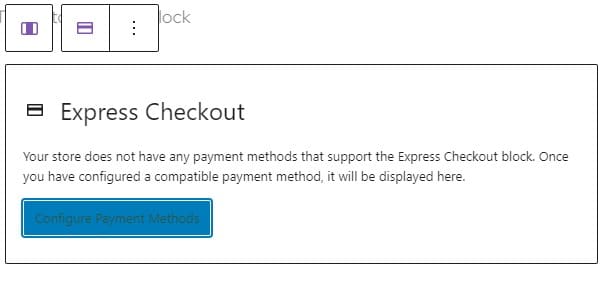 Mini Cart: Display a mini cart widget anywhere on your site to indulge customers in purchasing products.
Active Filters: Enable active filters to keep your customers away from empty filters. And allow them to select products neat and clean.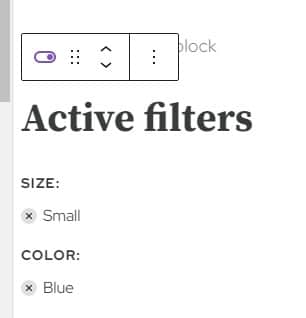 Customer Account: You can also enable your customers to log in/log out to your store using this block. It's easy to implement and set up.
These are the Kadence Blocks for WooCommerce. Kadence Blocks are remarkable for building and customizing your site accordingly. But if you want to improve your WooCommerce store experience, Kadence Blocks can be an ideal solution.
Final Words
Building a WooCommerce store from scratch is time-consuming. It requires much effort, resources, and several pre-tests before getting live. But Kadence Blocks for WooCommerce can make the job easier for you.
These blocks are dynamic, easy drag-and-drop, and offer a comprehensive interface for users. The free version is reasonable for developing a self-sufficient online website. But to build a powerful and unique store experience, it is wise to go with the pro version.
This was all for Kadence Blocks for WooCommerce. To get more articles like this, subscribe to our daily newsletter at WooLauncher.