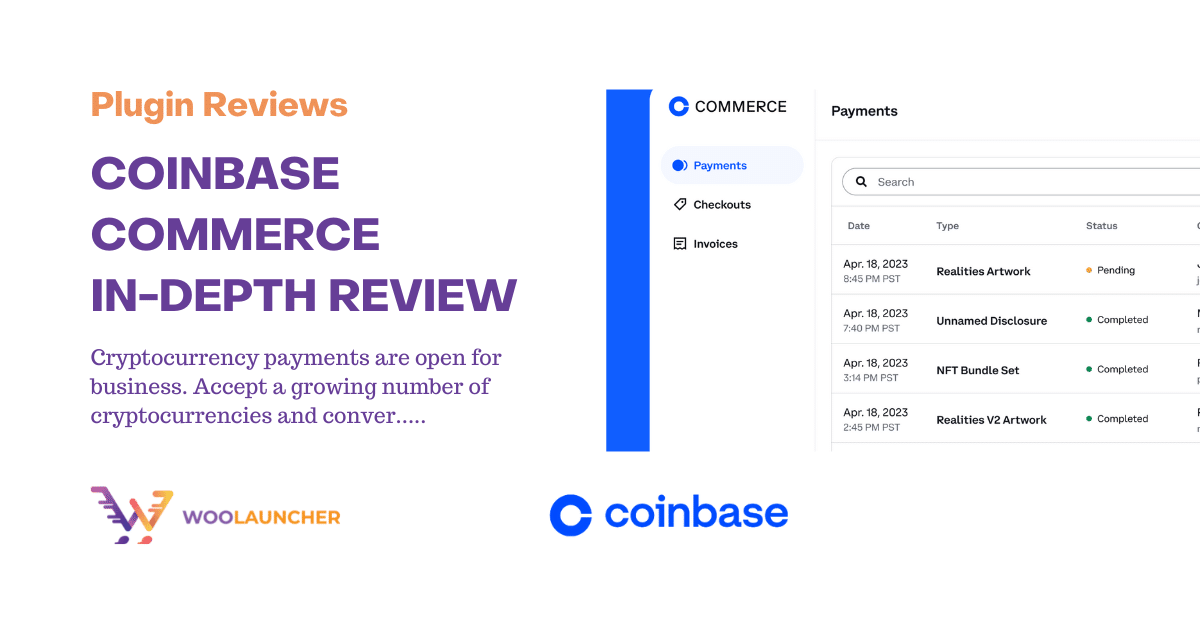 Cryptocurrency is getting closer to becoming one of the major payment adoptions in modern days. Business owners are more comfortable with cryptocurrency for goods and service exchange due to its flexibility and cost control.
Without a reliable cryptocurrency service, it's nearly impossible to introduce an updated online store system. For WooCommerce users, here's the good news. Meet Coinbase Commerce. 
Introduced by Coinbase Inc, it offers an easy crypto solution for your WooCommerce store. Coinbase Commerce integrates the ability to accept cryptocurrency through your online portal and get recognized easily.
Today, we will learn all about Coinbase Commerce and its functionality. Go through this article to learn how Coinbase Commerce helps your store accept international payments easily.
What is Coinbase Commerce?
What's coinbase commerce? Coinbase commerce is a cryptocurrency exchange service developed by Coinbase Inc, a secure and popular platform for buying and selling cryptocurrencies. This plugin enables your WooCommerce store to accept multiple currencies while offering protection from market volatility. You can easily convert to cash or stablecoins.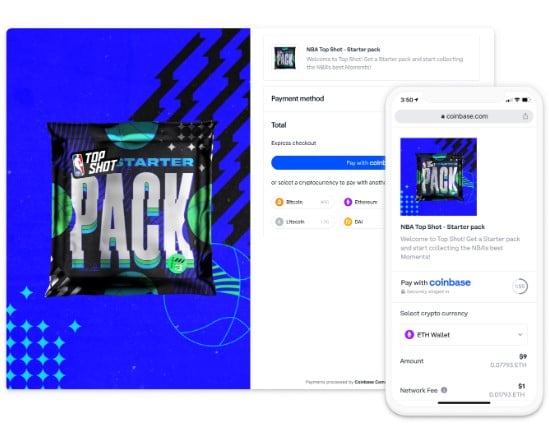 All you have to do is install and configure Coinbase Commerce for your store, and potential buyers can use a variety of cryptocurrencies in order to exchange goods and services. Cryptocurrency gateways like Coinbase Commerce make sure you are in full charge of the assets you grant.
Manage your crypto funds safely and securely with Coinbase Commerce's self-managed option, or you can let Coinbase commerce do the job! However, both scenarios have some geographical limitations. 
Coinbase Commerce is a free WooCommerce extension. With this cryptocurrency payment gateway, you are getting free updates and customer support at any time of the year. Besides, official docs are on stand to help you with the operations.
Loving what you read?

Join our newslettter today!
Coinbase Commerce: Features and Benefits
Coinbase Commerce is a quick and simple payment gateway. With Coinbase, you have some merchant services, such as features, in exchange for a fee. It is available in 100+ countries. But features may vary from country to country. 
In this part, we will learn about coinbase features and how it helps to bloom your business.
Usability
Coinbase Commerce is impressively easy to install and set up. You only need a Gmail account to create an account here. Signing up with Coinbase Commerce is the same as setting up any regular crypto wallet. 
Things are easier with a self-managed account. However, if you want to have a coinbase-managed account, you will need other credentials like personal information, IDs, driving licence, and meet zone-based KYC policies. 
Custom Checkouts
Coinbase Commerce offers you a custom checkout policy. You are in full authority to select from the supported crypto assets and allow only the ones you want to accept. You can create and add prices to different products for the checkout page.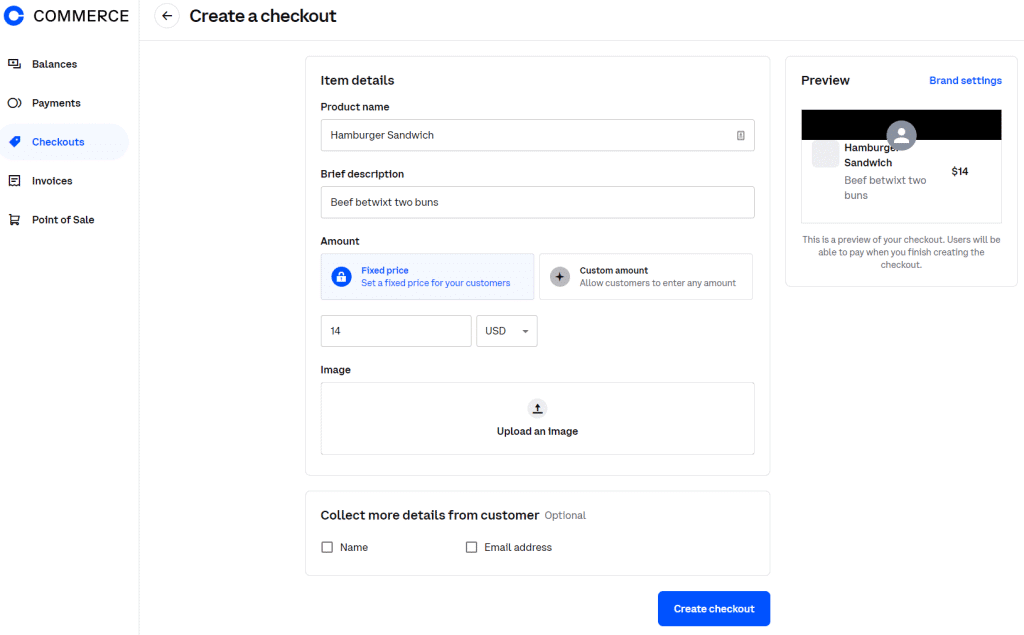 When you have created a product with Coinbase, the plugin will generate a link. You can embed this link anywhere on your website. And by clicking that link, people will be redirected to the checkout page. Coinbase is careful about transparency. Hence, with the plugin, you can also request customer information.
Invoices and Reports
With Coinbase Commerce, you can effectively bill and invoice your customers in crypto. Coinbase keeps track of every invoice and its status. The form includes labels like customer email, name, additional information, and requested amounts. Invoices can be linked to checkout pages too! 
You can send the invoices through a link or attach them in an email. While clicking on the link, customers will be redirected to the checkout page. Additionally, you can create transactional reports to manage everything from one place! It's a simple process and will only take one minute from your schedules.
Turnkey API
We know Coinbase Commerce is easier to use. However, with Coinbase, you can create custom workflows and checkouts too! The plugin features libraries in Python, Node.js, Ruby, and PHP. Coinbase is flexible for beginners. However, professionals and coders are welcome too. You can create embed buttons or custom checkouts. Copy them easily and paste them anywhere on your website. Learn how to create API key with Coinbase.
Payments
With Coinbase Commerce, you have a dedicated merchant account for transactions. As we already know, there are two different ways to manage this wallet: self-managed and coinbase-managed. A self-managed account offers more flexibility than a coinbase-managed account. Also, coinbase-managed accounts do not apply to various cryptocurrencies as self-managed accounts. However, with free conversions, you have payments in dollars, euros, pounds, and others.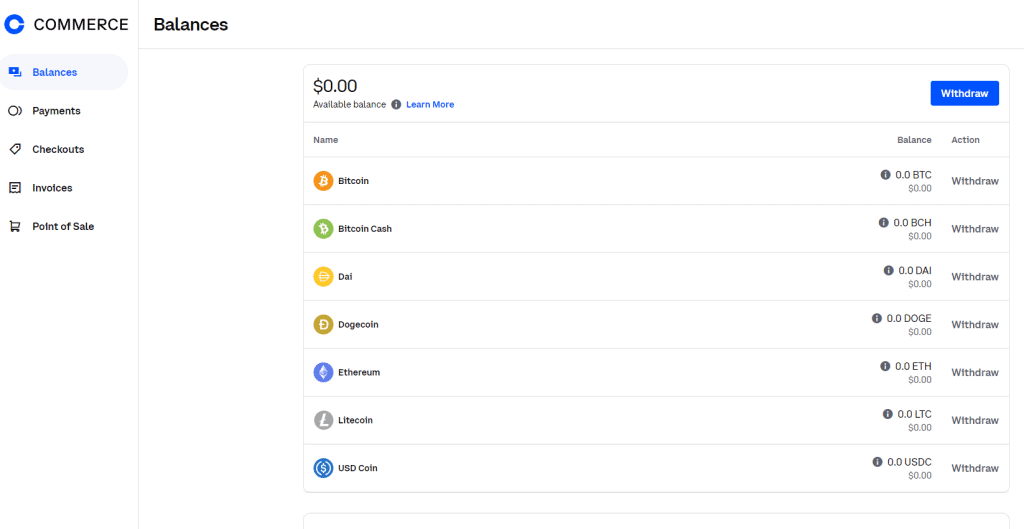 Device Friendly
Coinbase Commerce is available both in mobile/ tab and desktop versions. People, now, can pay from anywhere on the world even if they are on the go! Being available in different devices makes it easier reach different customer segments and increasing your chances of sales!
Supported Currencies
Coinbase Commerce supports quite a few blockchains; previously popular. Bitcoin and Ethereum are the most common of them all. However, other supported blockchains vary based on account types. With self-managed accounts, you can offer Bitcoin (BTC), Ethereum (ETH), Bitcoin Cash (BCH), DAI, Dogecoin (DOGE), Litecoin (LTC), and USD Coin (USDC).
For Coinbase-managed accounts, supported blockchains are Bitcoin (BTC), Ethereum (ETH), and USD Coin (USDC).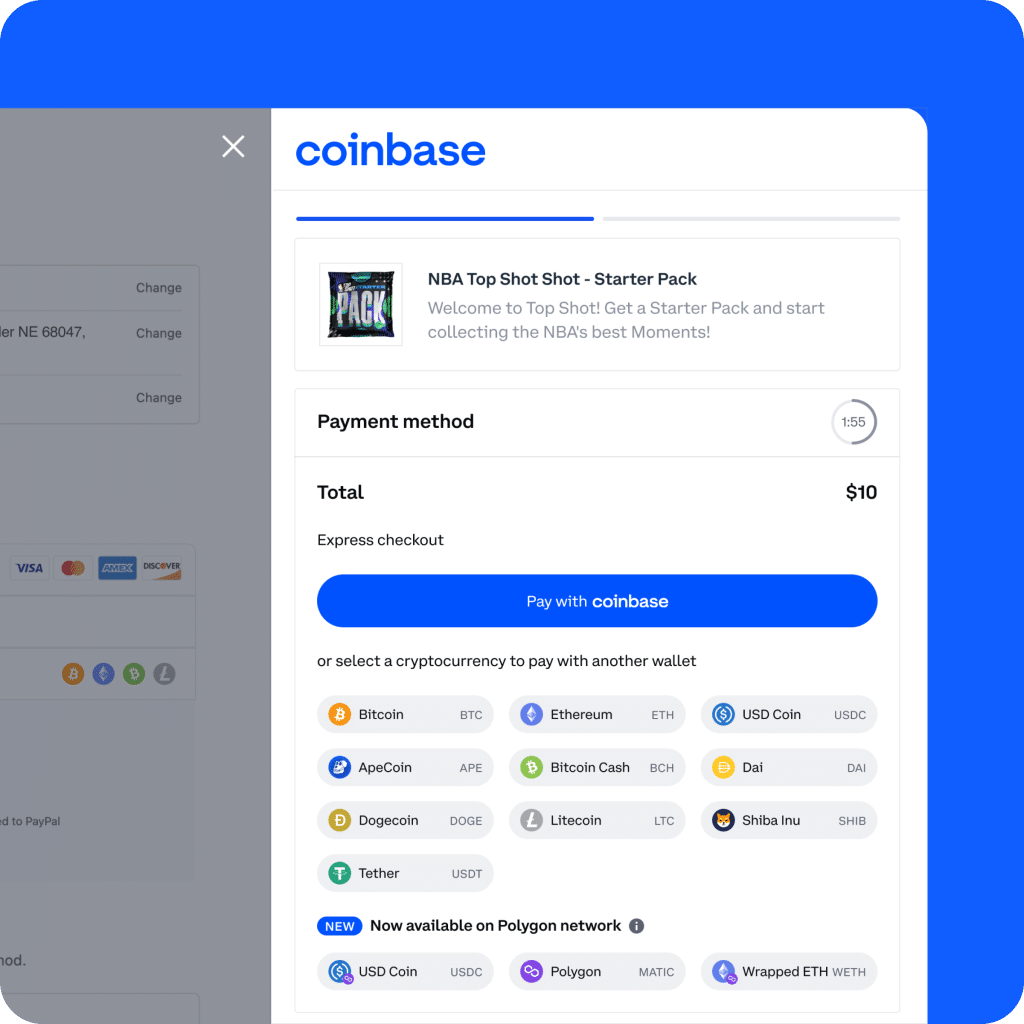 No Hidden Charges
You can download Coinbase Commerce without any charge. It's a pay-as-you-go service. There is no chargeback money to manage your account. Cost depends on the number of transactions (1% of transactions) you have. Otherwise, you won't be charged if your account hasn't been used. However, coinbase can restrict or terminate accounts without notice if the Terms of Service are not followed.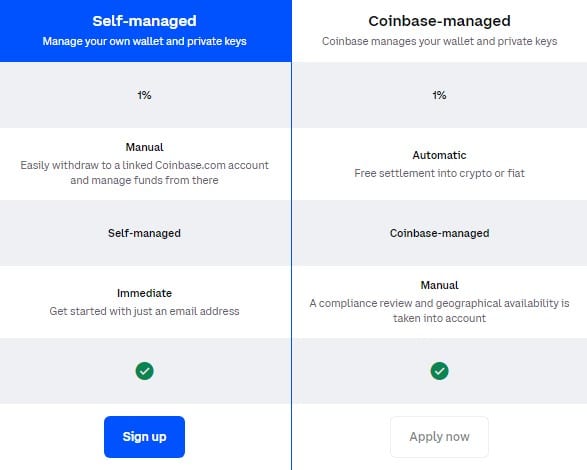 Integrations
Coinbase Commerce is a great WooCommerce extension. However, if your platform is not developed on WooCommerce and you are using Shopify to build your store, you can seamlessly use Coinbase Commerce with Shopify. Learn more about Coinbase-WooCommerce integration.
Geographical Limitations
Coinbase Commerce is available in over 100 countries. You can create and run self-managed accounts from anywhere in the world. However, full-featured Coinbase is limited to some countries only.
For example, features like cryptocurrency conversion are available in most countries. However, associated functionalities like buying, selling, and conversions are limited to Belgium, Bulgaria, Croatia, Cyprus, the Czech Republic, Denmark, Estonia, Finland, France, Germany, Gibraltar, Andorra, and some other countries.
There goes our list of features. Coinbase Commerce is a simple and small plugin. Once you start using it, you will find out gradually. The next part highlights the pros and cons of Coinbase. It's always better to keep an eye on both before reaching a decision.
Coinbase Commerce: Pros and Cons
Here is the list of the benefits we have come to know about Coinbase Commerce:
Pros
Friendly interface with simple design
Easy to set up
Both web version and mobile app are available
Fast with tracking payments
No hidden charges or termination fees
Custom checkout, embed buttons
Suitable both for beginners and professionals
Official docs and Video tutorials available
Now, let's take a look at the cons of Coinbase Commerce,
Cons 
Fewer options for cryptocurrencies
Poor customer service
Geographically limited features
Final Words
Coinbase Commerce is a simple tool for exchanging cryptocurrencies overcoming country borders. Over 103M+ people have used this, and it's the perfect solution for most of them. However, this plugin still lacks some common features and needs to be upgraded, such as global features, supporting new blockchains, or providing powerful customer support. These are the areas that need improvement. 
Fortunately, Coinbase Inc. is working to improve this cryptocurrency gateway while interested customers await its upgrade.
And for us, we would love it if you subscribe to our daily newsletter at WooLauncher, encouraging us to write more and offer more! 👏