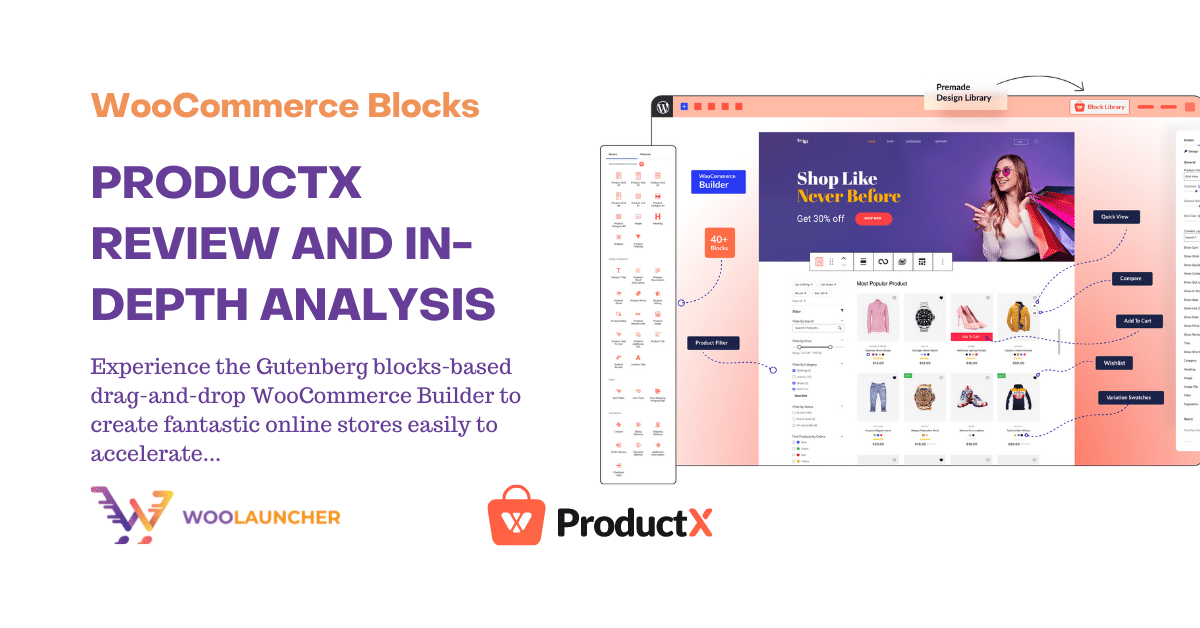 For WooCommerce Shop Owners, WooCommerce Blocks is a familiar name. WooCommerce itself is an enriched tool for developing feature-rich online stores.
However, there are still some essential functionalities missing in WooCommerce. To get the full out of WooCommerce, WooCommerce Blocks can help you.
Meet ProductX. It is a WooCommerce extension block plugin offering additional blocks for WooCommerce store pages. It's a freemium plugin developed to enhance page building capabilities of your online store. 
Today, we will learn everything about ProductX and how it improves customer experience with your WooCommerce store, reducing 80% of delivery cost.
What is ProductX?
ProductX is developed by WPXPO. It is a Gutenberg-based drag-and-drop WooCommerce Builder designed to deliver the best customization block features for online stores. You can streamline your Fashion, Gadget, Jewelry, Furniture, Grocery, and Accessories stores and do more with ProductX with over 40+ blocks.  
Create Grids, Product Lists, Product Sliders, and Category Lists, and do much more with this Gutenberg-based block builder. There are niche-based starter packs to get started with any WooCommerce store type. However, ProductX free only offers several starter packs. To enjoy the full list of ready starter packs, you should start with the ProductX Pro. See what you will have with free vs pro ProductX.
Or, you can custom-build your WooCommerce store from scratch and offer an elegant store experience for the audience. It takes care of the entire WooCommerce store layout and design in the smartest way.
Loving what you read?

Join our newslettter today!
ProductX: Benefits and Key Features
ProductX offers endless opportunities for developing fully functional WooCommerce stores. From the quick view, product comparison, product image flipping, wishlist, and so on, there is more room for customization. 
In this part, we will explore the different features of ProductX. Hop in to learn more.
WooCommerce Builder
ProductX offers different Add-Ons to enhance Gutenberg's Capabilities. Add-ons are available in the free version too. But ProductX Pro offers more add-ons to deliver a super-rich store experience. WooCommerce Builder is one of them.
The ProductX WooCommerce Builder is an all-in-one solution for drag-and-drop block builders. Over 40 blocks are available here to personalize your online store as you may. With conversion-friendly ready templates, you can build responsive online stores of any kind.
And, if you want to deliver a unique store experience to the audience, feel free to use the site building blocks and build a fully personalized online store.  
Get More Sales
WooCommerce Builder – Product Page, built with premade templates, will recommend related products to customers by default. However, with a custom-made product page, you can promote upsell and cross-sell products.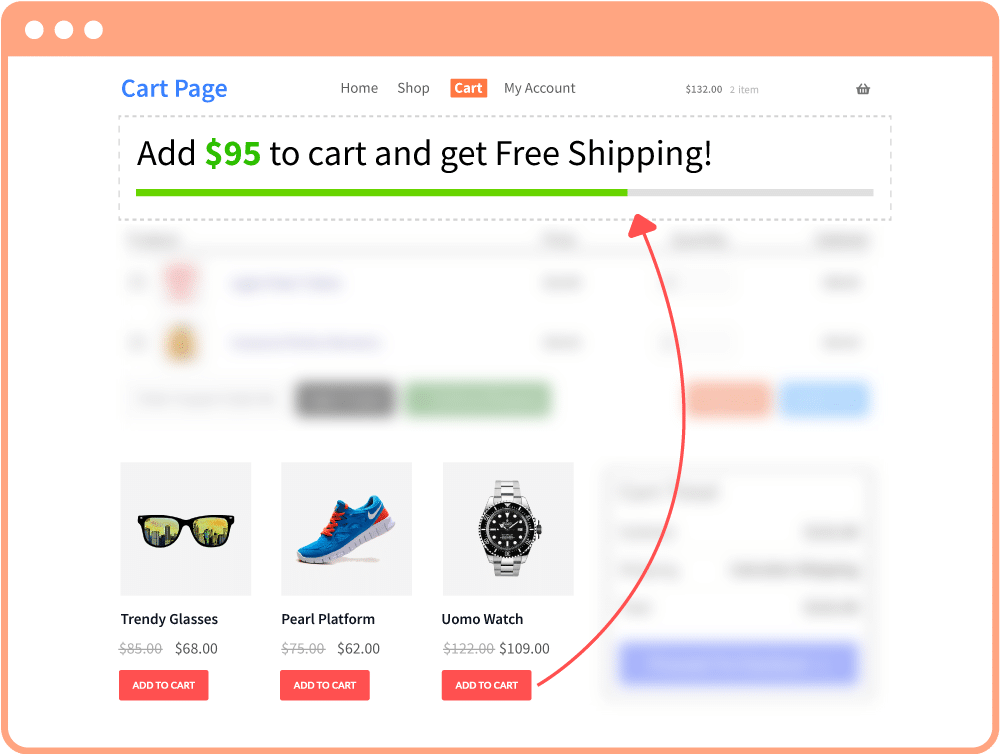 Besides, ProductX introduces several strategies to increase average order revenue (AOV) and accelerate Woo sales. You can integrate exciting sales discounts and options to attract more customers. On the cart page, you can set sales limits for free-shipping delivery. Irresistible sales tricks like this always encourage customers to make more sales.
Niche-Specific Starter Packs
We already mentioned ready starter packs for WooCommerce. ProductX comes with special user-friendly starter packs to revamp any business niche. These starter packs are flexible for clothing, jewelry and fashion, restaurant stores, and more. Besides, get a live preview while you build your online store on one of these starter packs and enjoy the view. 
Furthermore, ready starter packs also provide room for improvement. You can modify the demo content style to determine what best suits your store. To unlock the full list of starter packs and their demos, you must go with the ProductX Pro, with the opportunity to grow your store.
Product Carousel
Earlier, we reviewed Kadence Blocks, where you have carousel options for product, post, and carousel. These features are highly applicable to building promotional WordPress websites. However, ProductX mostly focuses on improving the WooCommerce experience. Thus, they offer product carousel features to enhance the product experience. 
Here, you can promote several products in the same grid and draw attention from possible customers. And if you don't prefer the grid layout, you can switch to a more improved showcase style – product sliders.
Over 40+ Blocks Design
And, if you want to develop your store layout from ground zero, there are over 40+ blocks to associate with. These blocks are WooCommerce based and ready to offer a highly customizable online store. Both free and pro versions offer ready-made clean blocks to make the development easier. 
However, don't get it wrong! ProductX blocks are easy drag-and-drop Gutenberg-based blocks. Your unique featured online store is just a few clicks away using the ready blocks. You can create pages, custom posts, posts, and elegant landing pages with ease. Get the general blocks demo here.
Improve Sales and Payment Options
ProductX delivers a hassle-free store process. Ready-made blocks help you to specify your business type and develop niche-based stores accordingly. However, you shouldn't miss out on another fact too: ProductX offers seamless payment options. You can allow customers to pay partially while order confirmation and introduce a flexible payment policy.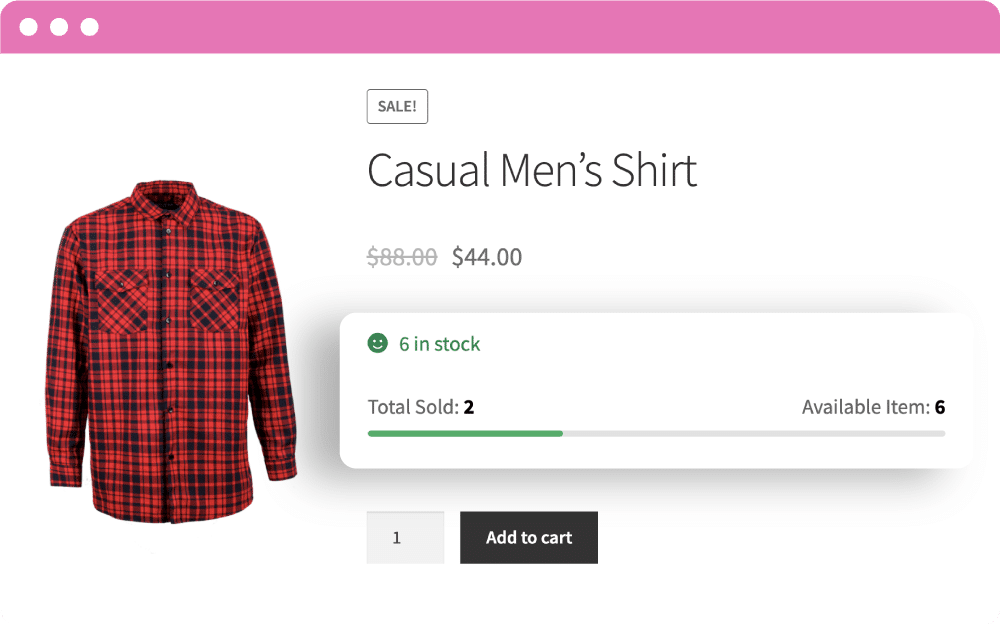 In addition, you can introduce interesting sales strategies with ProductX to draw the attention of possible buyers. For example, mark your discounted products separately with a Sales Tag option or display visual indicators with Stock Progress Bar for available stock to lead shoppers to more sales. 
You can also enjoy and use features like enabling pre-order, Backorder or attach a call for price options for interested buyers.
Streamline Product Experience
How does ProductX improve product experience? – The whole point of introducing a flexible WooCommerce builder is to enhance product credibility and offer a sophisticated product page experience.
ProductX delivers a smooth page interface for customers so that they can browse through the large product list and get the right one easily. 
There is an Advanced Product Filter that offers multiple filter options for customers to find their desired products fast. Also, the WooCommerce Pagination powered by AJAX allows buyers to explore products easily. 
In addition to that, with Advanced Query Builder, display and re-organize products based on a set of criteria. Enjoy the full freedom to personalize the product section as you like.
ProductX Add-ons
ProductX is all about enriching your online store with useful add-ons. With the free version, you have 10 Add-ons, while the pro version offers you two more. Add-ons enhance the core capabilities of ProductX. You have:
Wishlist: It is a free ProductX add-on that enables you to create a custom page and select from two different wishlists.
Quick View: WooCommerce Quick View allows customers easy access to product details for the Home, Shop, and Category pages.
Product Comparison: You can additionally set up a compare page for your Woo store. And select two products for advanced product comparison.
Variation Swatches: You can style your products by colors, attributes, size, and images or select all of them simultaneously.
Product Image Filter: Enable flipping option for featured image. Thus, customers have different perspectives on products. You have to add multiple images for a product to use this add-on.
Save Template: Use all the available product blocks and create templates with this add-on. You can use this template anywhere using a shortcode.
Pre-Order and Backorder: Pre-Order and Backorder add-ons help you manage inventory and take orders accordingly. With Pre-Order, you can promote products for pre-orders. 
And Backorder helps you to temporarily stock out products with releasing time and date.
These are some add-ons from ProductX. If you are through this article, you have already come across other add-ons like Stock Progress Bar or Partial Payments and their functionalities.
The next part will highlight lucrative page samples you can develop with ProductX.
ProductX Page Samples
Take a look at all the possibilities you can endeavor with ProductX. Here are a few page samples. You can build them easily with the ProductX WooCommerce Blocks Plugin.
Home Page
Develop any niche-specific homepage with ProductX starter packs. You can easily highlight your products and offers here to boost Woo sales.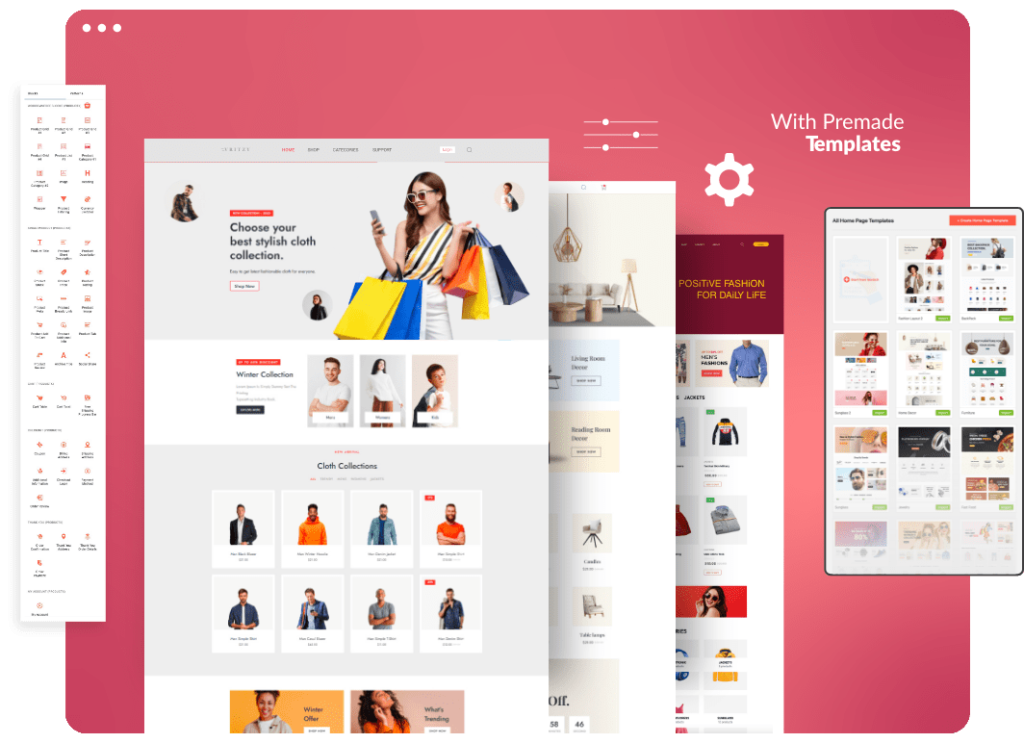 Shop Page
Provide the best shopping experience with ProductX. You can build a perfect shopping page for customers where placing orders is irresistible.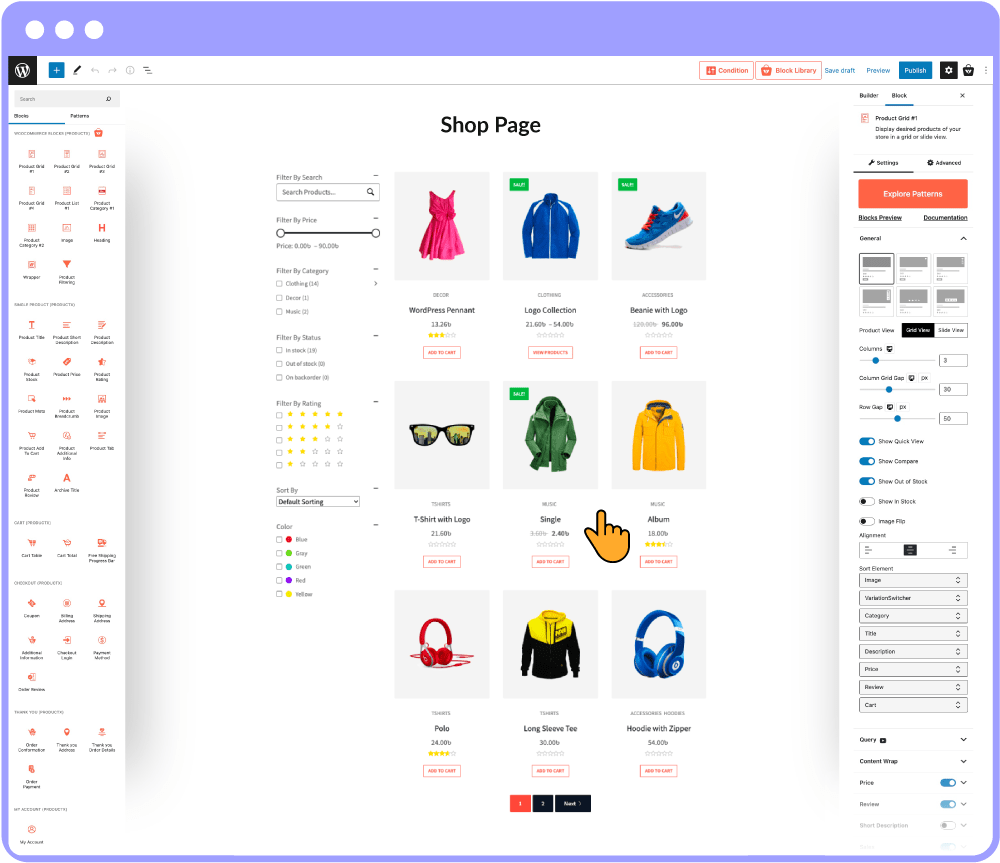 Single Product Page
With the perfect landing page for single products, grab more customers to active sales. You can effectively promote upsell and cross-sell products as well.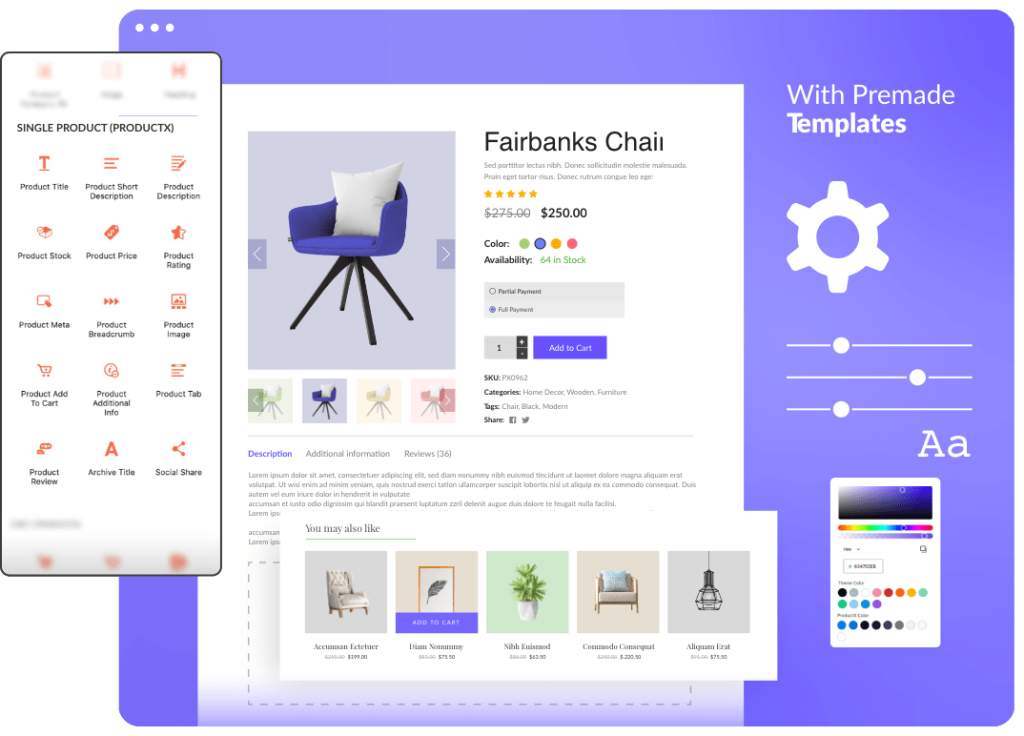 Cart Page
You can build a sales-friendly cart page with a free shipping progress bar or cross-sell products. And encourage prospects to buy more.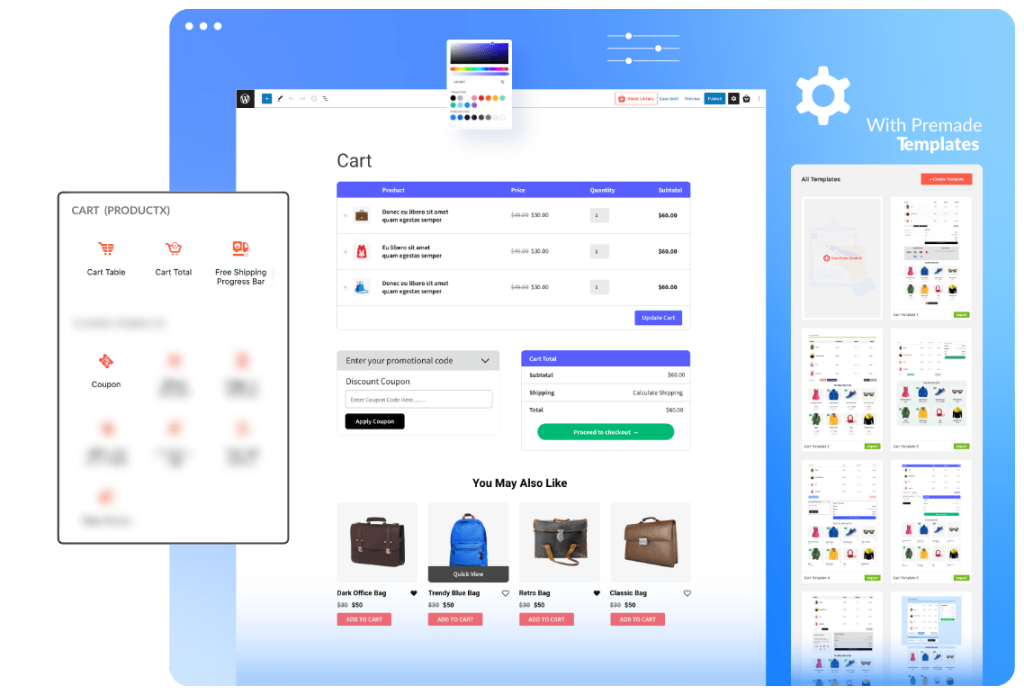 Checkout Page
There are different blocks for the checkout page. Use these page-specific blocks to build a quick checkout experience.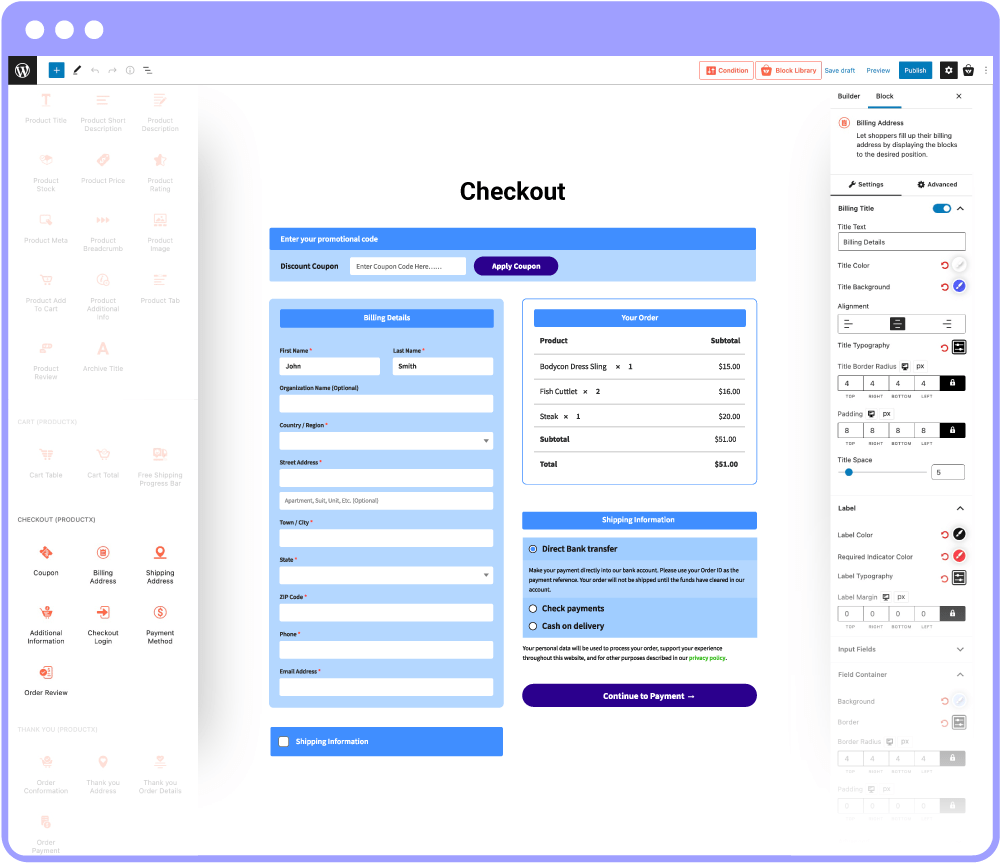 My Account
You can build a feature-rich My Account page for prospects using ProductX. This will get you more returning customers.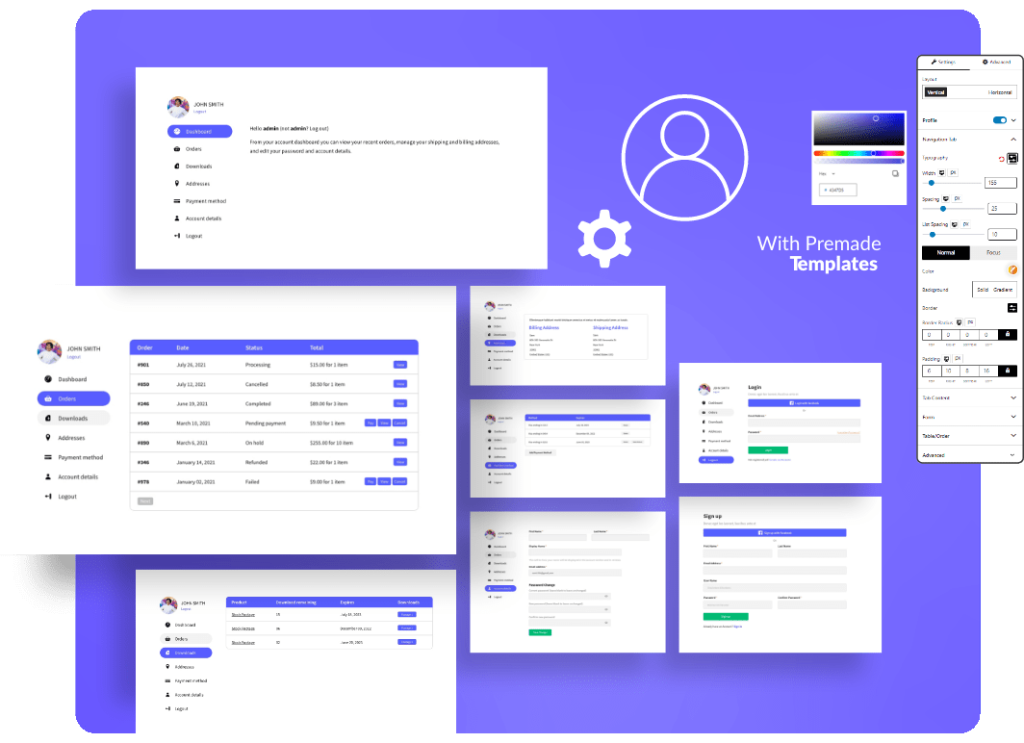 Thank You
Remember to thank your customers properly after order completion. Leave a sweet gesture to them with a beautiful thank you page built with ProductX blocks.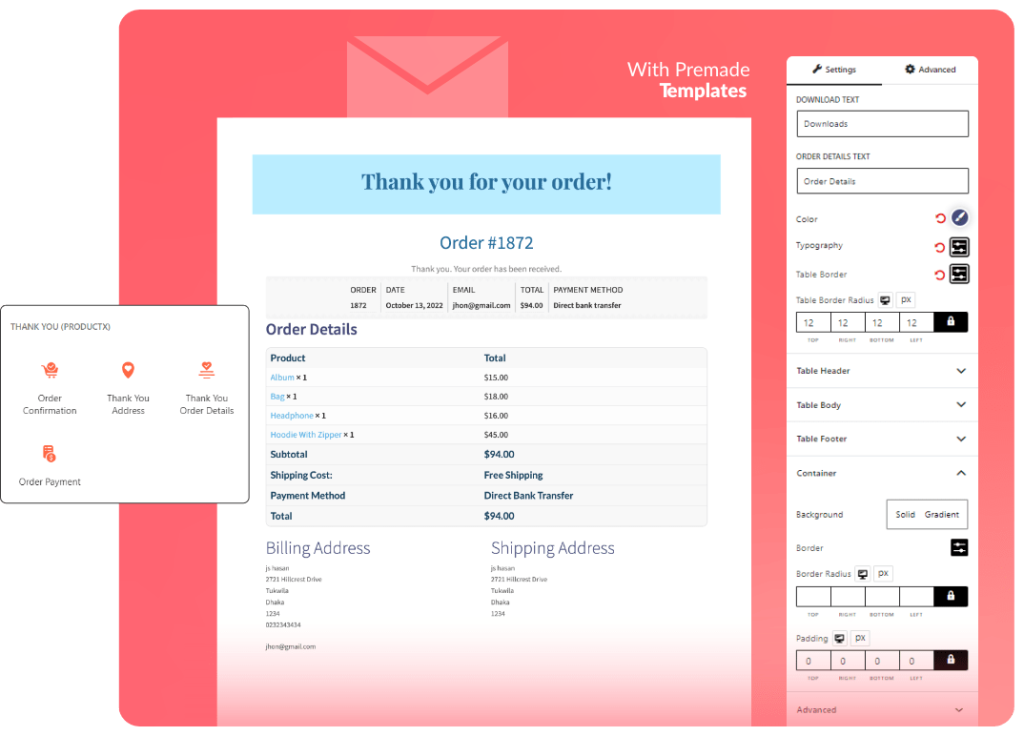 Archive Page
Redirect all the archive pages to a single template. This becomes easier with the Save Template add-on.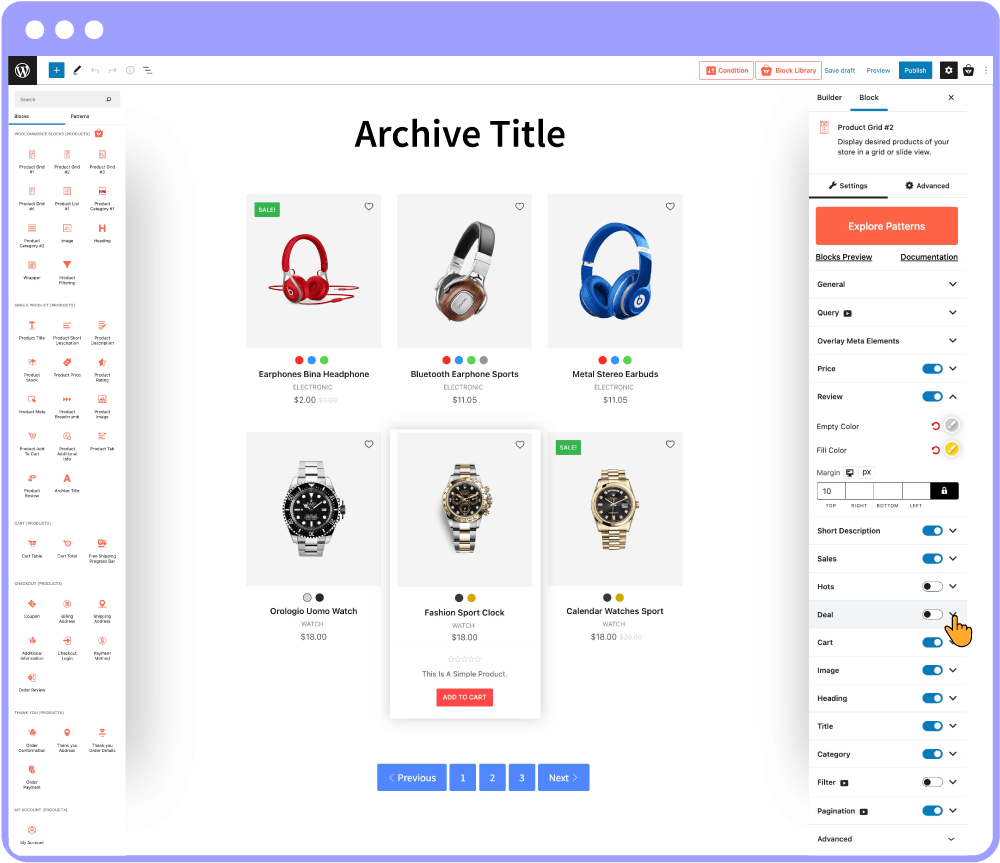 Search Result
You can build a separate search result page for customers to find products easily. Use search result blocks to complete the job.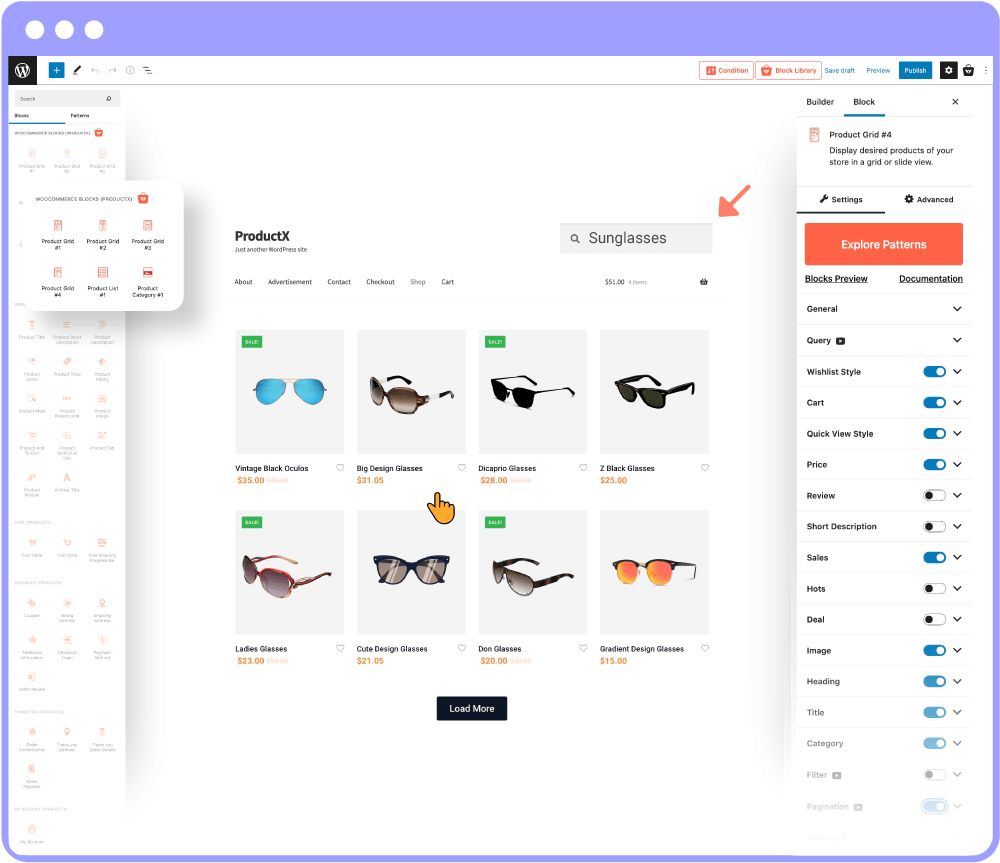 We have provided examples here. But you can explore the possibilities and take the online store experience to a new level with ProductX. If you are doubtful whether this WooCommerce Block Builder is ideal for you, you can try their free version and switch to the pro one. However, we recommend running the plugin on a local host for test purposes.
ProductX Pricing
ProductX has three pricing plans – Yearly, Lifetime, and Agency Bundle. As we mentioned before, ProductX is a freemium plugin. However, ProductX free offers a handful of features. But for a sustainable plan, you better go with the pro version.
The Premium ProductX offers exclusive features, including powerful team support. Let's put some light on different pricing plans: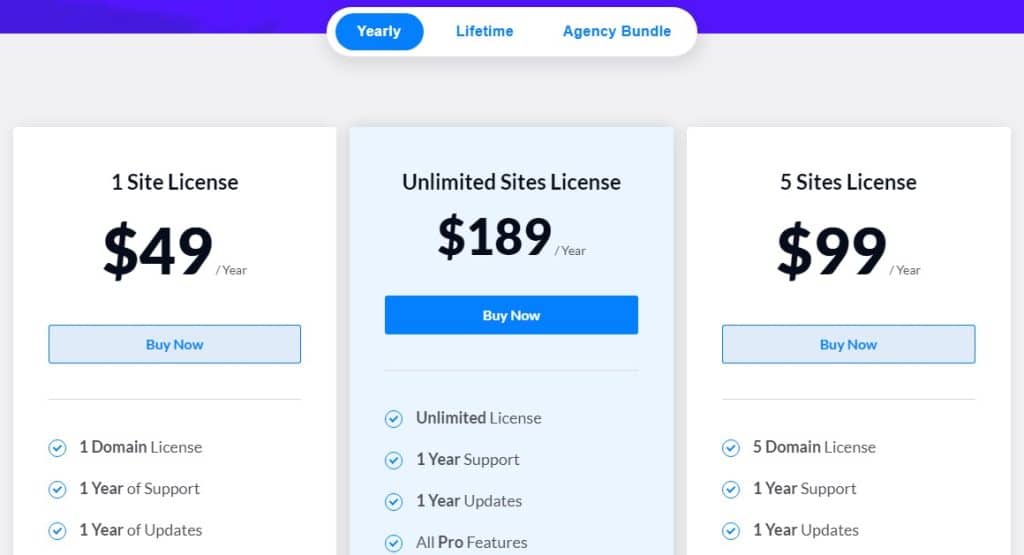 Yearly: ProductX introduces a yearly subscription plan. There are three different packages under this subscription. They all have the same pro features. But the main difference is in the domain. Package includes:
1-Site Licence: You have 1 domain license, 1 year of plugin support, and 1 year of free updates, including all pro and upcoming features, at $49.
Unlimited Sites Licence: Get an unlimited domain license, 1 year of plugin support, and 1 year of free updates with all pro and upcoming features at $189. 
5-Sites Licence: With 5 domain licenses, 1 year of plugin support, and 1 year of free updates (all pro and upcoming features included), get this package at $99.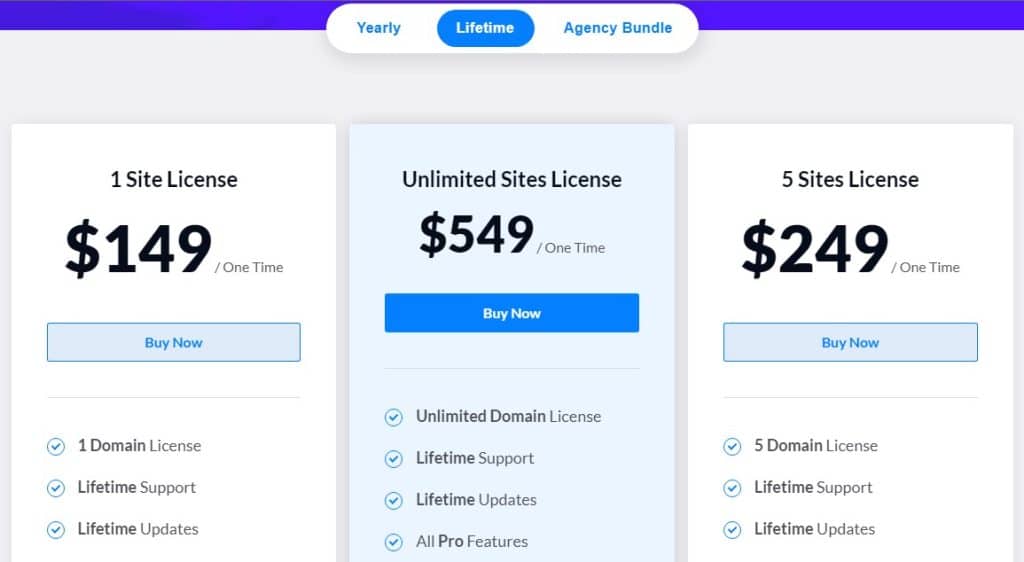 Lifetime: With a long-term plan and affordable budget, you should purchase a lifetime license. It includes:
1-Site Licence: You have 1 domain license, lifetime plugin support, and lifetime free updates, including all pro and upcoming features, at $149.
Unlimited Sites Licence: Get unlimited domain license, lifetime plugin support, and lifetime free updates with all pro and upcoming features at $549. 
5-Sites Licence: With 5 domain license, lifetime plugin support, and lifetime free updates (all pro and upcoming features included), get this package at $249.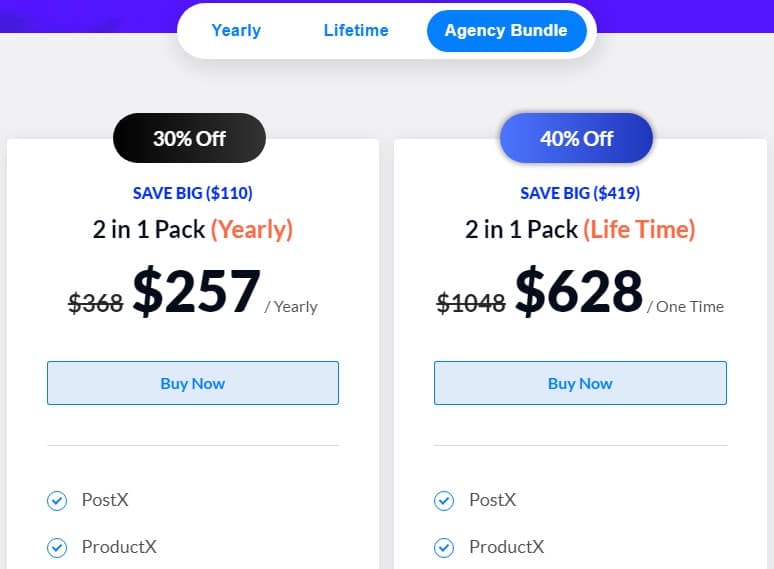 Agency Bundle: Now, that's a plan to develop a fully sufficient ecosystem for your online store. The agency bundle has two price models, including PostX (Gutenberg Post Blocks). Agency Bundle has: 
2 in 1 Pack (Yearly): Develop a supercharged online store with ProductX and PostX. You have unlimited domain licenses, 1 year of updates, and 1 year of support, including all upcoming features, at $257. 
2 in 1 Pack (LifeTime): Get all the features mentioned in the previous package with a lifetime license at $628. 
And if you are still not sure about ProductX but purchased it anyway, you have a 14-day money-back guarantee. ProductX values your experience and choices 🙂
Wrapping Up
If you have come to this part, you have already gathered enough information about ProductX. With its handful functionalities, you can grow your WooCommerce store and deliver a unique online experience for customers.
However, like other WooCommerce block plugins, you may face technical issues here too. In case you do, ProductX support offers a professional team with all-time support. They have got you covered for any worst scenario you face.
You can review their official documentation and video tutorials for more guidance. And to get more articles like this, remember to subscribe to our daily WooLauncher Newsletter. 👍