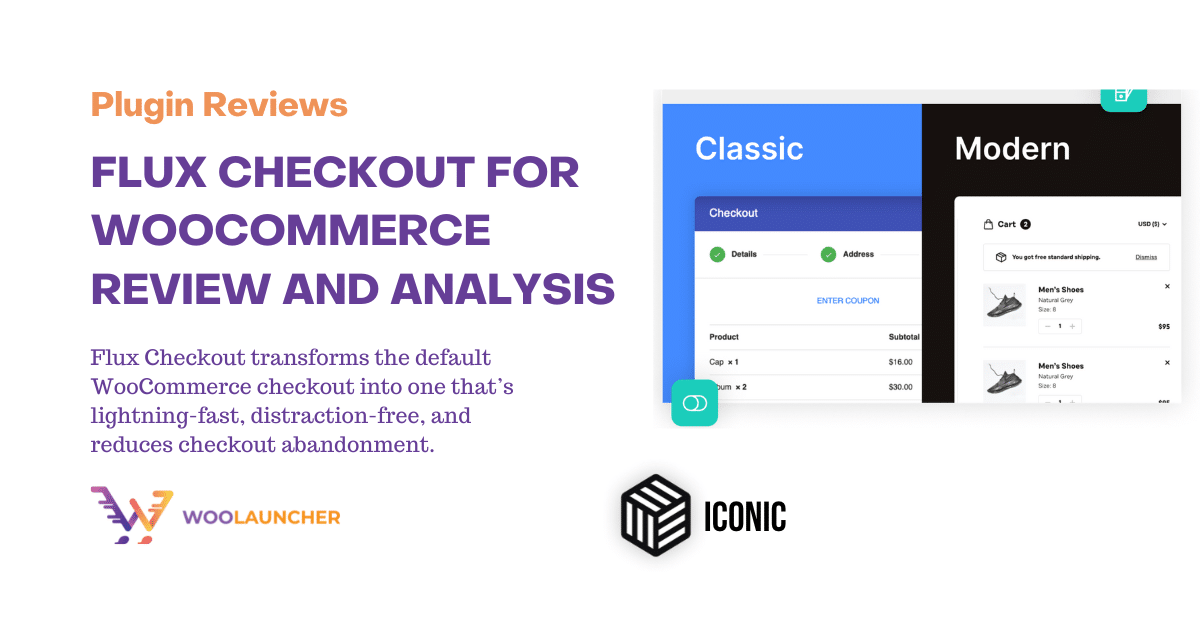 Do you know your sales can have a blast with the right checkout interface? In the WooCommerce scenario, shop owners come up with a top-notch store experience, but most leave the checkout corner unattended.
The majority of the WooCommerce shops have the default WooCommerce Checkout page; which fails to deliver a conversion-friendly checkout experience. Thus, resulting in high checkout abandonment.
Let it be and your sales will keep going downward! Flux Checkout for WooCommerce can help you improve the scenario. It is a WooCommerce extension, built to offer a clean and neat, distraction-free checkout page to customers.
But, how does Flux for WooCommerce do the job? In this article, we will learn all the features of Flux for WooCommerce and how they increase the conversion rate of your store by improving the checkout experience.
Flux Checkout for WooCommerce
Flux Checkout is a simple WooCommerce Extension. It converts the regular WooCommerce checkout page with a super fast, distraction-free layout to improve sales.
Iconic has introduced Flux Checkout for WooCommerce with a minimalist classic theme. The classic theme offers an app-like interface. The sole goal is to lead visitors from the cart page to click the "Confirm Purchase" without minimum hassle.
However, in August 2022 they relaunched the Flux Checkout (Flux Checkout 2.0.0) with a modern checkout theme. And, this newer version offers a multi-step checkout process with faster conversion rates and diversion-free design.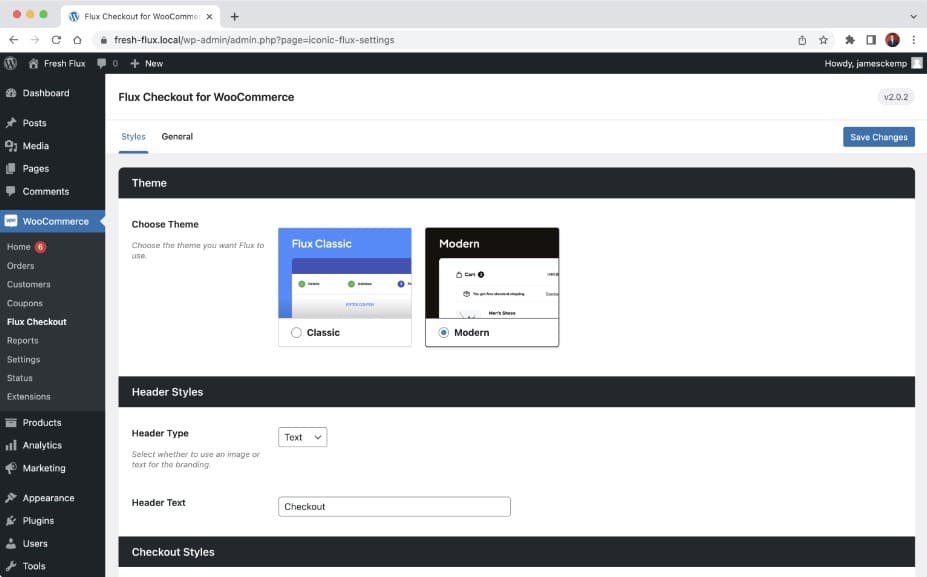 You can switch between the two themes and promote an elegant checkout experience to encourage the buying behavior of possible customers.
Enough with the What-Is talks! It's time to check out the feature list of Flux Checkout and find out how it helps your business grow.
Loving what you read?

Join our newslettter today!
Flux Checkout for WooCommerce: Features and Benefits
" A simple idea executed perfectly makes the checkout process much more friendly and accessible, especially with mobiles. Address autocomplete is a nice touch and makes such a difference. Support was instant, friendly, and effective. Well done, guys! "

Allan Clark, Universal Computing
1) Multi-Step Checkout
Multi-Step Checkout is a smart tactic to keep customers on track and let them know what comes ahead. It divides the checkout process into several steps; each step describing what's on the menu next.
These steps offer a simple and direct checkout process; easy for to be followed by the customers. Plus, in addition to the new theme, Flux Checkout Modern offers two different sections for the checkout page.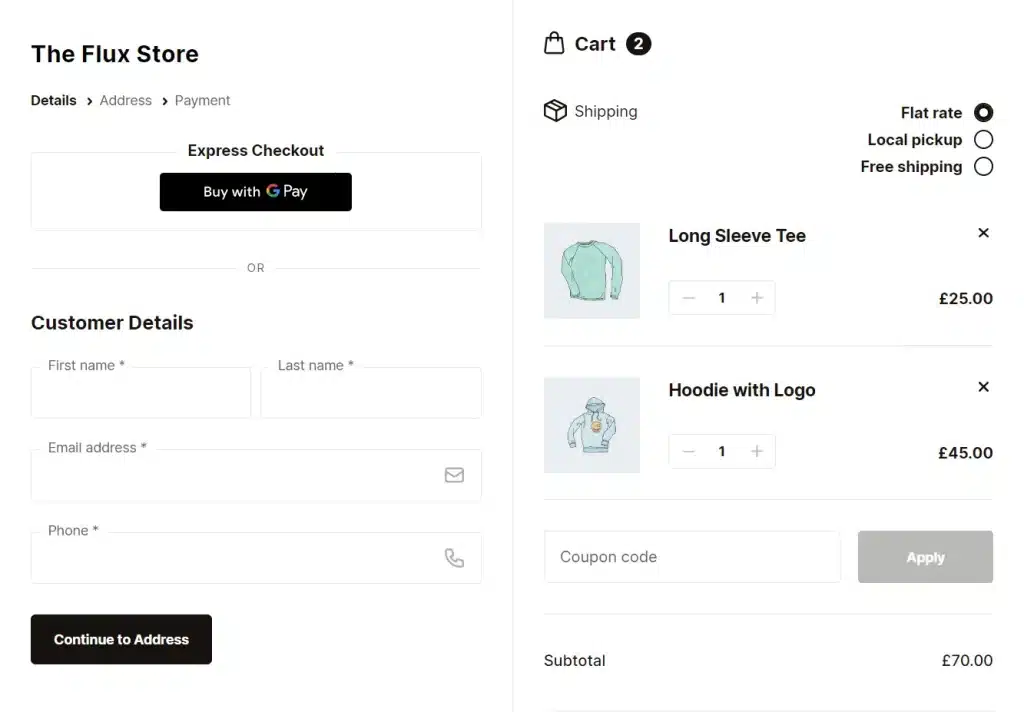 You have an order summary with a few more clickable fields on the right and information fields that need to be filled out on the left. What's the purpose of a split checkout page? It frequently reminds customers of the products they have added to the cart; also enables them to edit as they go.
2) Neat and Clean – Distraction Free Checkout
The Flux Checkout for WooCommerce replaces the built-in WooCommerce checkout page with conversion-focused checkout forms. So, you can switch between the regular WooCommerce checkout page if you wish to!
Also, it takes the "Distraction-free" part too seriously and removes any redundant fields like Company, Coupon, and Street Numbers. However, you have the ultimate freedom to select which fields you want to display and which ones to hide!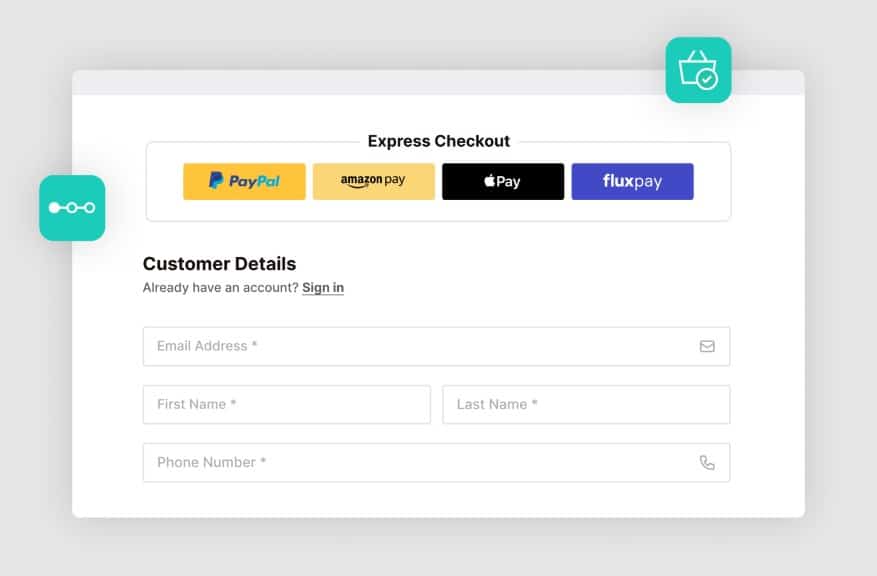 To drive a sale-oriented customer's attention, you can also remove all headers, footers, and sidebars with Flux Checkout for WooCommerce. This is how the plugin highlights only what matters at the checkout page and motivates customers to confirm their purchases.
" I've definitely seen an increase in conversation rates when using this. It simplifies the checkout process for the customer. "

– David Keller, Cobyda
3) Autocomplete Address Bar
One of the reasons why customers are frustrated over the checkout process is when the address bar takes too long to load. Flux Checkout for WooCommerce eliminates this problem by introducing instant address search with the free Google API key.
The plugin promotes a minimalistic user experience and auto-fills all the address fields upon customers' selection. It takes only a few seconds to auto-complete the address bar and move on to the next step.
Thus, you can finish the billing and shipping process and avoid customers spending too much time filling up the address bar!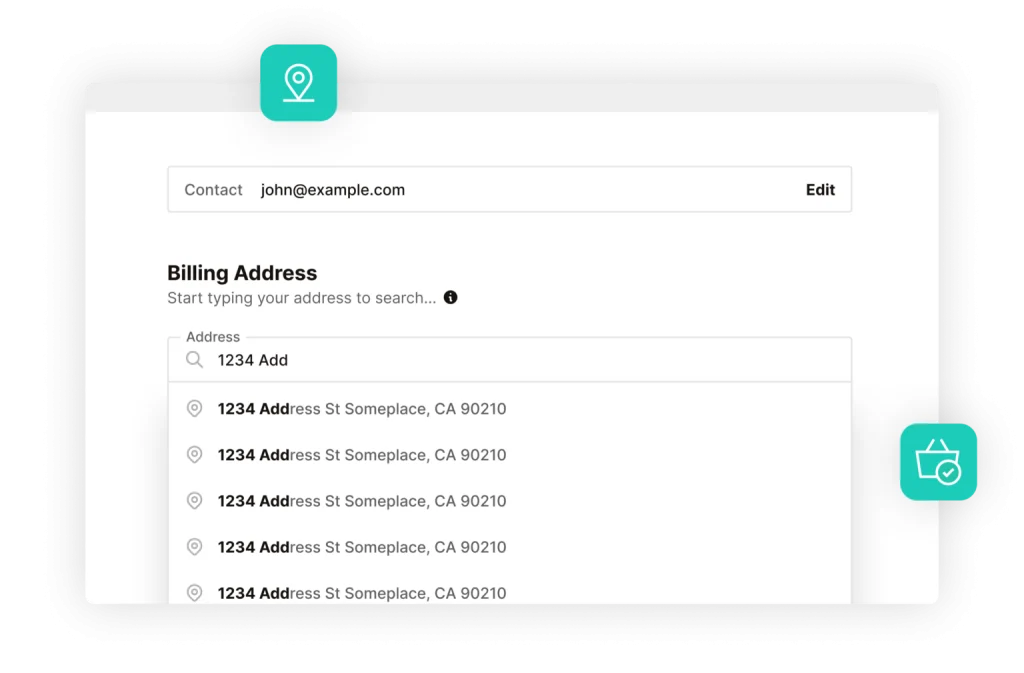 4) Personalized Thank You Page
After a straightforward checkout process, offer your customers the courtesy of a customizable Thank you/ Order completion page. You can optimize Flux's Thank You Page to match company branding. Plus, this also does the same with the default WooCommerce Thank You page.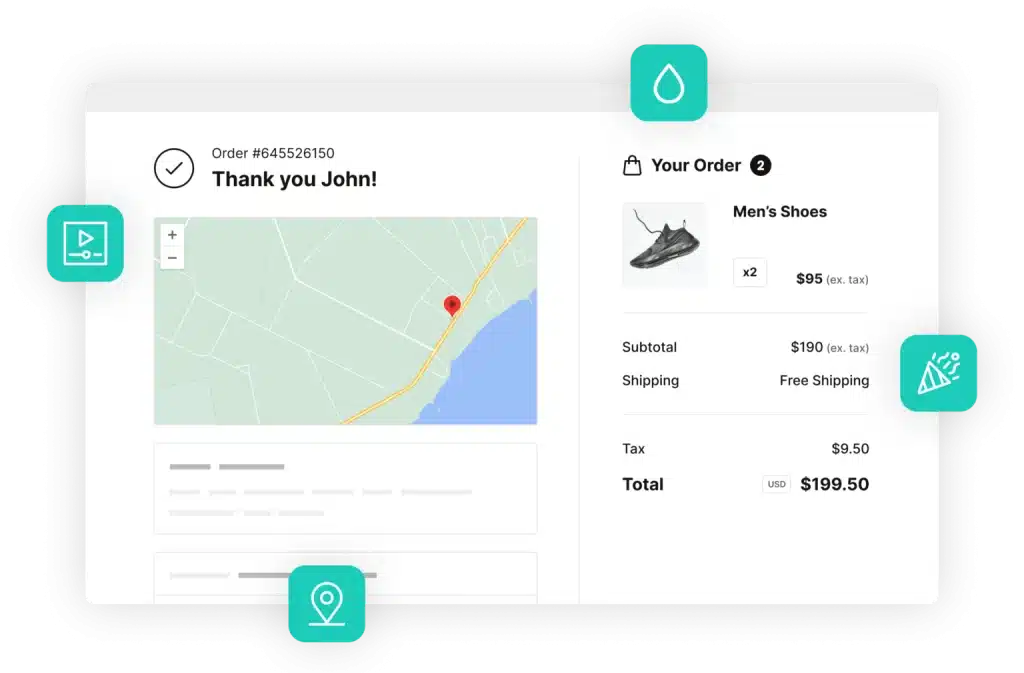 The plugin replaces the built-in WooCommerce Thank You page with a user-friendly and warm Thank you note. It enables you to add text, images, and videos in your favor. Don't forget to sync your order completion page with the modern checkout page. Match the style and outlook of the two pages.
And, you can attach (optional) location maps and modernize customers' shopping experience with visual confirmation.
5) Device Friendly and Responsive
Flux doesn't discriminate between mobile, tabs, or desktop screens. Performance is equally ensured in different screen sizes because the plugin automatically adjusts size and layout respectively. Besides, you are welcome to offer unique transformations, modals, and more.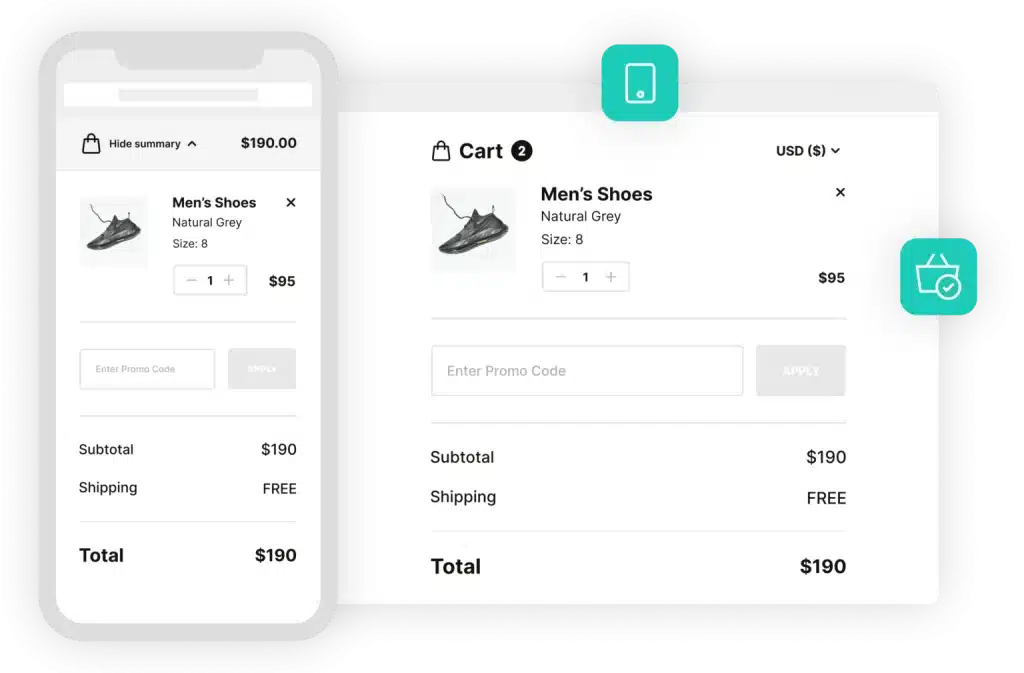 The plugin only highlights summarised order reviews with important information; indifferent of the different devices you use.
" Executed perfectly, it makes the checkout process much more friendly and accessible, especially on mobile. "

– Allan Clark, Universal Computing
6) Checkout Templates at Your Service
There are different style templates at your ease. You can pick from any of them and get your WooCommerce Checkout Page smoothly blended with your store niche. Plus, it only takes one click to switch between conversion-friendly checkout templates. Easily maneuver between different templates and find the one that best fits your brand.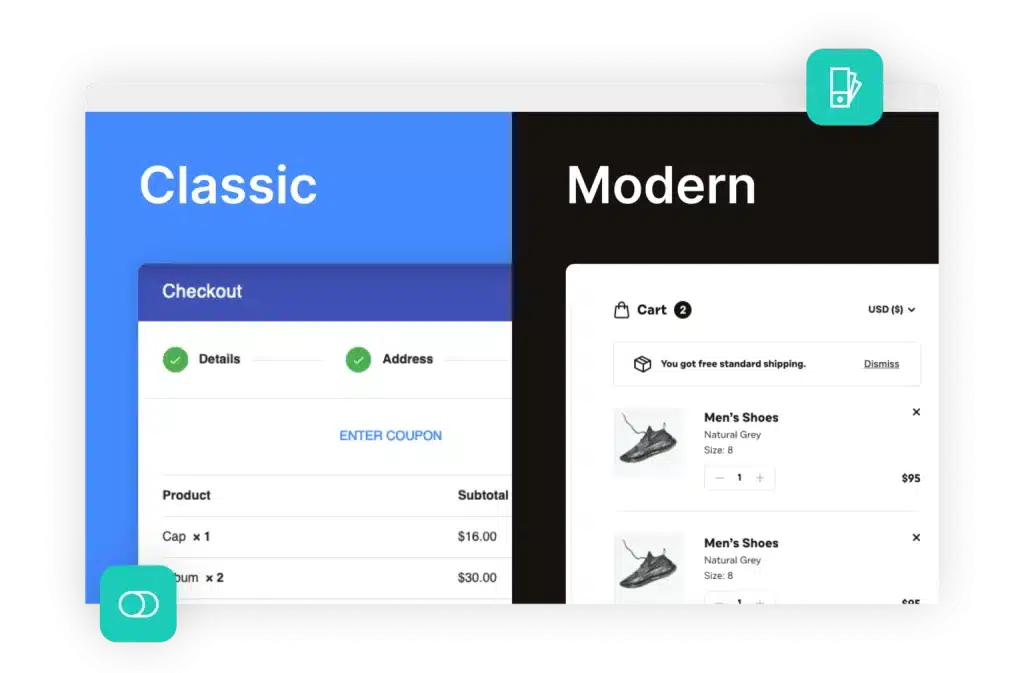 That's not all! You can also personalize every template's style with Flux's easy interface.
These are the key features of Flux Checkout for WooCommerce. But there are more! Take a glimpse of other Flux features that will help you improve your shop experience.
Easy Setup: It's a simple plugin; easy to install, configure and maintain.
Fully Customizable: Use color presents to change button options, header text, and more. The ultimate control is yours.
Create Guest Accounts: Allow guest users to check out from your shop easily. Make accounts for them without slowing down the checkout process.
Ultimate Compatibility: Highly compatible with other WordPress themes, plugins, and page builders. Use it with upsell, cross-sell plugins, and other payment gateways seamlessly.
Smart Integration: Easily integrate into your theme. With Flux, you can use the default WooCommerce checkout hooks and filters.
Here's everything wrapped up about Flux Checkout. These are the features you will enjoy once you have set up the flux plugin. Flux for WooCommerce is all about offering a clear-cut road to checkout. The single plugin is available at $99/year. You also have a 3-site license ($199) and a 30-sites license at $619 – all at an annual subscription.
Besides, you also have a bundle package that you can check out from the official Iconic Page.
Flux Checkout for WooCommerce: Pros and Cons
Take a look at the pros features of Flux Checkout for WooCommerce:
Pros
Multi-step checkout
Device friendly and responsive
Easy interface and functions
Pre-built templates with customization option
Integrate with WooCommerce hooks
Personalised checkout page
Auto-complete address
Allows you to develop distraction free checkout page
Highly compatible
Flexible and affordable budget plan
Here are some of the drawbacks of Flux Checkout for WooCommerce; you should consider them before the final purchase.
Cons
Can't create one-page checkout
30 Sites licence is expensive
Wrapping Up
Here's everything we have learned about Flux Checkout for WooCommerce. Flux for WooCommerce is a simple easy-to-setup plugin. Use this plugin to remove all the unnecessary elements from the checkout page and offer a minimalistic neat and clean shopping experience.
And yes, don't limit your checkout page to one layout only. You have several built-in templates to customize the checkout page as you like. Allow yourself to bring changes to the templates as you like.
Support yourself with the official documentation from the WooCommerce team. All the feature processes are described with step-by-step instructions. Plus, if you get stuck in the middle, take help from Iconic official support. They provide support for the following topics: Technical Issues, Account/Billing, Pre-sale Questions, and Custom Development. However, you can also describe any different issue you intend to solve.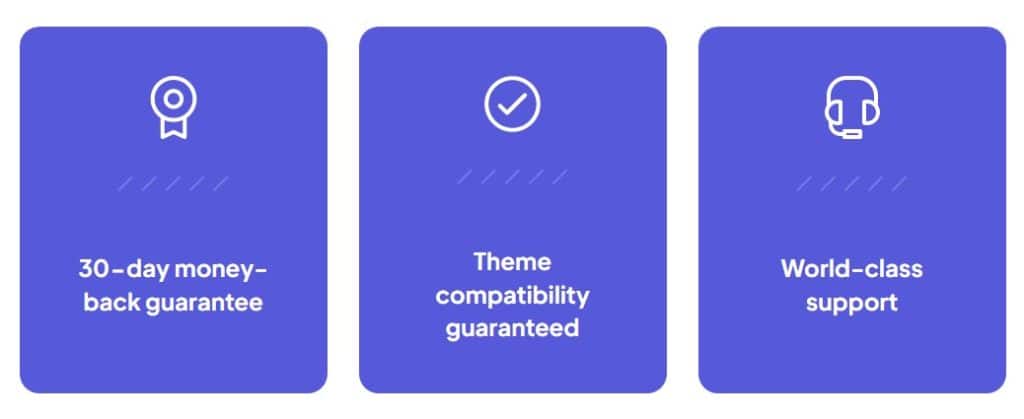 The plugin team put users' flexibility a priority. Thus, they offer affordable budget plans; with an optional bundle offer. And if Flux Checkout doesn't meet up to your expectations, you have a 30-day refund policy.
In a nutshell, Flux Checkout for WooCommerce might be just the one thing you need to transform your default checkout page into a sales-configured platform. Flux Checkout for WooCommerce is all you need to give a boost to your WooCommerce shop.
Summary
When we write down a review article, we conduct our research deeply to deliver an honest opinion about it. There are different plugins available in the WordPress repository to enhance users' checkout experience. But Flux for WooCommerce doesn't introduce any more additions to enhance the checkout page. Rather it removes unnecessary elements and offers a straightforward road-to-sale conversion.
You can start with Flux for WooCommerce and utilize the features without any risk of wasting money or time.
To get more articles like this, subscribe to our daily newsletter at WooLauncher. 👏