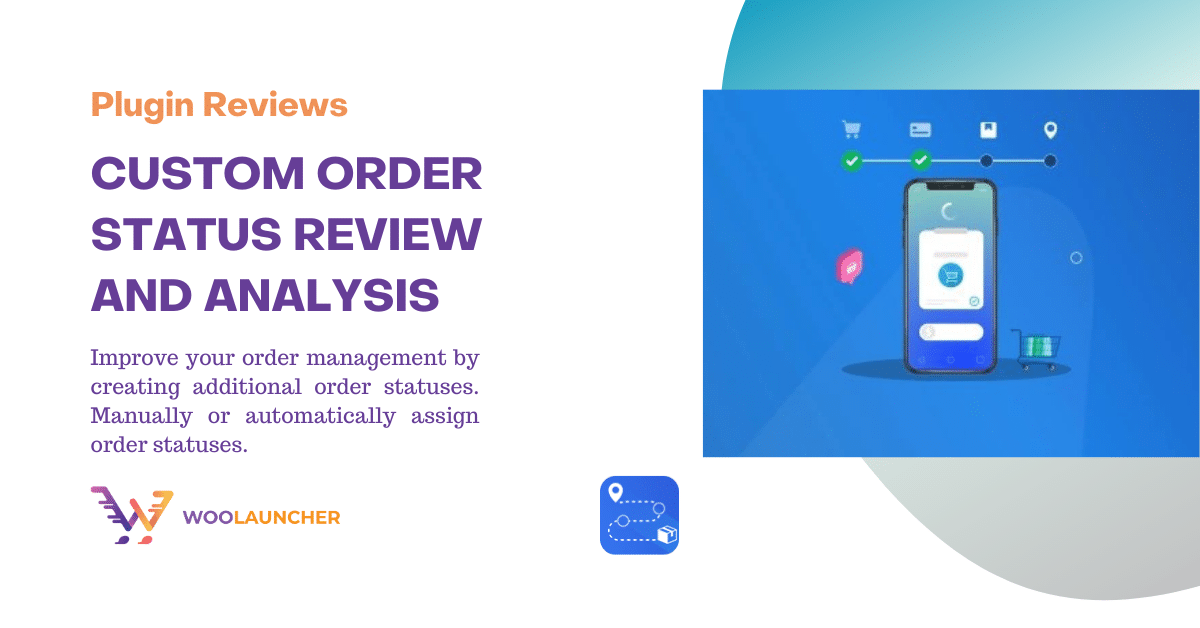 For large-scale WooCommerce Shops, order management is a tough nut! Often, it is a challenge to track bulk orders with the limited statuses WooCommerce offers. But what's the solution? 
Custom Order Status by Addify allows you to create more order statuses. You can, now, track shop orders firmly with this WooCommerce extension.
Either assign statuses manually or apply the automation rules to take care of your store orders automatically! Custom Order Status offers a simple and easy-to-navigate interface i.e flexible for all including people with no coding skills. 
This article is all about Custom Order Status. We will learn everything about this WooCommerce extension and its features including our notes on it.
What is Custom Order Status?
Are you using default WooCommerce settings to label orders? Here are the facts about WooCoomerce. It only offers eight standard order statuses. Such as – hold, pending, etc. Furthermore, WooCommerce default statuses can not cover all the possible scenarios your service may need.
For example, for handmade products, you may need to set up the order status to "In Production." With WooCommerce default statuses, it is impossible to add custom statuses for orders.
Get rid of this situation and organize your orders smartly with Custom Order Status. This plugin by Addify allows you to create and assign custom order statuses. Plus, you can either manage them manually. Or, set up the conditional rules to automatically change and assign statuses to respective orders. 
In addition to that, Custom Order Status also allows you to notify customers about their order statuses when changes are made (optional).
Before we write further, you should explore more about other features of Custom Order Status. Here's the next part for you. 
Loving what you read?

Join our newslettter today!
1) Multiple Custom Order Statuses
Addify Custom Order Status allows you to create multiple text and icon-based order statuses. Plus, there are lots of options to design order statuses as you need. Here are some: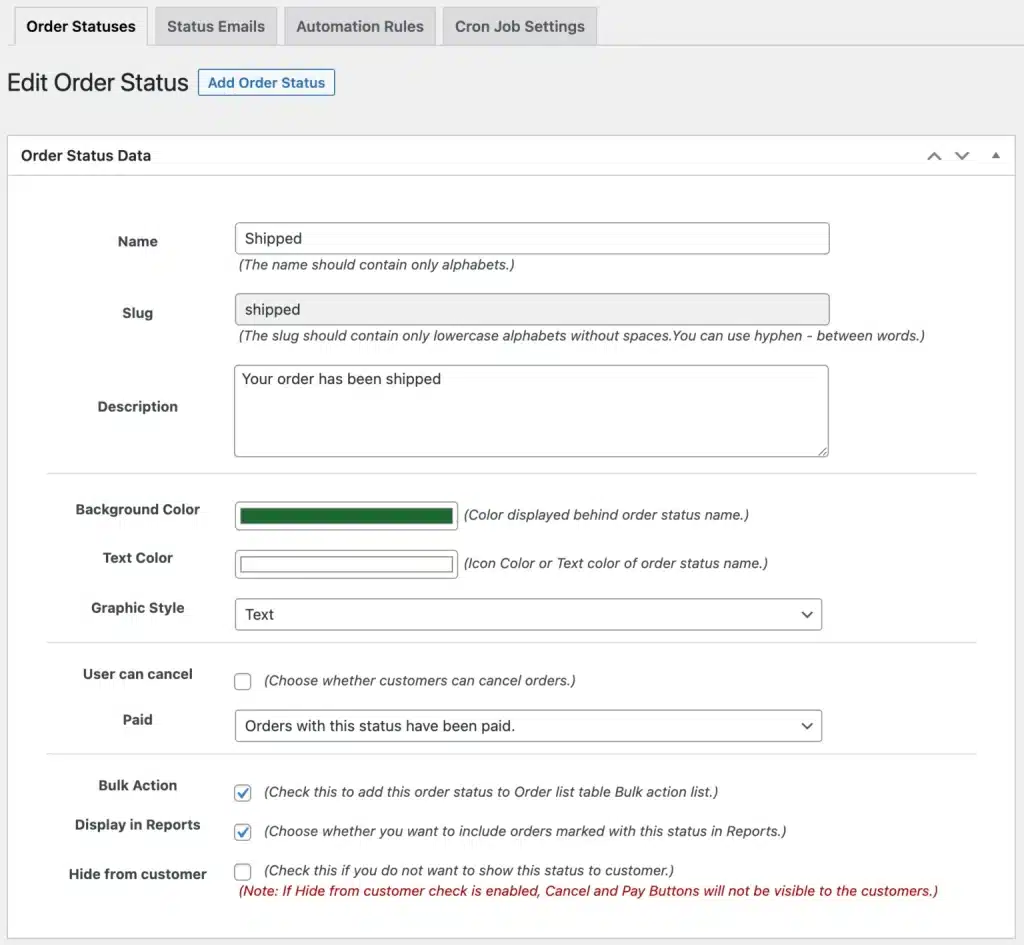 You can change the status title, slug, and description (Admin Use).
You can add text or icons to order statuses.
Personalize existing statuses with icons, text, or background colors.
Enable customers to terminate orders for respective statuses.
Set order statuses with payment information – paid, due, or completed.
Involve order status in bulk actions and hide it from customers.
You can also exclude orders with specific statuses from reports. 
These are the options you can modify while creating multiple custom order statuses. This WooCommerce Order Status Manager allows you to optimize order statuses so that you can organize the entire system.
2) Automation Rules for Assigning Status 
Custom Order Status works as the order status manager for your WooCommerce store. It allows you to create custom orders and modify them, taking care of additional tasks related to orders.
This order status manager makes the process easier. You can automatically assign custom statuses to orders. However, there are several conditions to meet. These conditions involve user roles, order amounts, quantities, and others. Take a look at the condition details here:

Time Interval: Custom Order Status will change the order status from A to B based on the time passed after placing the order. You can define the time in minutes, hours, and days.
Order Quantity: The plugin will switch specific order status to another status based on the specific order quantity (Maximum and Minimum) that is met.
Products/ Categories: Order Status will switch if a customer purchases a specific product or products from a specific category.  
Countries: Order Status will automatically change when customers from selected countries clear the billing or shipping process.
User Roles: This condition is applicable for subscribed members with assigned user roles. For example, when users from any specific user roles take an action, the order status will automatically be switched from one to another.
Order Date: This condition is met when an order action is taken before/ after a specific date the site admin sets. 
Note that, you will set up Status A (the current order status) and Status B (the final order status) from the "Automation Rules" of the plugin settings. 
3) Email Notifications
Notifying prospects with emails is a common strategy to keep in touch with them. However, frequent email notifications can often lead to spam folders if not careful. That is why, with Custom Order Status, sending email notifications is optional.
It is an advanced email notification system where you can create email notification rules. Thus notifying customers about any change in order status when certain conditions are met.
For example, send email notifications only when an order is shipped. In this way, you can spare admins and customers from frequent email notifications for every change. Rather, update them only for important updates about their order.
Furthermore, you can personalize the emails while setting email notification rules. Customization options are available for: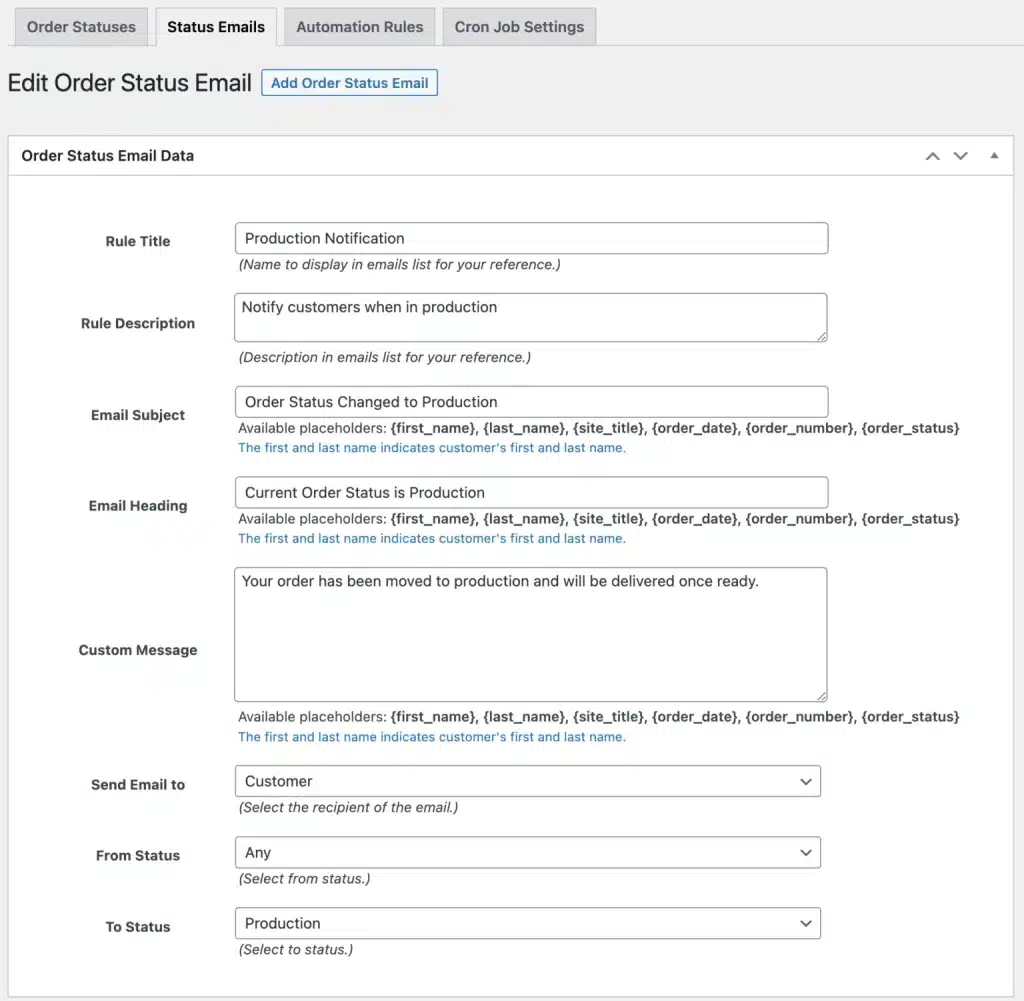 Notifications rule titles and descriptions (Admin Use).
Email subjects, headings, and descriptions.
Set emails for both admins and customers.
Trigger emails for both – current and new statuses. 
These are the customization options for setting up email notifications. You can access the settings from WooCommerce > Settings > Emails.  
4) Assign Order Statuses Manually 
With Custom Order Status, you can set automation rules to assign order statuses automatically. In addition to that, you can also manually assign custom statuses to the customer's orders like any other usual order statuses. This, of course, depends on your business niche.
Interestingly, you can set up bulk actions to manually assign order statuses. This has to be done from the standard WooCommerce order list. To manually assign order statuses without the bulk action, go to the Order-Detail page and pursue the action.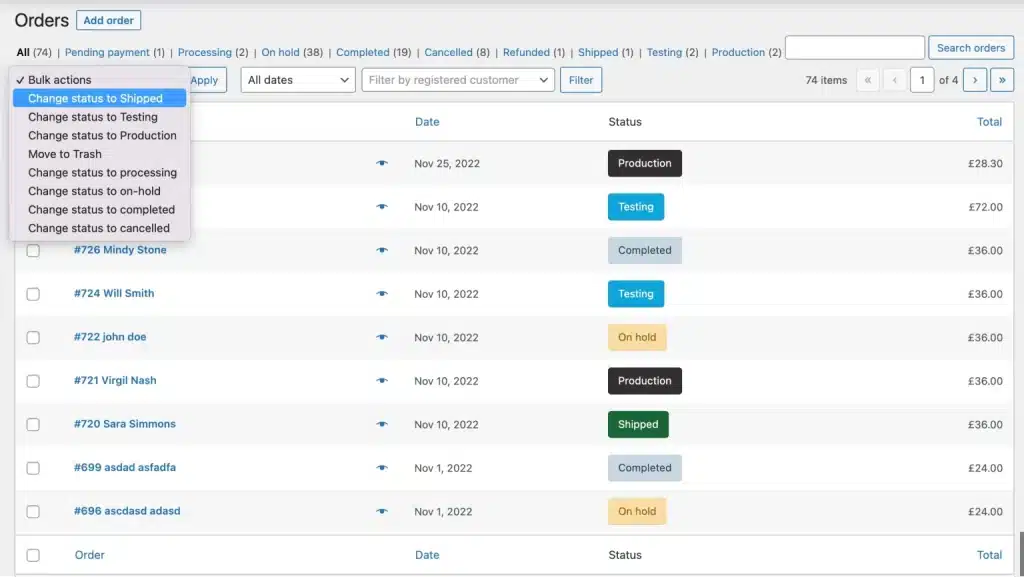 5) Import/ Export Order Status
Custom Order Status is all about your flexibility. You can avoid dealing with statuses individually and import/ export them in bulk with a CSV file. When you are done importing or exporting the bulk statuses, you can either manually assign statuses or use the automation rules to do the job.

Here are the core features of Custom Order Status by Addify. Being a promising development company in the WooCommerce Industry, Addify has provided powerful and useful extensions for WooCommerce. You can check out their official website to explore other extensions.  
Author's Note
Custom Order Status offers a simple interface with more variations for order statuses. Generally, WordPress plugins/ WooCommerce extensions are developed in a way that anyone can operate. Similarly, Custom Order Status also offers official documentation and robust team support.
Thus, if you are someone with minimum or no coding skills, you can seamlessly run this plugin and enjoy all the useful features to customize order statuses and create more! 
What we like about this WooCommerce Order Status Manager is its wide flexibility with more opportunities to create custom order statuses. There is no limit on the number of order statuses you will be able to create.
Additionally, you can easily import or export order statuses to handle the bulk load. Custom Order Status, in a word, sums up impressive features to manage orders on a large scale without a fuss.
Plus, there is no hidden charge. The plugin, like other Addify extensions, is affordably – available for $49 only. It is annually billed and there are no other price plans. Purchase it from the official WooCommerce page and you also have 1-year free extension updates and 1-year support. However, official support and inquiry is available throughout the years. 
And, if you don't like using this WooCommerce extension after purchase, you have a 30-day refund policy. Affidy will make sure your money is well spent for the betterment of your WooCommerce store. That's it.
In a word, we can say that Custom Order Status is a modern feature-rich plugin to improve your experience with order management. Since online stores require a lot of attention. Having a systematic tool to label the orders can take you one step further to running a successful WooComemerce store.
Final Words
This was all about Custom Order Status – our marketplace review from WooCommerce. For a small-scale online business, you may not need to generate custom statuses for orders. However, when you are running a large-scale WooCommerce store, different order statuses are important to manage the system.
But never trust online reviews blindly 😉 Check out the documentation and reviews from others to learn more about this WooCommerce extension. And decide the best for yourself. Additionally, you have a 30-day money-back guarantee if the plugin doesn't work out the way you wanted!
WooLauncher is all about WooCommerce. We focus on delivering useful and exciting updates on WooCommerce extensions. To get more informative articles like this, subscribe to our daily newsletter. 👏