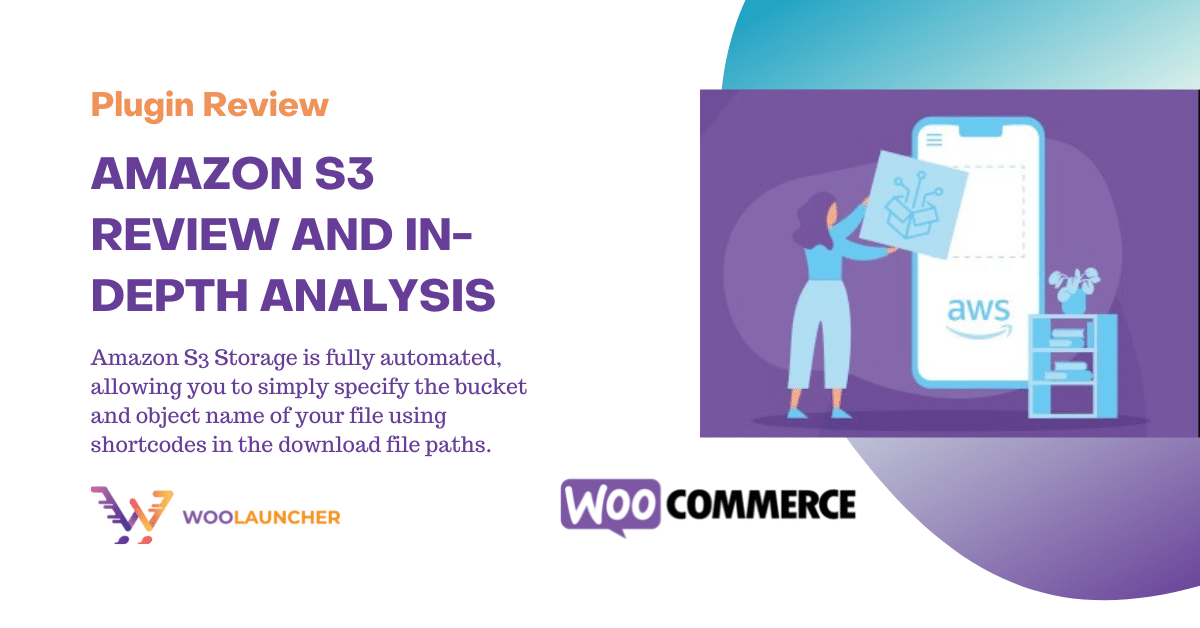 "This software was very useful to store my files that can be accessed from anywhere in the world. It has brilliant security."
The online marketplace is filled with variations. Over the years, the WooCommerce platform has also become popular for digital products like eBooks or Media playlists. Thus, having secure cloud storage for such businesses has become mandatory.
Amazon S3 Storage is all you need to ensure top-grade security for your digital products. It allows you to use the Amazon AWS S3 Service to serve your products. This tool comes with ultimate customizability that will overcome its weak points.
Today, we are going to learn everything about Amazon S3 Storage. It is an essential tool for digital product shops and we cannot leave it out of our review list.
What is Amazon S3 Storage?
Amazon Simple Storage Service simply known as Amazon S3 is a storage service for the AWS Infrastructure-as-a-service (IAAS) lists. For your better understanding, here are some elaboration for you:
Amazon Web Services, also known as AWS is one of the largest cloud computing platforms; and offers APIs to individuals, governments, or institutions with 200+ high functional services.
IAAS, also known as Infrastructure-as-a-service is a familiar form of cloud computing service. It provides virtual computing resources as a service.
Amazon S3 Storage is the core menu of AWS and acts as a bucket storage (Reserved amount of memory, holds single item or multiple items of data). You have some control over where you store your data. Although Amazon S3 is managed from its web console, to use it with your WooCommerce Store, it comes fully automated!
All you have to do is identify the bucket and elements of your files; that is also by using a shortcode. Where to use the shortcodes? Use them in the download file paths to generate unique URLs for download.
Loving what you read?

Join our newslettter today!
How to Create an S3 Bucket for File Storage?
Buckets are location-based identifiers used for better latencies, cost reduction, and even for addressing regulatory requirements. To use the S3 Storage, you have to create a bucket to identify files.
First, you have to install and activate the plugin and create import files in the AWS file storage. Go to console.aws.amazon.com/ and navigate through Services> Storage> S3 to upload the files.
Now, it's time to create an S3 Bucket!
1) Select the ' + Create Bucket ' button from the top left. Type a name and select a region you want the bucket to be hosted in. You can also check out the rule book to name Amazon Buckets.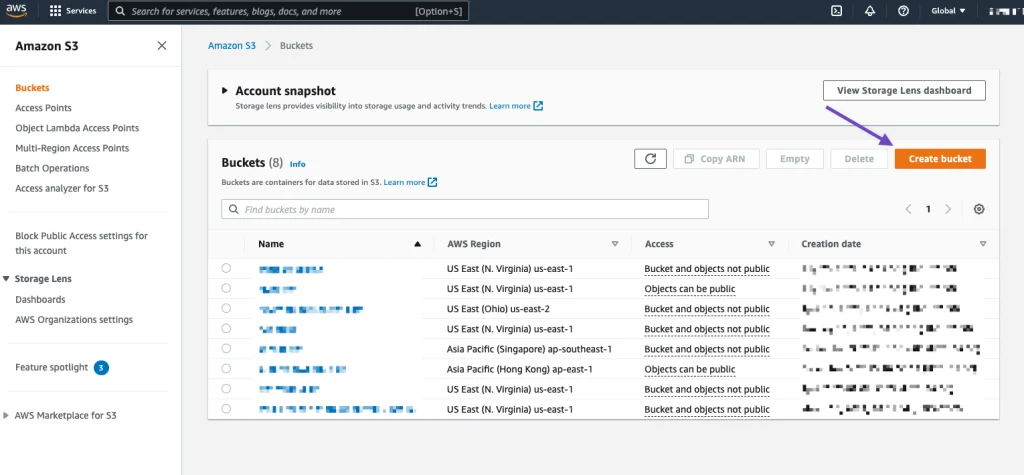 2) From a configuration page like below, you can set up the bucket for your files. Navigate through the bucket to modify options like Block Public Access settings for this bucket or Bucket Versioning. For most people, default S3 options are just fine.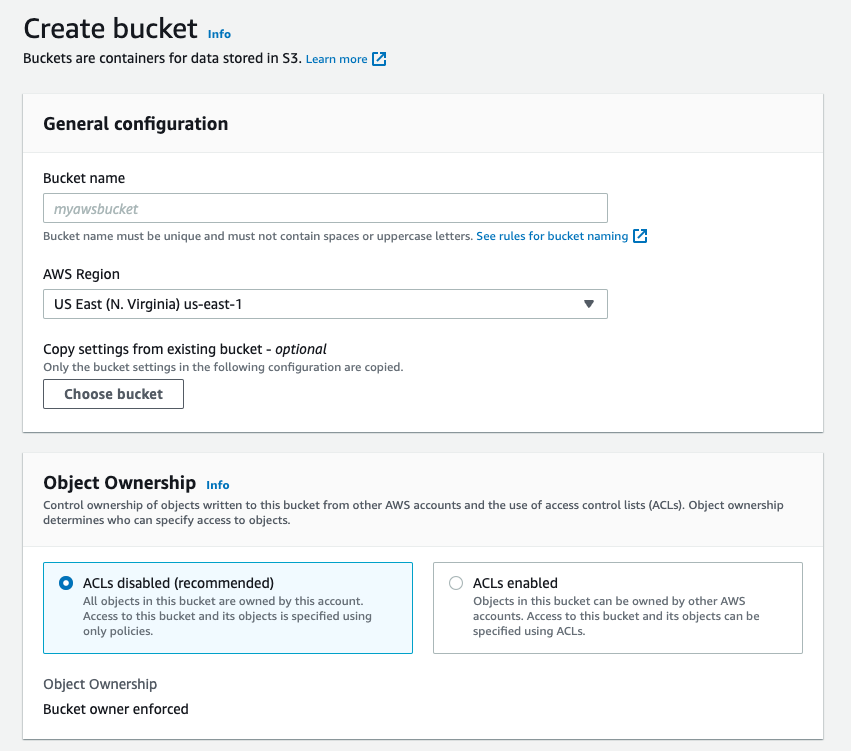 3) When you are done, select "Create Bucket" and you will be redirected to the bucket lists.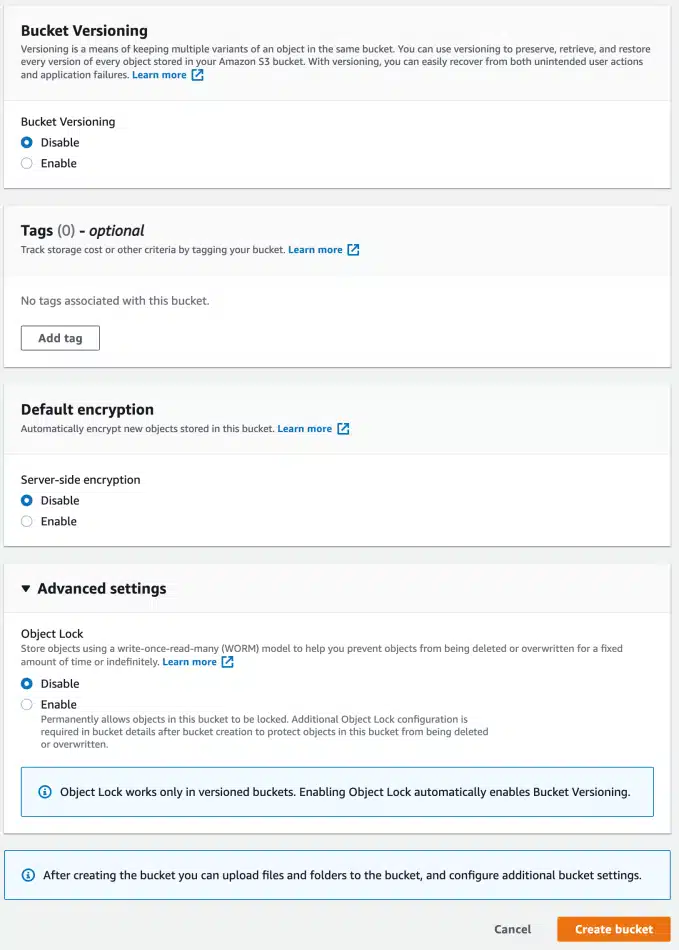 4) Now it's time to upload files to your bucket. Click on "Buckets" and select the desired bucket name. After that, select "Upload" when you are inside the bucket. Now, you can use the Drag and Drop feature to queue your files. With the Additional Upload Options, you can configure the file-specific settings.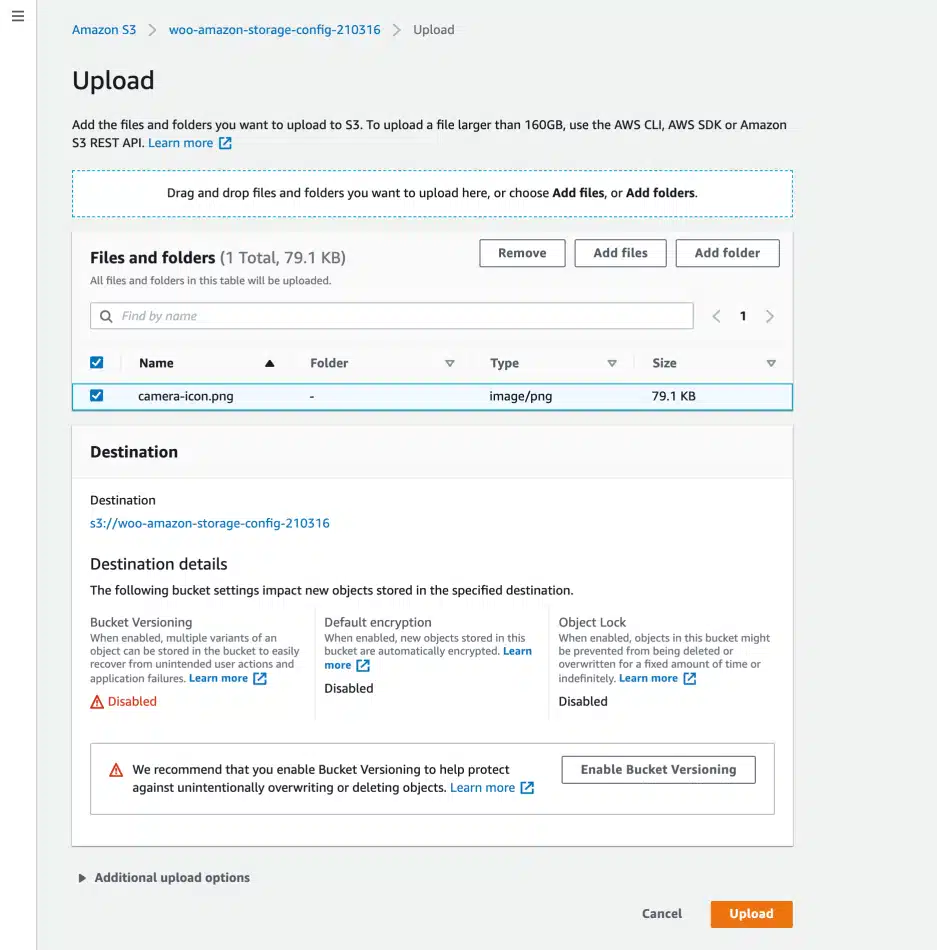 This is the part you have to follow to create a bucket from scratch. To configure digital products or modify file permissions, here's the official documentation to support you.
Customers End: Downloading Digital Products
Amazon S3 Extension allows you to create multiple buckets for one product. Hence, you can offer different files with download access from several Amazon Buckets for one product.
When customers complete their purchase, Amazon S3 translates this purchase into S3 URLs. Then, they can download the digital product as the file(s) easily.
That's it. We described the core functionality of Amazon S3. But there is more beyond that! You will find troubleshooting and generally asked questions from the official documentation; also can leave a ticket for post-sales support.
Pros and Cons of Amazon S3 Storage
Amazon S3 Storage is a top-grade virtual infrastructure for digital products. But it also has drawbacks of its own. In this part, we will learn both the benefits and drawbacks of this storage tool.
Pros
Offers simple interface
Highly customizable
Offers premium reliability
Multiple buckets for a single product
We have only found a few drawbacks of Amazon S3. Take a look at them:
Cons
Need third-party integration for desktop use
Final Words
There are many other AWS virtual infrastructures. But, needless to say, Amazon S3 serves as the core product to provide a safe and reliable platform to deal with digital products. It's available at $79; billed per year. However, the team will charge for the terabyte you spend. This may not seem feasible to many. But think of the unlimited storage capacity you will be offered with.
Ensure a safe space to offer customers with your digital products. You can purchase Amazon S3 now. And, if it's not what you have been looking for, you have a 30-days money back guarantee. This plugin also offers 1-year free updates and support as per WooCommerce policy.
You can learn about more tools like this! Subscribe to our daily newsletter and get more with WooLauncher. 👏