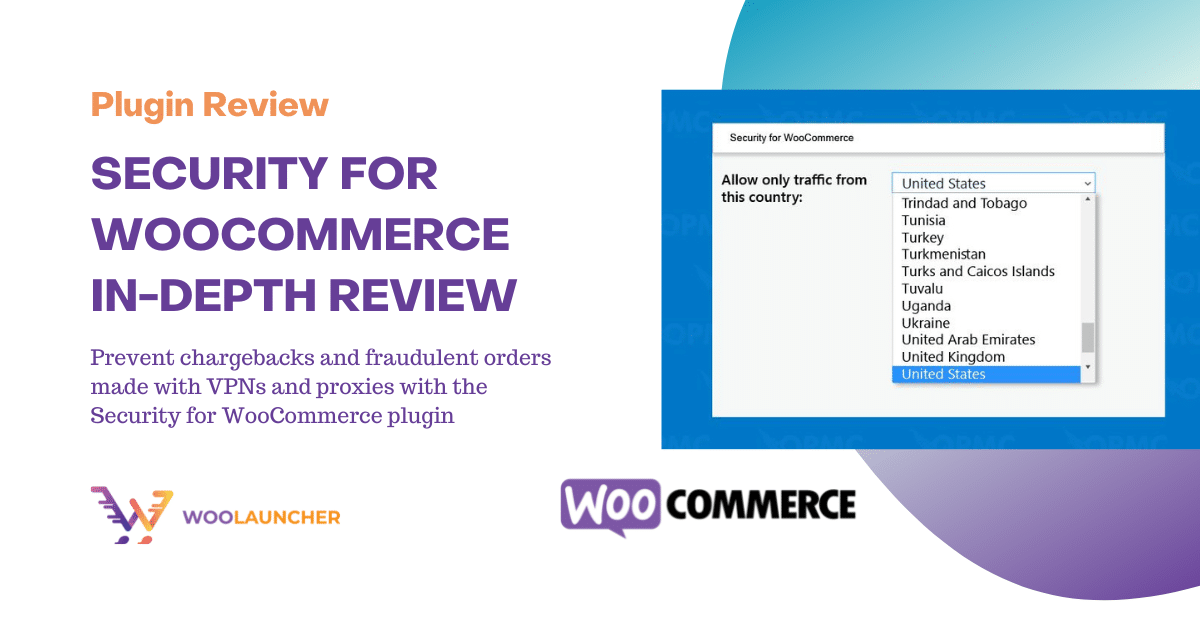 A WooCommerce store without a secure management system is like a home without doors. 
Chargebacks and fraudulence are nightmares for any online store. It happens when store owners return credits based on fraudulent claims. To prevent this from happening, you must have a powerful security system enabled for your WooCommerce store.
This is where Security for WooCommerce comes in. It is a smart plugin developed by OPMC. The plugin detects IP addresses from VPNs and Proxies and prevents any fraudulent purchases from those IDs.
This way, you can stop any red flags and avoid any disaster beforehand. It's a simple plugin and today's article is all about Security for WooCommerce by OPMC. Let's hop in for more.
What is Security for WooCommerce?
Let us describe what chargeback is first. During the incident of the chargeback, the bank reverses the actual transaction and takes it back out of the merchant's account. Fraudsters hide their original IDs and location. They use VPNs and Proxies to commence chargebacks to receive actual cashback from the bank.
The merchant then has to provide documentation proving why the chargeback is void to the issuing bank and dispute the chargeback. If he is successful, the bank will return the money to the merchant's account and if things don't go accordingly, the reversal of chargeback will be unsuccessful and the merchant will be charged fees.
Such incidents can negatively impact your WooCommerce Store; and if the amount is high, the magnitude of loss is also higher. That is why store owners must be aware of such incidents and prevent them from happening.
Security for WooCommerce detects and counters such occurrences. Merchants can restrict countries they don't want to sell products. Plus, there are other exclusive features that you must take a look at.
Loving what you read?

Join our newslettter today!
Security for WooCommerce: Features and Benefits
Security for WooCommerce is a simple plugin by OPMC. People without any coding skills can run this plugin with the backup of official documentation. The plugin offers a few powerful features that can secure your WooCommerce Store in WordPress. Take a look at them: 
1) Limit Business to a Single Country
Some online businesses like nursery items or perishable food stores are only country-based. If you don't wish to sell internationally, you can easily restrict any foreign sales from taking place. Security for WooCommerce allows you to limit store sales to a single country and avoid unexpected traffic.
The plugin offers a simple interface and you can get the job done easily. For example, if your store is based in the USA, you can limit your target group to only the USA only.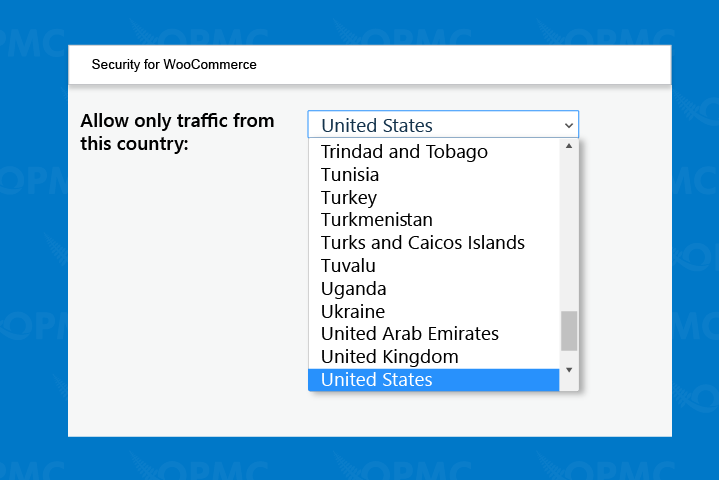 2) Sell in Different Countries
Not just one country! You can sell in different countries and block other options effortlessly. Security for WooCommerce makes sure you can seamlessly run your international business in different countries.
Select multiple countries you intend to prevent from your business. Other options will be automatically whitelisted to serve products/ services. Thus, you can extend your international business without bearing the risk of fraudulence.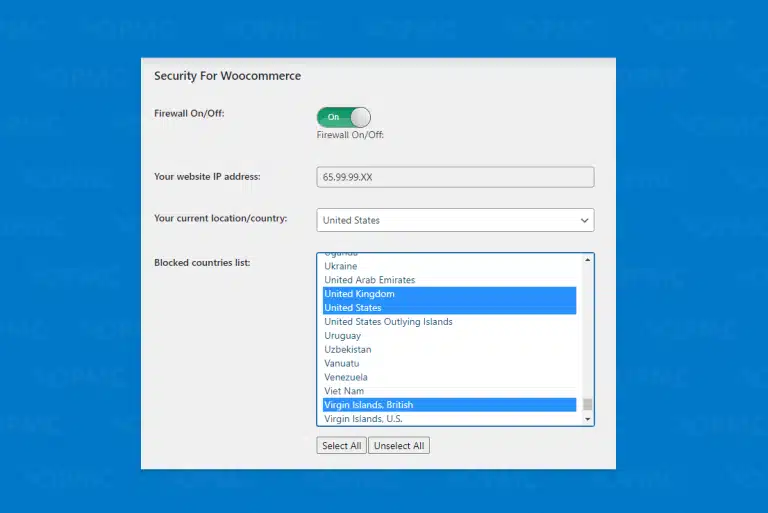 3) Block IPs Manually
Security for WooCommerce automatically blocks IP addresses from restricted countries. Once you set up the whitelisted countries, accounts from other countries will automatically be blocked.
However, with Security for WooCommerce, you can also block IP addresses manually too. This works as follows: identify the customer IDs that you think are causing trouble or you suspect as fraudulent. Easily block them to the Blocklisted IP list and keep them away from your store.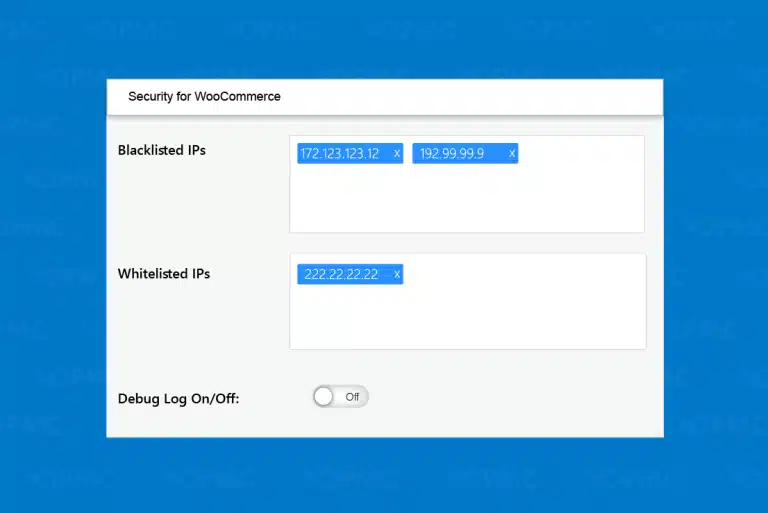 Plus, it may sound impractical but you can assign a virtual assistant or admin from a blocked country to the Whitelisted IP list and have them collaborate with you. This can lift the workload and you can take care of other things in the store in a safe environment.
4) Search Bots from Blocked Countries
One of the many good features of Security for WooCommerce is, it can allow bots to index your website on search engines. Even if the bots are from a blocked country, there is no turning back.
It's a remarkable job of Security for WooCommerce that can grant all web crawlers and search engine bots to work hard and keep your WooCommerce store findable.
5) Send Email Alerts
Security for WooCommerce protects your online store from threats and fraudulence. When someone blocked tries to log in through WP-admin, you will instantly receive an email. Either you block manually or it was automatically, and you will receive notifications. Therefore, you can act wisely and handle the matter.
Security for WooCommerce is a simple plugin. It provides a very straightforward interface, and you can manage all the functionalities from one place. From the WooCommerce Settings option, you can enable/ disable the firewall option to activate the plugin.
It is a WooCommerce-powered extension and restricts unexpected guests to increase customer value and serve them from selected countries only.
Summary
There are many other freemium plugins to uplift the security of your online store. But Security for WooCommerce is among them where you will enjoy the simple interface and easily protect your WooCommerce store from threats.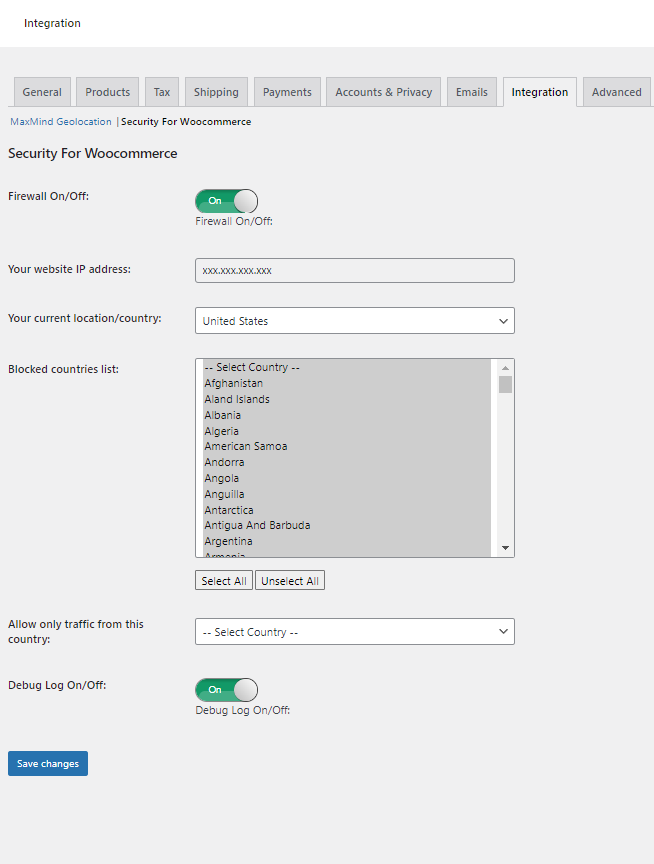 To consider cost and support, this plugin is available at $79, and it is billed annually. Compared to other WordPress security plugins in the market, it is affordable and easy to operate.
If your need is as simple as that, to restrict country-based audiences, Security for WooCommerce can be an ideal solution for you. However, if you want to extend the features and functionalities of your security plugin, exploring the other options might be the right choice for you.
However, with an annual subscription, you also have a 30-day money-back guarantee and official OPMC support and documentation (support and updates are free for 1 year). Plus, this plugin is still not compatible with language translation plugins like WPML or TranslatePress. But it is available in native English of all types.  
Final Words
Summary for WooCommerce is a premium plugin. It is available at WooCommerce Products now. You can purchase this plugin from here or from their official page. You can purchase the plugin but if it doesn't fulfill your expectations, you can avail of the 30-day money-back guarantee. 
We can't say that Security for WooCommerce is a feature-rich plugin. But it is mainly focused on keeping your online store safe from possible foreign threats and does the job nicely! For a basic starter, this is a good fit for you to limit your online stores to different countries. 
Do you like this article? To learn more about WooCommerce, subscribe to our daily WooLauncher Newsletter and explore exciting articles like this. 👏