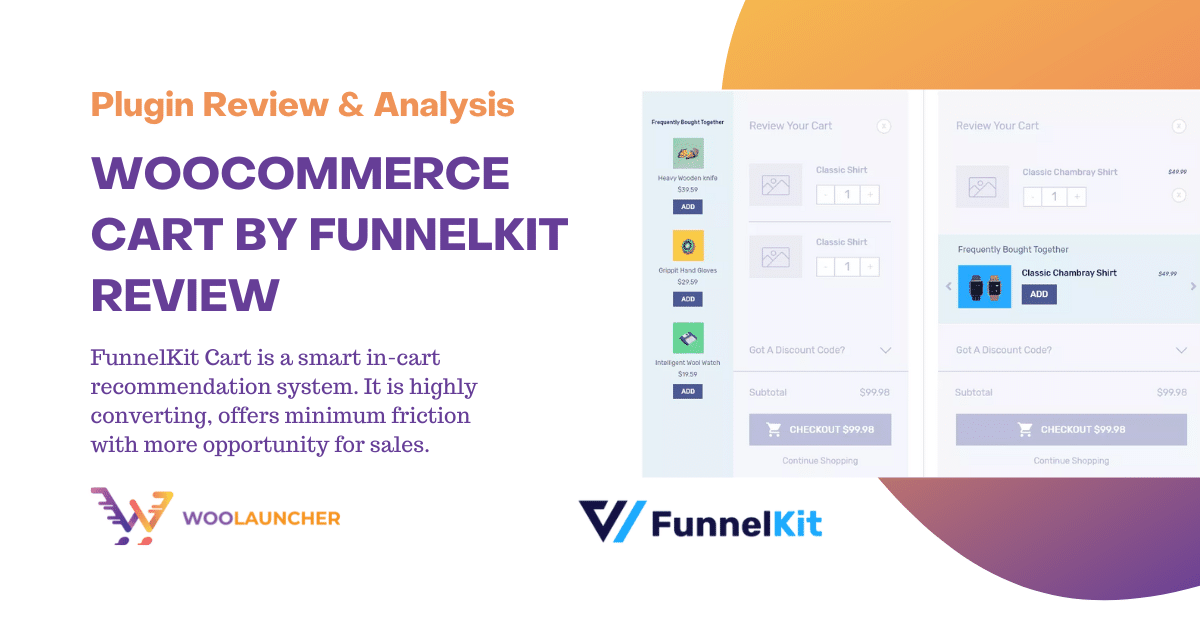 Those of you who have read the WooLauncher Review on FunnelKit, know that FunnelKit has two flagship products: Funnel Builder and FunnelKit Automations. Recently, they have shipped the Cart for WooCommerce. It's already available in the free lite version; you can download it from the WordPress repository.
So, what's the story behind developing WooCommerce Cart? Why did they build another WooCommerce Cart plugin when there are plenty of them in the market? What's so special about it?
Many of you have been looking for a smart way out with WooCommerce Regular Cart Page. It merely holds the standards and is not conversion-focused. Well, the new FunnelKit Cart is exceptionally efficient and offers a highly conversion-friendly interface.
More in the article below!
Story Behind WooCommerce Cart by FunnelKit
FunnelKit already has beautifully designed professional templates for modern checkout pages. While FunnelKit checkout pages were minimalistic in design and trustworthy, the team wanted to introduce a seamless add-to-cart experience.
There are plenty of Cart Plugins for WooCommerce in the repository collection. Adding one more means another regular cart modification system. But FunnelKit WooCommerce Cart is different. It is a slide-out-cart; easily accessible with just one click.
With FunnelKit Cart, you can access your cart items instantly. WooCommerce Cart Page offers a standard interface that lacks high conversion features. This is where the FunnelKit Cart fills in.
FunnelKit Cart is a smart in-cart recommendation system. It is highly converting and offers minimum friction with more opportunities for sales.
Do you know 26% of shoppers abandon their carts due to a lengthy checkout process? (Source: Baynard's Survey)
With this new FunnelKit Cart, shoppers can access their cart items seamlessly. It is a modern side cart plugin built to improve users' buying experience. The FunnelKit Cart allows users to add/remove products and access their cart with just a few clicks.
You click on the add-to-cart button, and instead of redirecting you to the cart page, it will slide in from the side. From the side cart, you can modify any cart item and directly visit the checkout page. It genuinely guides shoppers to the checkout page with a dynamic cart experience.
Loving what you read?

Join our newslettter today!
What Makes FunnelKit Cart Unique?
" This plugin has been a life saver! They have thought of everything…and then they come out with more. I wish I could show 10 Stars!!! Their support is beyond expectations, Tutorial Blog is easy to understand, and our funnels work and we are making money!!! No more CF for me! 100% FunnelKit now. "

Rich Lawrence
FunnelKit Cart is not like any regular Cart Plugin. It saves you time by avoiding the conventional cart page. FunnelKit Cart is the smart cart solution you all have been asking for. But does it withhold the promises? Here are 5 reasons why FunnelKit Cart is unique:
1) Personalized Cart
Configure your cart completely with FunnelKit. From the FunnelKit Cart dashboard, you can easily set up and configure your shopping cart in any way you want. Other cart plugins offer a few customization options like cart width, height, colors, and layout.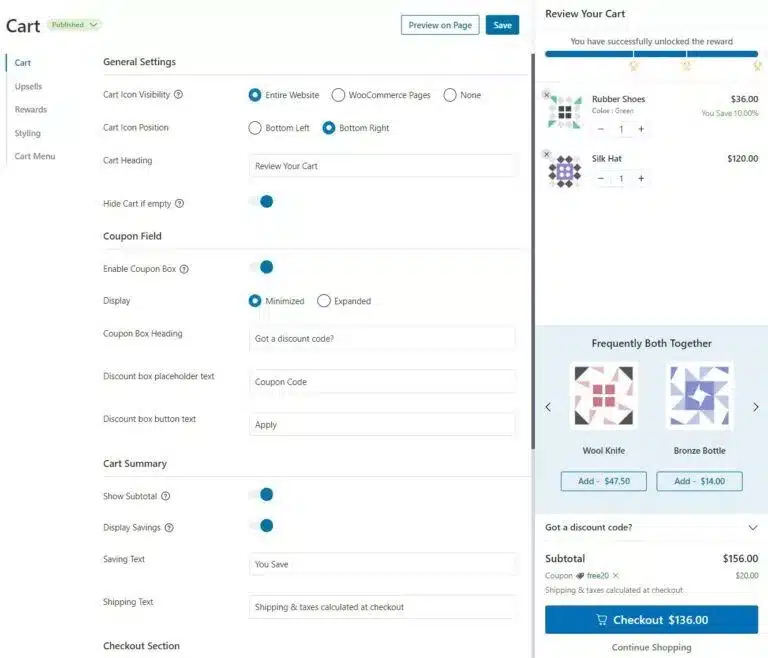 But with FunnelKit Cart, you can customize almost everything – the cart's display, heading, position, coupon section, checkout button, and more; all with one single click.
With all the ideal features to present a slick cart experience, WooCommerce Cart might be the one you need right now.
2) Instant Route to Checkout
The cart page is the journey between the product and the checkout page. Offer a short and hassle-free cart experience to your visitors and see your sales grow! The new FunnelKit Cart offers a convenient and easy cart process; ensuring people a quick entry to the checkout page and initiating sales.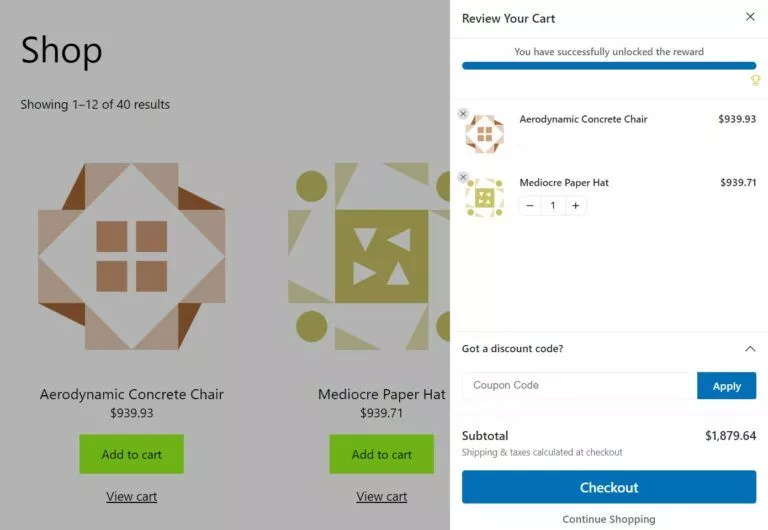 Whenever visitors select add-to-cart, the new FunnelKit Cart just slides to the side where they can easily modify cart content and get recommended products too. Thus, reducing cart abandonment FunnelKit Cart improves your sales number.
3) Product Variation Is In the Cart
Another reason why the new FunnelKit Cart is exceptional is that you can easily add product variations to existing cart items without leaving the side cart. It's as easy as that!
To add different items to the cart, customers usually have to leave the cart, go to the product page and then select their desired item. With the latest FunnelKit Cart, you can add medicine and grocery items from the same side cart. The idea is to reduce click amounts on your way to the checkout page. The FunnelKit Cart ensures you have
In fact, you can also offer variable products as upsell/cross-sell items and indulge your customers to add more to their cart.
4) More Room for Sales
With WooCommerce, you have to add linked products to the cart page and offer to upsell/ cross-sell products. It's a complicated process where you have to visit the product page and link each product separately to link for upsells and cross-sells offers.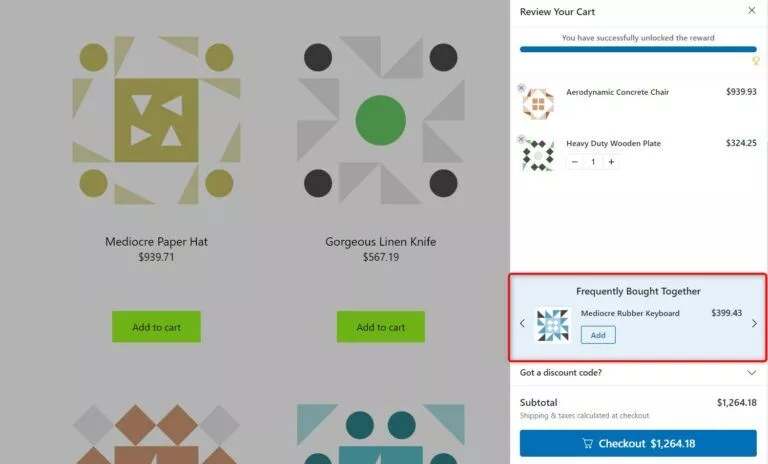 But, with the new cart plugin for WooCommerce, you only have to click the product name and link with the related items. Just like that!
Both cross-sells and upsells are smart tricks to inspire customers into making more sales. FunnelKit Cart ensures you can add premium upsell and cross-sell products when the customers finalise their cart.
5) Gamify User Experience
It is proved that with game-like elements added to an online store, people are highly likely to spend more time on your website. The process is called gamification and surprisingly, it increases the number of repeat customers.
With the FunnelKit Cart, you can introduce an arcade-like experience by offering rewards and incentives. This cart system allows you to add three kinds of rewards: Free Shipping, Discounts, and Free Gifts.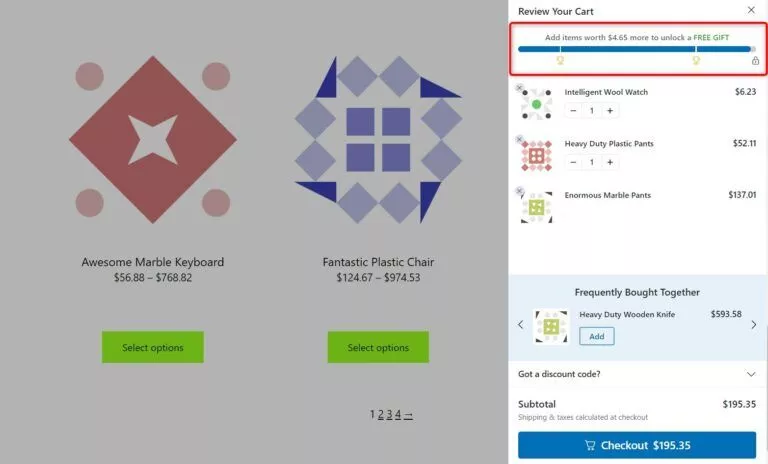 You can encourage your customers to increase the number of products and get free shipping. For example, you can offer a free shipment charge by specifying a minimum amount of sales. You have to configure the shipping status from the backend.
Thus, you can offer discounts and gifts with products and add them to your cart.
Please note that: you can also offer existing products as gifts. However, to do this, you have to add the products to the catalog first.
These features are available in the lite FunnelKit Cart. This plugin is still in the development stage and there is more to come! Additionally, you can have a worldwide product cart available in different languages. Therefore, FunnelKit Cart is compatible with different multilingual plugins like WPML, Polylang, TranslatePress and Weglot.
FunnelKit WooCommerce Cart: Final Opinion?
Is FunnelKit Cart better than other Cart Plugins? This is something you can only know by using it. WooCommerce Cart by FunnelKit was recently launched and there is a long way ahead!
Its Lite Cart Version is available in the WordPress repository and the plus users can also enjoy it. But, being a newly launched plugin, the FunnelKit Cart is remarkably successful in developing a flexible and direct user interface.
It provides a smooth cart experience with a faster road to checkout. And, a distraction-free route is all you need to improve your store sales. Besides, some of the exciting features like gamification with incentives or flexible cart icon display are already ahead of their time.
The FunnelKit WooCommerce Cart is not just another cart plugin. It introduces a sliding cart from where customers can manage everything. They can add their desired product varieties, and contribute to more sales with upsell/ cross-sell products, all from one place – the side cart itself.
Credit Article: Introducing WooCommerce Cart by FunnelKit.
Subscribe to our WooLauncher Newsletter to get more exciting news like this! 👏