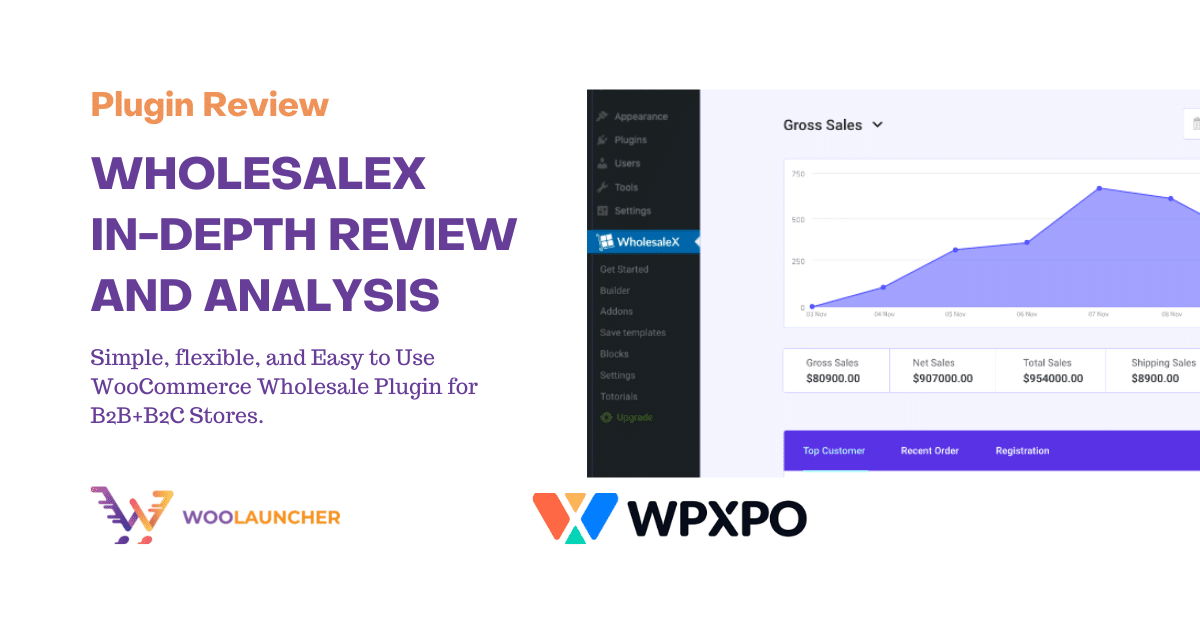 WholesaleX is a top-grade plugin to build dynamic Wholesale Stores. If you have gone through our blog collection, you must have found Wholesale Pro Vs Wholesale for WooCommerce where we have highlighted the differences and similarities between the two plugins.
We have extended our research and come up with WholesaleX by WPXPO, another top-notch plugin to take care of your Wholesale area. WholesaleX was launched on November 10, 2020. Ever since then, it has come a long way introducing exciting features with each update. 
Today's hot topic is WholesaleX. We will learn everything about this all-in-one solution wholesale plugin. Features, WholesaleX USPs, Pricing everything will be in our bucket today! Let's get into the details. 
WholesaleX: Features and Benefits
With WholesaleX, you can run a separate B2C store or run a hybrid (B2B+B2C) store. WholesaleX offers functionalities that are simple to use and integrate with your store.
We have used the plugin before putting words into this article. It has a free version that limits premium features like Tiered Pricing. We have also gone through the functionalities of the Pro version. With WholesaleX, creating a powerful wholesale/ hybrid store is only a few clicks away. 
Loving what you read?

Join our newslettter today!
Key Features
Wholesale Pricing
This is a usual feature that every wholesale user is familiar with. Like other wholesale plugins, WholesaleX also enables you to show wholesale prices differently. Either you show only the wholesale price or cut through the regular price to preview the wholesale price. Besides, it's also optional to show/ hide prices with or without taxes. 
It's up to you to decide. However, you can also set up wholesale prices based on logical pricing option (we will get to that part later).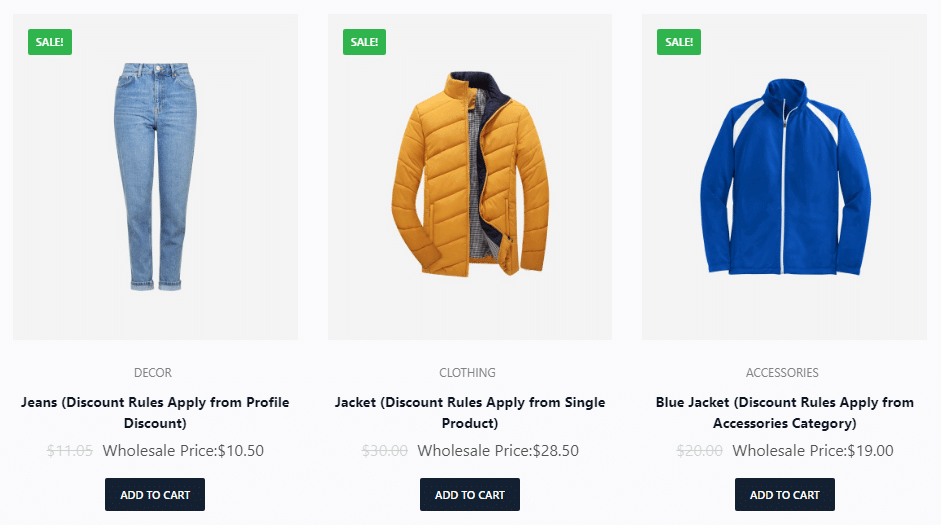 Registration Form
User information is an important part of a successful buying process. With collected user data, you can save them for later and send promotional offers or newsletters. WholesaleX enables you to generate B2B and B2C registration forms. You can personalize the forms as you like and also, create custom fields unlimitedly.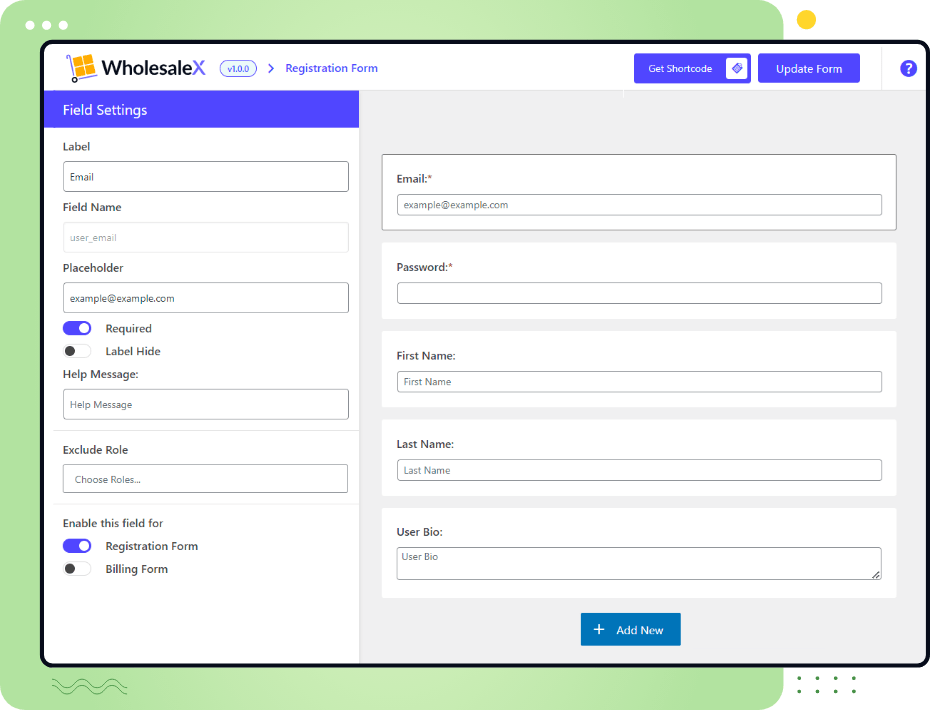 Besides, WholesaleX allows you to create specific user roles. Thus, you can hide registration forms from specific users and manually/ automatically approve the users. Other options also include – setting desired fields as mandatory. Plus, it gets easier with an entirely separate registration page that you can create via shortcodes.
Dynamic Rules
Irresistible offers and discounts can help you get more sales. With WholesaleX, easily set up advanced dynamic rules and allow your customers to enjoy discounts and incentives. The process can never have been easier. You can set up dynamic rules for:
Quantity-Based Discounts: You can set up quantity-based discounts for specific products or users. For example, allow customers to buy 5 shirts together and enjoy a 30% discount all-inclusive.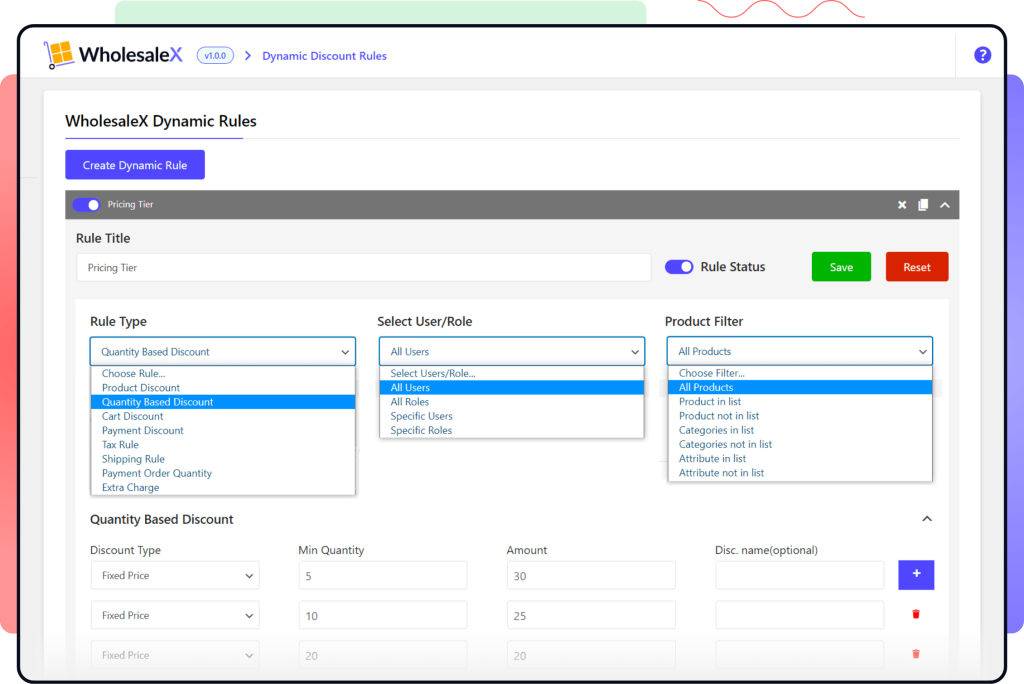 Minimum Order Quantity:  Set a minimum order quantity that has to be met to avail of a certain discount on single or multiple orders. 
User-Based Pricing: It may sound amazing! But with WholesaleX, you can set up different prices for a single product for different users. With user-based roles, setting up this process is as smooth as butter. 
Payment Method Discounts: You can introduce different payment methods to your wholesale store. And, you can also enable offers and discounts based on different payment methods. 
Category Discounts: Not just any single product, set up discounts based on an entire category. For example, you can offer 20% discounts on food and beverages where the other categories remain discount free. To clear stock from any specific category, this is very ideal. 
Cart Discounts: Stores with WholesaleX can easily introduce quantity or value-based discounts for single or all users and products. 
These were the different dynamic rules for offers and discounts you can set up with WholesaleX. The plugin ensures varieties of options to attract more customers.
User Roles for Better Management
WholesaleX enables you to create different user roles and use them for different purposes. You can create unlimited user roles with this plugin. Go to the plugin dashboard and create different roles for B2C/B2B users or segment customers differently.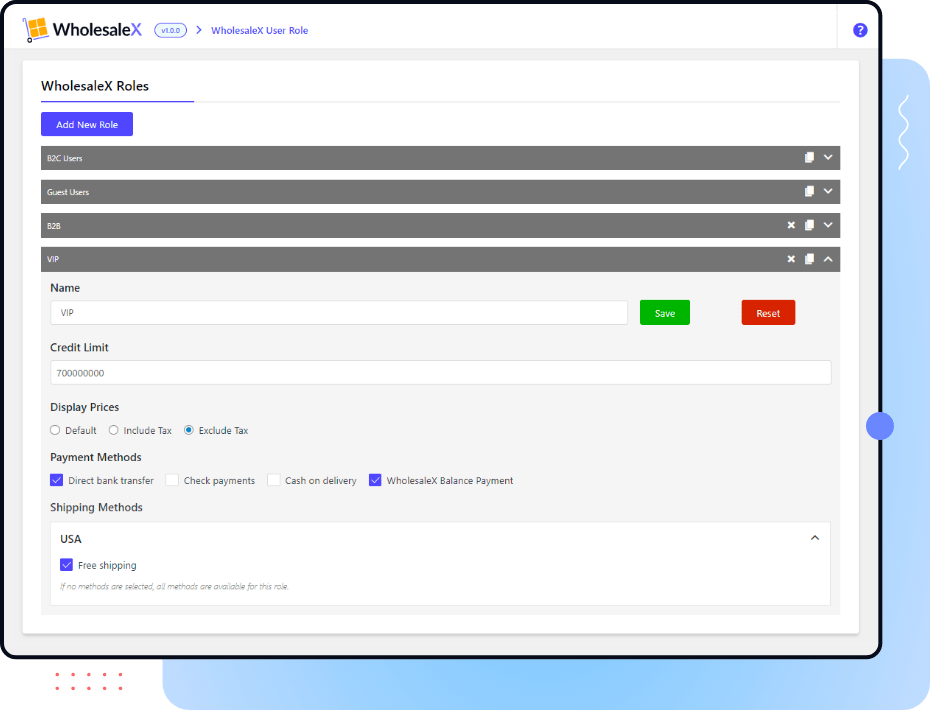 And then, you can apply different pricing options for different user roles. Also, add wallet credit limits, and offer different shipping/ payment methods for particular users. Besides, it's easier to display tax-included prices for limited user roles.
Store Wallet
Store wallet is the special catch of WholesaleX. It's a smart online store wallet management system; you can enable it with WholesaleX. You can allow your customers to add funds to the wallet and later use this wallet as an active payment method.
The admin group has the upper control and they can modify the wallet differently.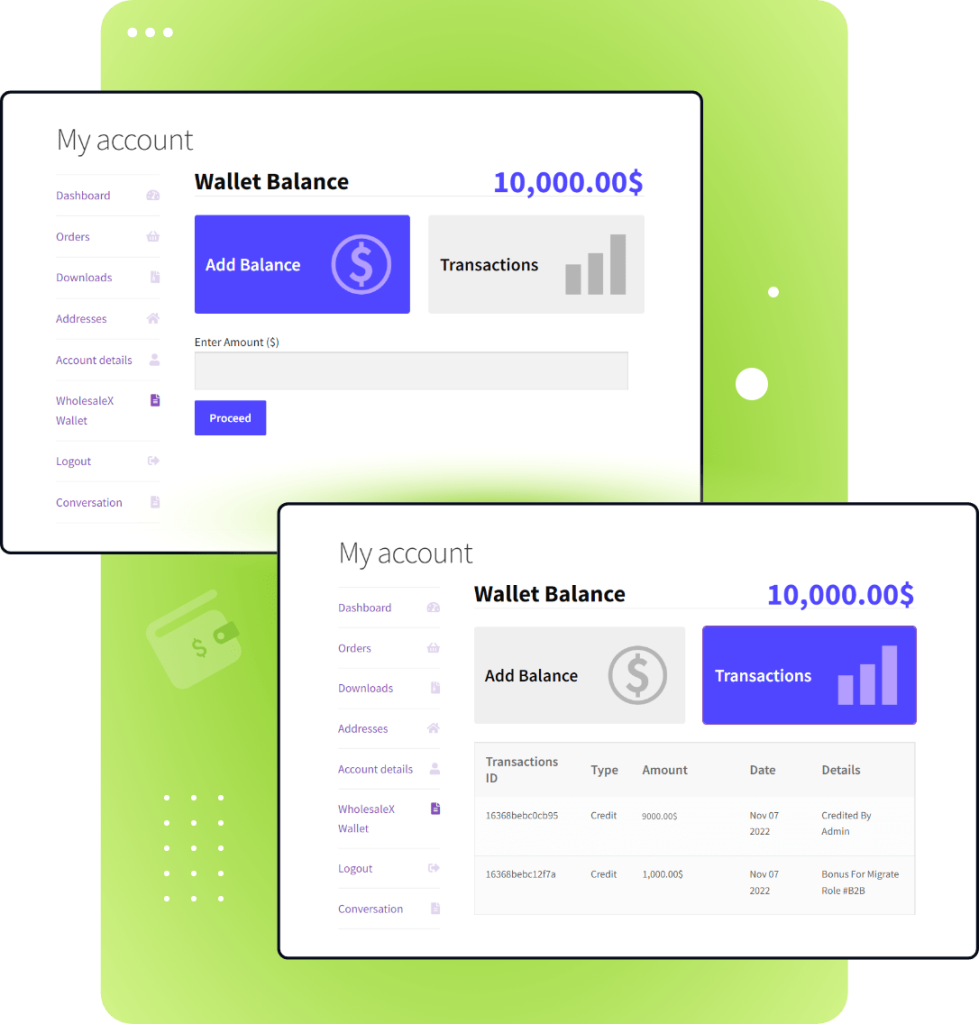 Display store wallet on user's My Account Page from WooCommerce.
Allow users to add funds to their wallet and use it for payments.
You can manually add funds to any specific user's wallet from their profile.
Also, modify the "Wallet Balance" and "Add Funds" options for foreign stores.
Enable Taxes for limited users and offer different prices for different users. 
Communicate Seamlessly
The most effective way to establish a successful online business is to maintain a constant and healthy relationship with customers. As interesting as it may sound, WholesaleX offers a direct communication platform for B2B users.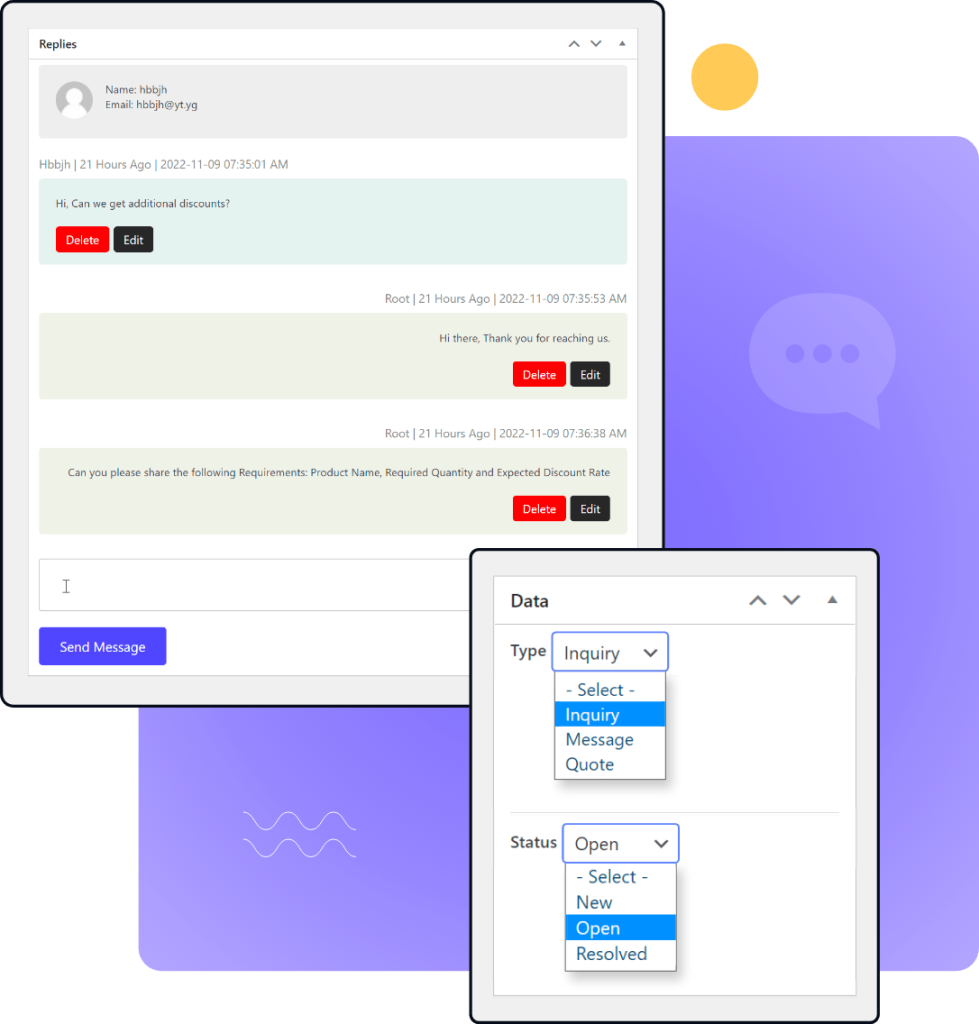 The conversation option is available on WooCommerce My Account Page. And, you can categorize the conversation into three types: Inquiry, Message, and Quote to easily manage the variety of customer inquiries. Thus, it gets trouble-free to receive and manage quotes from your customers, messages, or simply an inquiry.
Quote from the Cart Page
Users can also request a quote from the cart page. WholesaleX offers the flexibility of custom quotes from the cart. This is optional and the site admin can enable/ disable the option to request custom quotes.
Seamlessly differentiate quote requests between logged-in and guest users. You can also send reminder emails to notify about expiry dates and custom offer quotes to emails and conservation areas.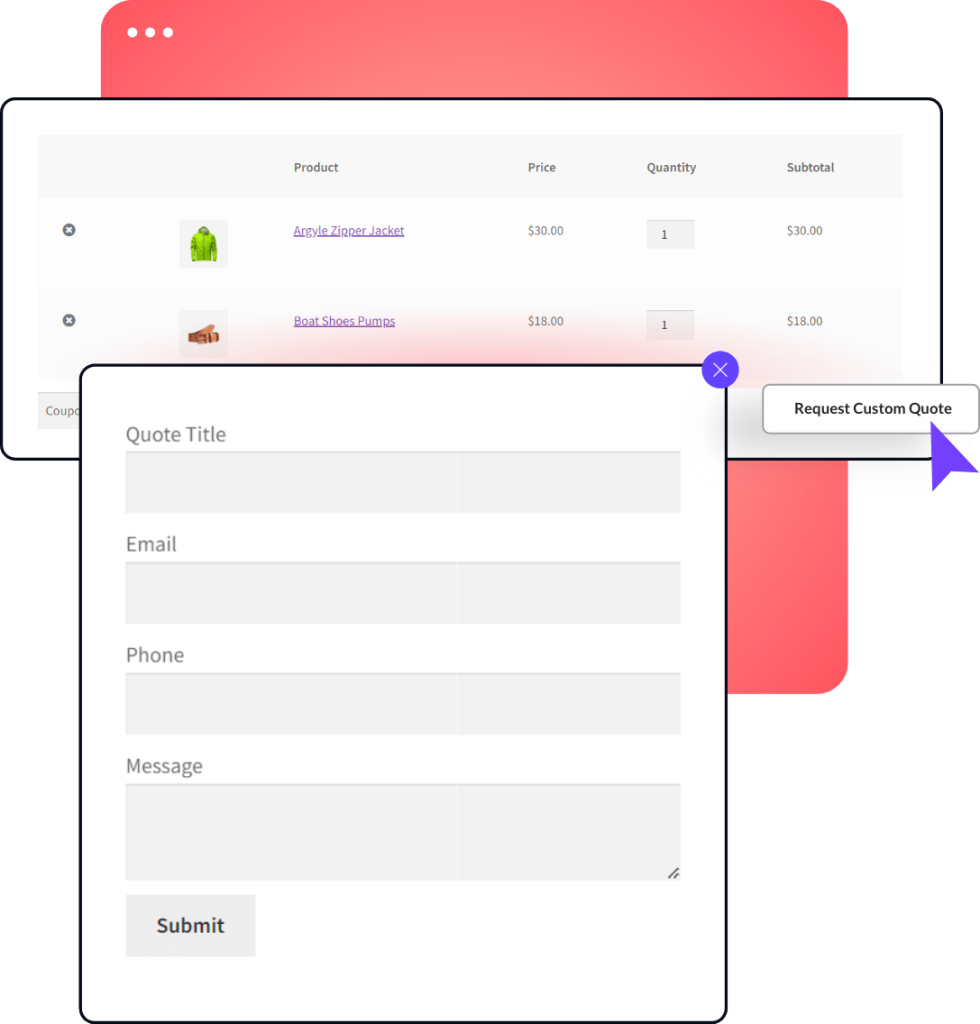 Tiered Pricing
With WholesaleX, you have Tiered Pricing; enabled globally or per user role or for any product label. This way, you can encourage customers to spend a few bucks more on quantity-based discounts. You can create Tiered Pricing from the category editor and design this feature differently for specific users/ user roles.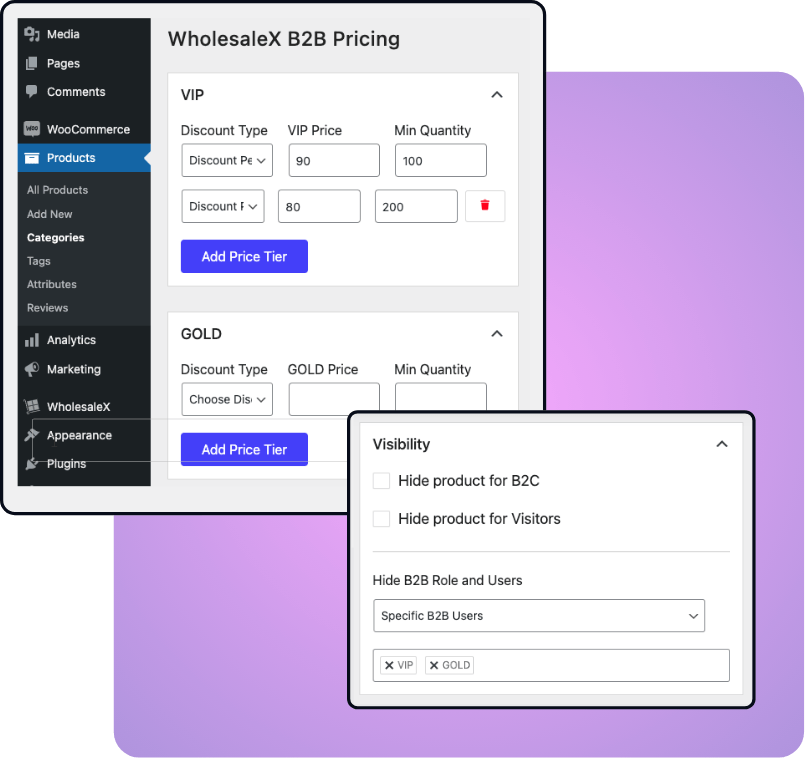 This feature is, however, available for pro users. The free version is fulfilled with other exclusive features. In WholesaleX Pro, you can customize the design and styling of the tiers also.
These are some of the key features of WholesaleX. There's more! Take a glimpse of the other features too.
Product Visibility: Display or hide products to specific users or from guest users.
Tax Exemptions: Disable taxes for specific users or products.
Custom Fields: Add unlimited fields to the B2B registration form.
reCaptcha: Prevent spamming and have a safe B2B store with reCaptcha code.
Payment Methods: Manage payment methods differently for users and products. 
Private Store: Hide Wholesale store from outsiders.
Login: You can combine the login and registration from together.
We have highlighted the key features in the above section. Some features: setting up price range, custom fields, tiered pricing, conditional pricing rules, or registration forms are common functionalities you will find in other wholesale plugins too.
Store Wallet and One Inbox for B2B Users; now these two are different from the last two wholesale plugins we reviewed earlier. We can, undeniably, consider these two features as unique selling points (USPs) of WholesaleX. 
WholesaleX Pricing
Like ProductX, WholesaleX also has three different pricing models: Yearly, Lifetime, and Agency Bundle. Take a look at them in detail below: 
Yearly Plan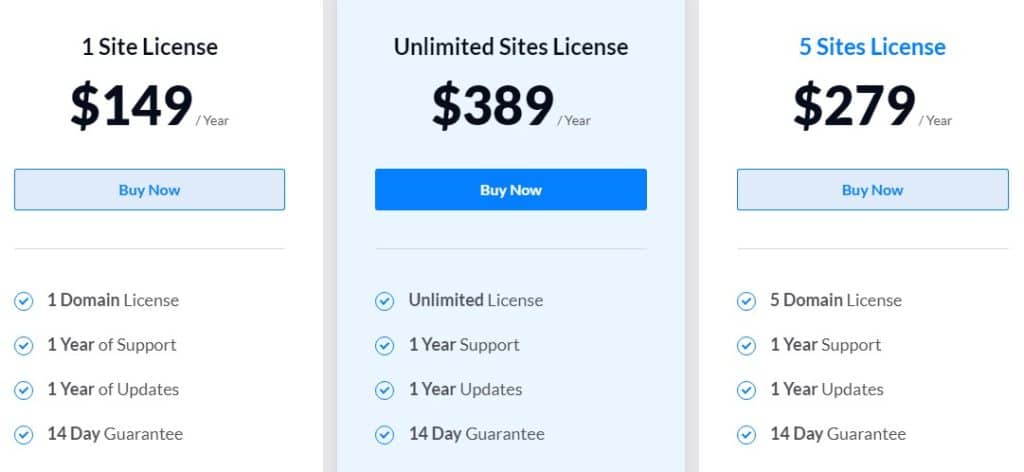 This is a reasonable plan based on a yearly subscription. Under this plan, you have three payment policies that differ based on license types. Here are the details:
Plan – $149/ Year: This applies to 1 site only. And you have 1 year of support, 1 year of updates, and 14 days of guarantee.
Plan – $389/ Year: You have an unlimited domain license under this plan with 1 year of support, 1 year of updates, and 14 days of the money-back guarantee.
Plan – $279/ Year: This is a reasonable plan available for 5 domain licenses with 1 year of support, 1 year of updates, and 14 days of the money-back guarantee. 
Lifetime Plan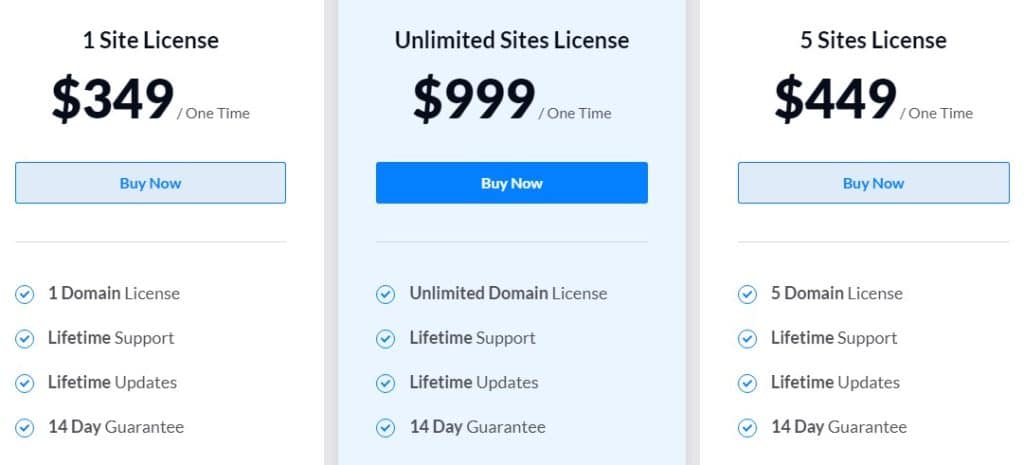 Ignore getting renewal updates and upgrade to a lifetime WholesaleX plan. With this, you don't have to limit yourself to yearly support and updates. This plan includes:
Plan – $349/ One Time: This is the same as the yearly plan for a single site. With this plan, you can use WholesaleX for 1 site only. Besides, you have lifetime support, updates, and a 14-day money-back guarantee.
Plan – $999/ One Year: You have an unlimited domain license under this plan with lifetime support and updates and 14 days of the money-back guarantee.
Plan – $449/ Year: Similarly, with a lifetime license, this is a reasonable plan available for 5 sites with lifetime support and updates and 14 days of the money-back guarantee. 
Agency Bundle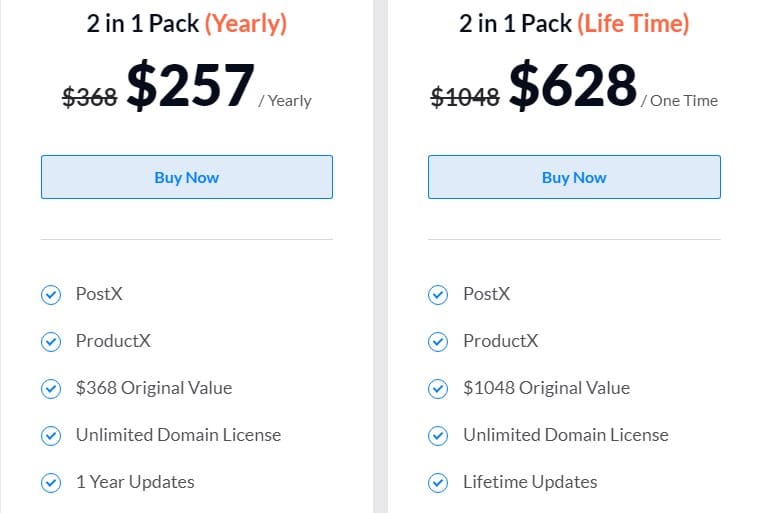 Agency Bundle has been newly invested! Store owners who are developing a fully featured single/ hybrid store online should definitely take a look at this. Two plans are available under this bundle. Take a look at them.
Plan – $257/ Yearly: Get this bundle together for PostX, ProductX, and WholesaleX. You have a yearly subscription with unlimited domain licenses and upcoming features promised. With this, you can save up to $111 from the original value ($368).
Plan – 628/ One Time: We would recommend you get this combo pack for a sustainable WooCommerce Store. It comes with a one-time purchase for PostX, ProductX, and WholesaleX. Besides, you also have lifetime updates and support with upcoming features packed! It saves you $420 from the original value of $1048. So, yes! This is the real catch! 
All plans are available for a 14-day money-back guarantee; meaning you can get a refund if the plugin doesn't function properly and it's not what you have asked for. Besides you also have official documentation to support you all the way.
In case you need detailed help or inquiry with any subject, reach out to the WholesaleX support team by submitting tickets. They are fast and professional. You can also join the WholesaleX Facebook Group to be part of the community and get more from the installation. 
Final Words
Here ends our overall review with WholesaleX. Earlier, we reviewed two wholesale plugins – Wholesale Pro by Barn2 and Wholesale for WooCommerce. From there, you can get an idea about the differences in their functionalities and operation.
Three of the Wholesale Plugins reviewed at WooLauncher are ready for professional use. Though, Wholesale Pro focuses on wholesale secrecy more, Wholesale for WooCommerce and WholsaleX is also feature-rich and super ideal for running hybrid online stores.  
As for price, WholesaleX starts at $149 with a yearly subscription. It may seem a little overhead. But this price is compensated with powerful features and top-notch customer service. Also, you will have unique features like Tiered Pricing, Store Wallet, and share an inbox with B2B customers for conversations.
WholesaleX introduces modernization to your Wholesale store. With smart features like online wallets and shared inbox, your B2C store is already one step ahead. Thus, going with WholesaleX is effective when you want to build a unique and different store system from others. 
Conclusion
Any last words? Last but not least, this review covers most of WholesaleX. But there remains more. To figure out whether the plugin is a perfect catch for you, don't rely on this review blindly and use the plugin yourself. How? Use the free WholesaleX. The free version covers almost the majority of the features. Get to know its features and if you like it, you can then switch to the pro version. Also, don't forget to checkout WholesaleX Demo .
To get more articles like this, feel free to subscribe to our daily WooLauncher Newsletter. 👏