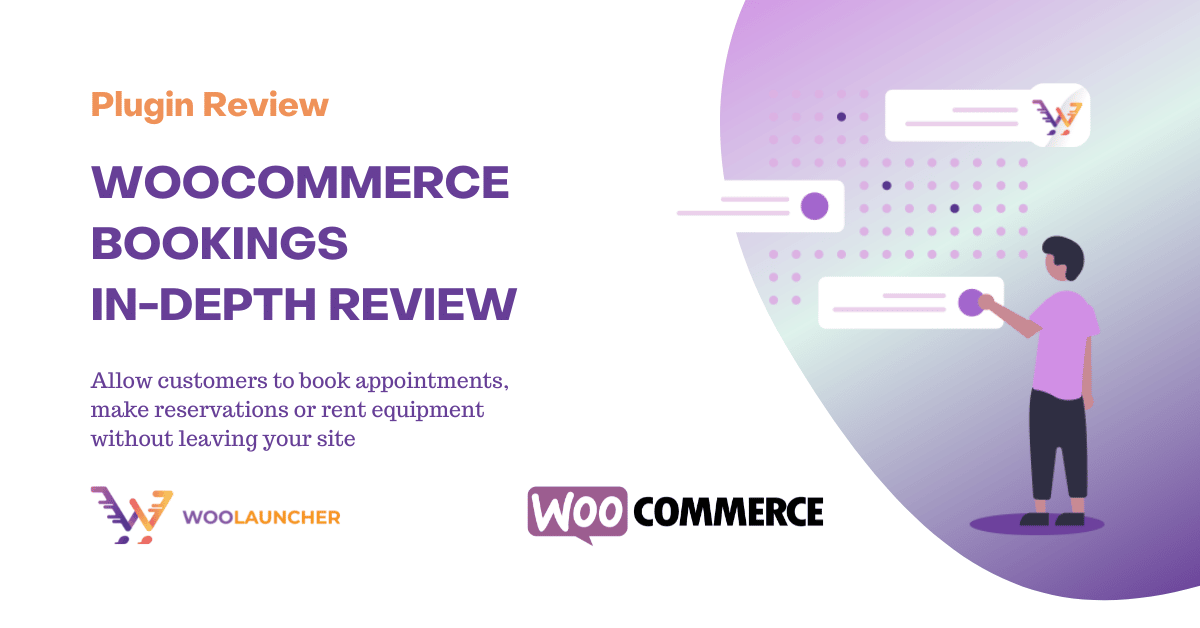 You must invest significant time in coding or professionals to build a booking website from scratch. It would take days, if not months, to complete a fully operational booking site.
Thanks to WordPress, you can now have your booking website within minutes with WooCommerce. WooCommerce comes with a large collection of extensions that help you build niche-based websites. WooCommerce Bookings is one of them! 
With WooCommerce Bookings, you can have a completely developed, feature-rich online booking platform. Want to learn more about WooCommece Bookings? You are at the right spot.
Read this article thoroughly to learn more about WooCommerce Bookings. This article covers everything about WooCommerce Bookings. 
What is WooCommerce Bookings?
WooCommerce is the best eCommerce solution for online shop owners. You can use this tool to enhance any functionality of an online store. WooCommerce Bookings is developed by WooCommerce, and it's an amazing extension to create bookable products.
WooCommerce Bookings is best for online bookings, appointments and schedules, and table reservations. However, with a few modifications, you can use WooCommerce Bookings for anything! 
With advanced features like custom booking and setting up pricing ranges, you can use WooCommerce Bookings to improve the booking experience for customers. The extension price starts at $249, and it's billed annually! You also have a 30-day money-back guarantee in case it's different from what you have been looking for.
Learn more about WooCommerce Booking Essentials to give your booking site a boost!
Loving what you read?

Join our newslettter today!
WooCommerce Bookings: Features
Look at the useful features of WooCommerce Bookings and how you can implement them to build a powerful booking site. 
Automated Bookings
What's available with WooCommerce Bookings? WooCommerce Bookings is compatible with any WooCommerce Themes, making the process easier. With WooCommerce Bookings, customers can seamlessly check if there is any booking slot available during their flexible time. They can complete their payments instantly and get the booking process done.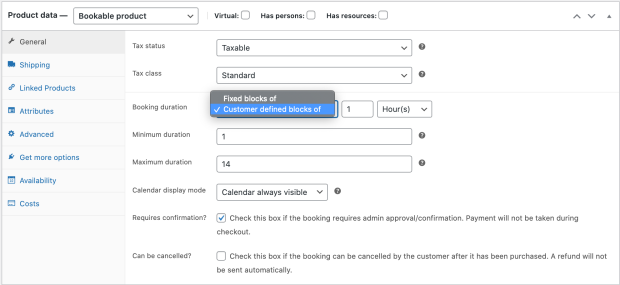 WooCommerce Bookings provides fast and quick support for booking initials. With this extension, admins and users have a higher advantage of saving time through a manageable booking site. You can also use AutomateWoo with WooCommerce Bookings to improve booking experience and reduce booking cancellations.
Bookable Blocks
Enjoy the flexibility of bookable blocks with WooCommerce Bookings. With this WooCommerce extension, you can create and define bookable blocks in either way below:
Allow customers to create the duration of bookable blocks. For example, let your customers decide how many hours they need in an appointment for a day.
Or, you can set a fixed bookable time for users, such as creating a bookable block of 1 hour for your dental appointment, and customers won't be able to modify it.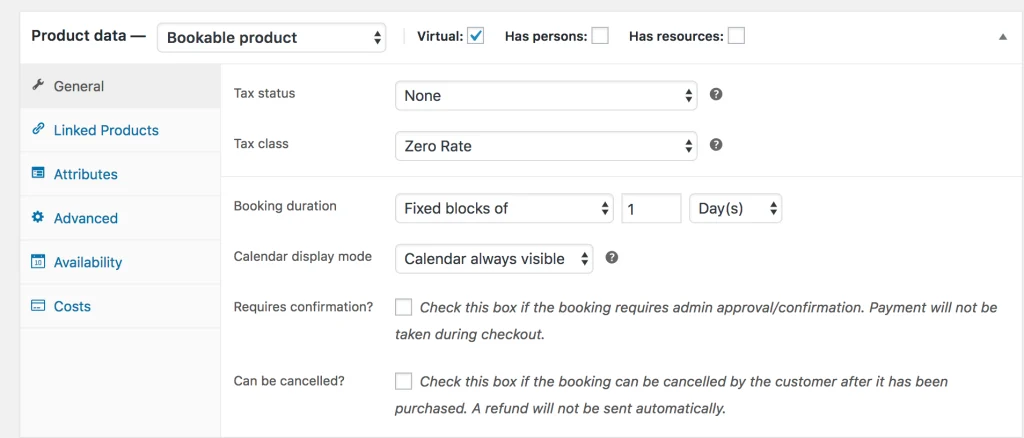 This feature allows you to explore the flexibility of a booking platform. With the versatility available for users, you will draw more people's attention to your booking site.
Min/ Max Number of Participants
Avoid overbooking with the WooCommerce Bookings extension. Customers are often annoyed after selecting their preferred slot, which later becomes unavailable. Let them know beforehand which slots are available during a specific time and which are not.   
For example, if you have ten rooms at your hotel, you can set the maximum number of bookings to ten. So, when the eleventh customer tries to book a room in your hotel, he will only find a vacancy if he selects another time slot.
Custom Bookings Range
This is a very useful feature! Custom bookings allow you to set your hotel as unavailable during any specific time of the year. Suppose you will have your hotel location removed to a new place and need time from 1st to 20th July for shifting.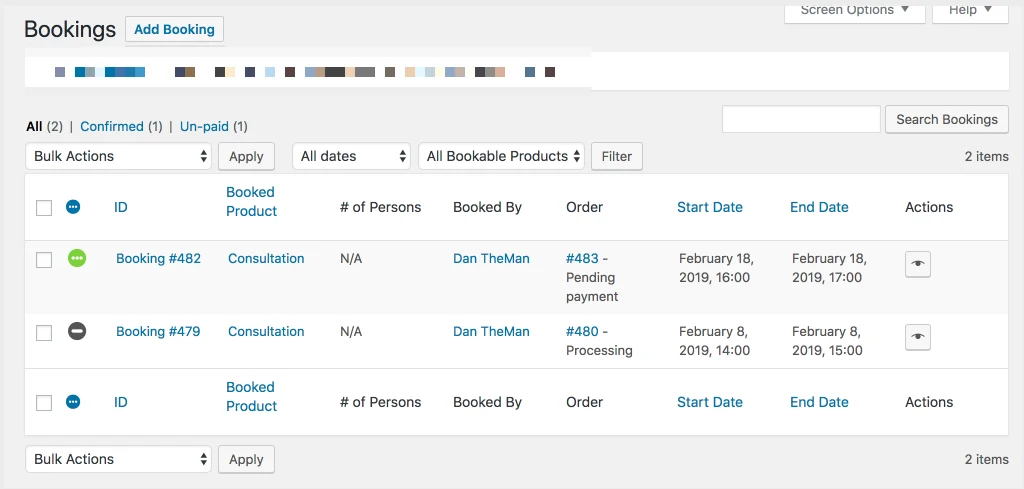 With WooCommerce Bookings, you can easily set your hotel as unavailable during this time. The process goes as follows – you can set a start date, and an end date with the "allow bookings" to "No." It is very feasible and prevents users' confusion.
Discount and Tax
WooCommerce Bookings integrates a complete automated booking system into your site. Keep your customers updated with booking prices and help them to plan their vacations to match their budgets. 

This WooCommerce extension helps you set discounts for groups or individuals who confirm multiple bookings. You can also set low prices for first-timers and higher values on weekends. Kids will have their special budget value too. Besides, set taxes accordingly, and it will be automatically updated with the payable price.
Time Zone Preference
WooCommerce Bookings is a global extension. You can show your availability according to customers' time zones, whether they come from New York, Mexico or Australia. Interested prospects can get the available hours followed by their timeline and book appointments at their comfort.
This feature is important for virtual classes, online appointments and rentals. For any business that needs delivery, set hours accordingly to offer a hassle-free booking experience.
Custom Price Range
Previously, we learned about setting up custom booking ranges with WooCommerce Bookings. But you can also set custom price ranges with this booking plugin. Using WooCommerce Bookings, you can set custom prices for any specific period. For example, you can set 25% discounts on your service for a week or half months – as you like! 
The process is as easy as follows: select the date range and then fix the discount amount you want to add during this time.
Confirmation and Cancellations
Easy cancellation and confirmation are a blessing for customers. People often need to cancel bookings for different reasons. Offering them a flexible solution to cancel bookings is encouraging and often leads to positive referrals. With WooCommerce Bookings, you can allow your customers to cancel bookings easily.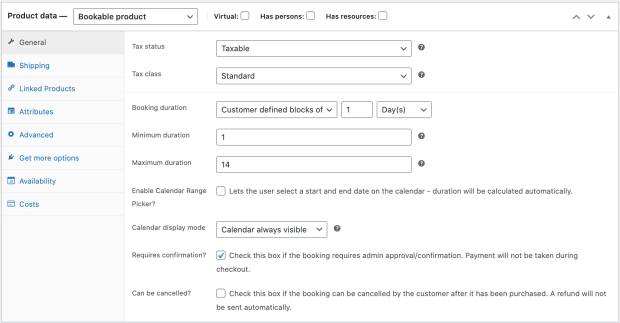 Besides, you also have the option to set confirmation notifications to review bookings before it's officially confirmed. WooCommerce Bookings is a booking extension filled with possibility and flexibility! 
Set Reminders
Don't lose customers easily! Send them reminders often and let them catch up. With WooCommerce Bookings, you can easily set reminders and notify customers about their appointments. WooCommerce Bookings allows you to send quick notification emails to clients. You can send confirmation emails when the booking is placed and a few days before the booking date arrives.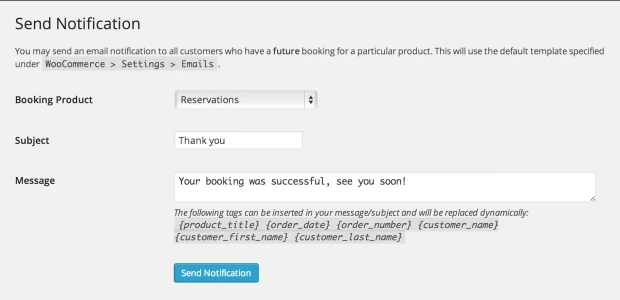 Calendar View
Enable calendar view to find out how your month is shaping up. With WooCommerce Bookings, you have a calendar view where you can update existing bookings or check availability. This calendar comes with filter options too. Easily find out specific resources and organise your bookings with minimum errors.
Besides, sync Google Calendar with your booking store. It takes less than 1-Min to get them working together, and you can track and manage customers from the calendar. Also, add them manually to your list using this calendar.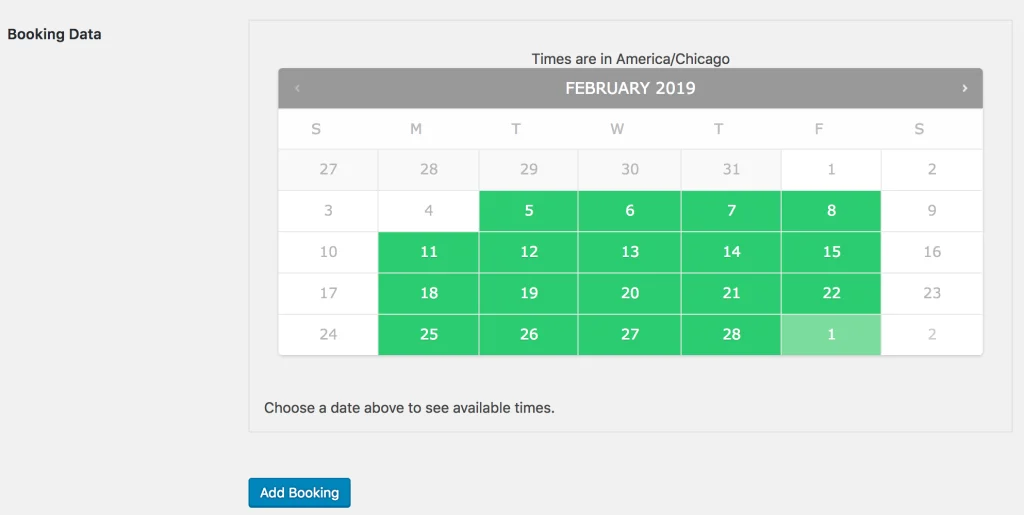 Here are all the features of WooCommerce Bookings and the scopes to grow your booking store. Now, let's take a look at the pros and cons of WooCommerce Bookings. It is always wise to learn thoroughly about your favourite booking extension. 
Pros and Cons of WooCommerce Bookings
Explore the benefits of WooCommerce Bookings. Take a look at the pros of this amazing extension here:
Here's a list of cons. Get to know WooCommerce Bookings before you finally purchase the plugin:
Cons
Limited integration
Calendar; rated 18% below the industry standard
Is WooCommerce Bookings The Right Booking Plugin for Me?
WooCommerce Bookings is suitable for online booking services, appointments and hotel reservations. But, with a little work, you can create any booking site on WordPress with this extension.
This plugin comes with all-packed features of booking functionalities. You can easily create a booking website for your WordPress platform. Also, automate all the appointments and manage everything from one place.
Besides, WooCommerce Bookings is also powered by WooCommerce. Hence, you have all the flexibility of WooCommerce with this extension. Nonetheless, go through our article to learn everything about WooCommerce Bookings. You can decide if this extension is ideal for your service type based on your requirements.
Final Words
WooCommerce Bookings is an easy-to-use extension for everyone. With the dynamic features, you can power up almost any booking mechanism. However, there still remain some issues that need improvement. WooCommerce developers are constantly working on them to bring out the best booking experience with flexible admin control and user interface.
Everything we covered here is all you need to know about this feasible WooCommerce extension. To explore the booking features, check out official docs on WooCommerce Bookings. 
To get more articles like this, subscribe to our daily newsletter from WooLauncher. 👏