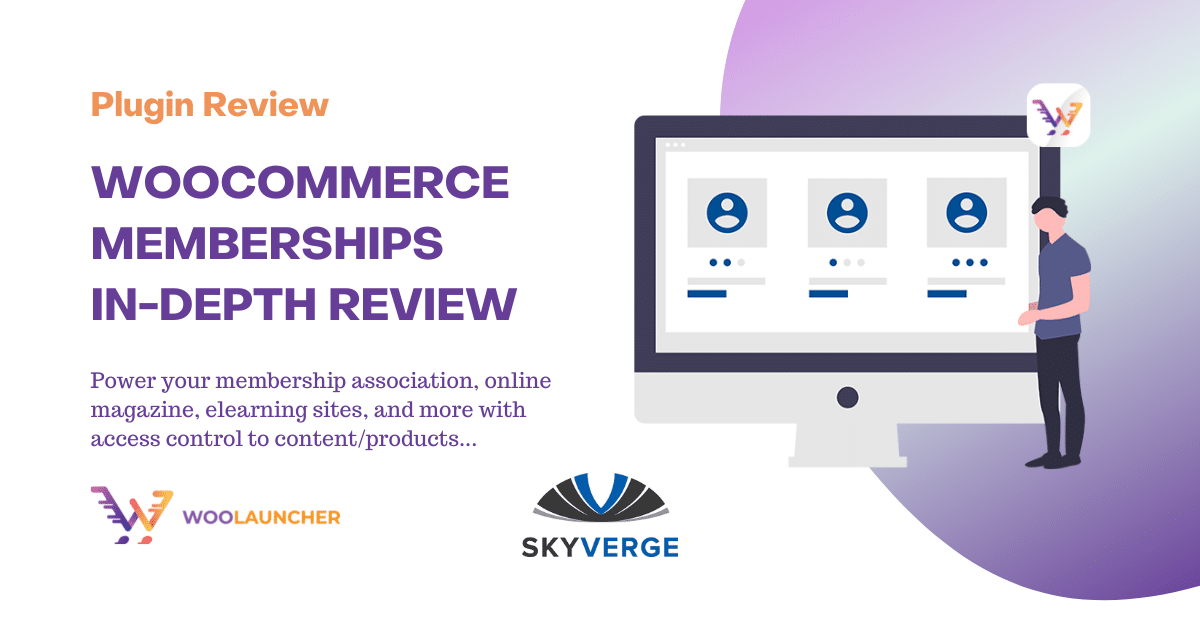 Membership websites can give you a constant source of income. With offered memberships, you can also develop and promote a powerful community with compelling sales!
If you are here, you are already a WooCommerce user looking for a smart solution to build an effective membership website. Meet WooCommerce Memberships!
WooCommerce Memberships, powered by SkyVerge, is a powerful membership plugin. It is 100% integrated with all your content and products. You can plainly trust this plugin to take care of your membership products! Let's take a look at what are the specialities of this plugin.
Hop on to your seat. We are going to start soon!
WooCommerce Memberships: Key Features
With WooCommerce Memberships, you can develop and power up an online membership community – such as online magazines, publishers, eLearning sites, blogging sites and more. Many professionals have used this plugin, and they all have the same things to say – it's an easy-to-use membership plugin that brings your content, product and memberships in one place.
" I get so happy when I go to buy a WooCommerce extension and then see you have made it – done deal. Great job on the extensions. "

Grant Ambrose, MyWeb Digital
You can also sell membership on products, restrict content and do more to enhance your store capability. In this part, we will discuss the features of WooCommerce Memberships in detail. Let's get started.
Note: To use WooCommerce Memberships, you must install WooCommerce in your platform. Also, for recurring payments on membership, use WooCommerce Subscriptions as well.
Loving what you read?

Join our newslettter today!
Memberships on Sale
Memberships are independent of products. You can assign zero to many products in membership plans and introduce different kinds of memberships. WooCommerce Memberships grants you maximum flexibility to avail of different membership programmes.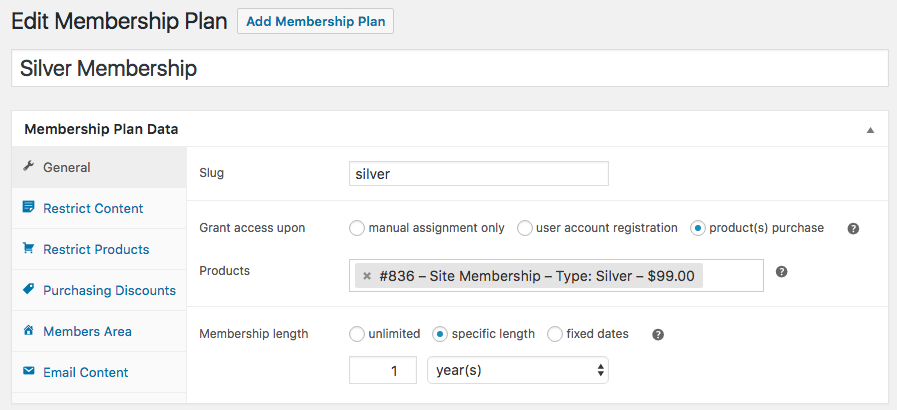 You can be innovative and plan different types of memberships, such as:
Selling membership for a single product.
Offering membership as a part of product purchase.
Creating a membership for multiple recurring products.
Assigning memberships for invite-only members.
It's a tool of opportunity and personalization.
Ultimate Control Over Content
WooCommerce Memberships allows you to manage your content with full freedom. You are the one to decide who accesses your content and for how long. We call it the "dripping rules," meaning you can schedule content and decide when members are allowed to access your content. There are different ways to do this.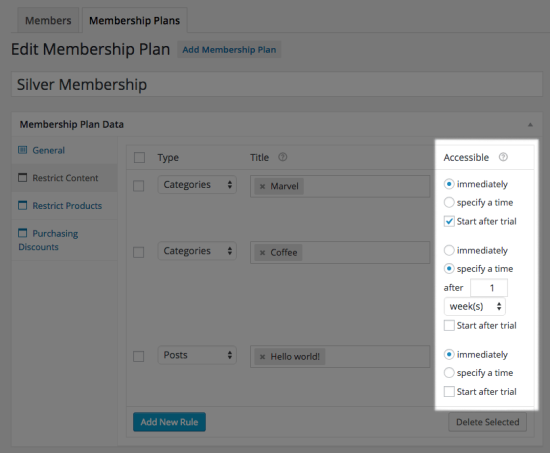 You can increase membership numbers using this rule. For example, you may set up a rule where members must invite five people before they can get your posts/ pages or content. You can even use WooCommerce Subscriptions and define content for a free trial period with dripping rules.
Offer Exclusive Products
WooCommerce Memberships allows you to create exclusive member-only products. You can create a premium purchase club site and offer exclusive member-only services. To develop a unique membership programmer, you can limit product view options to members and restrict purchases to ensure your product and services are available to club members only.
You can also apply dripping rules here to prevent members from accessing your content immediately.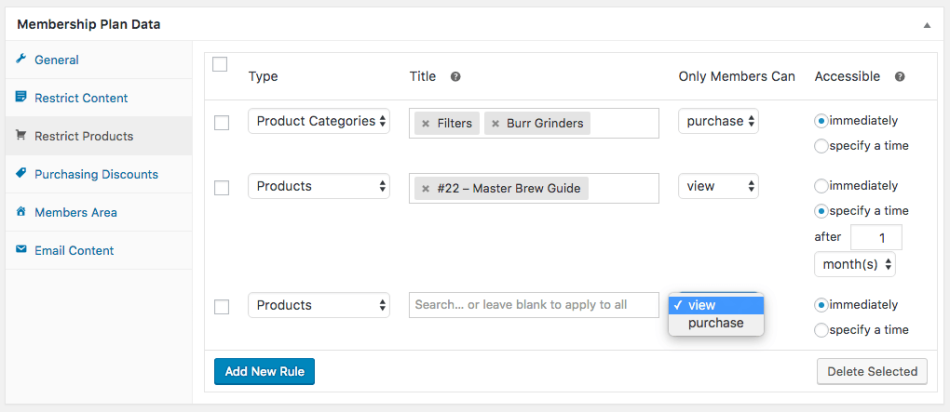 Different Shipping Options
Introduce a system that privileges your members. So, they will keep coming back for more. WooCommerce Memberships extend the shipping options. You can offer free shipping and custom shipping to members directly. Also, apply conditions for non-members. For example, set a rule for non-members to meet the minimum order amount to purchase products or avail of free shipping.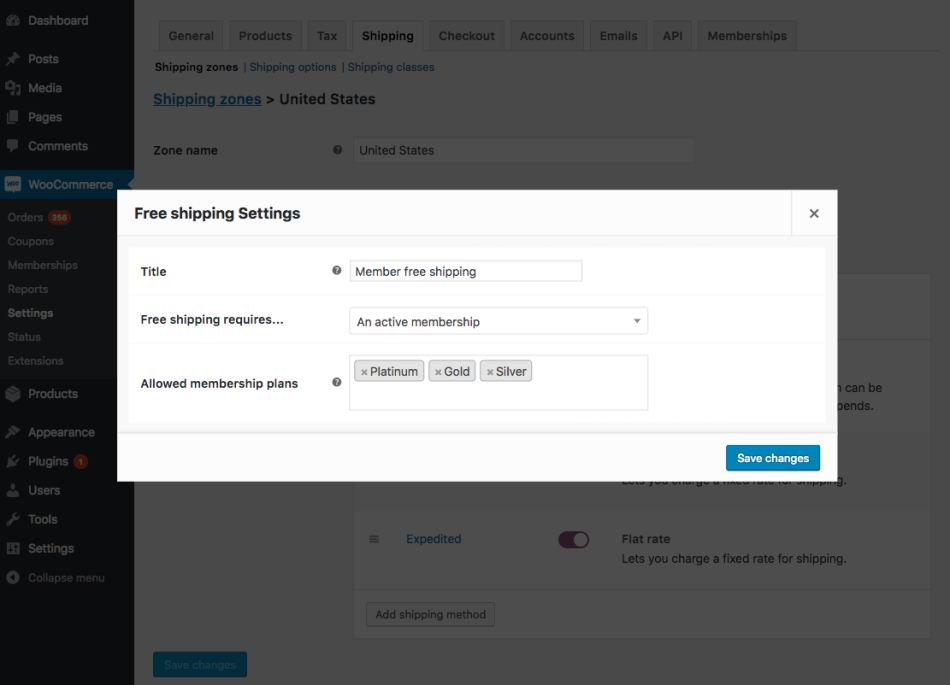 Set Special Discounts
Grow some excitement in the membership community. Offer them exclusive membership coupons and discounts, set product-based discounts for members or introduce category-based discounts.

This will always indulge an inviting environment in the community. And increase membership numbers based on positive referrals.
Easy on Members
WooCommerce Memberships makes the membership system easy for you. But what about members? Members can easily get all the information regarding their membership from one place.- the Member Area. From My Account> View, they can access the member area and learn about their membership.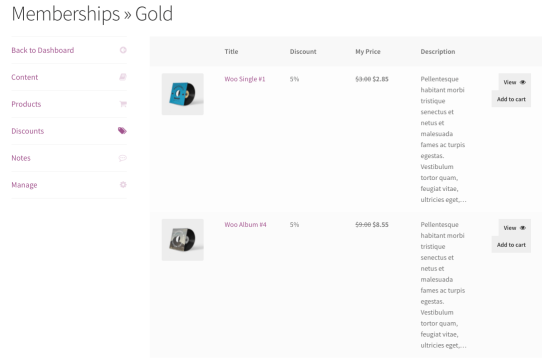 You can even offer a section where members can find a list of all accessible content – posts/ pages/ resources, products, discounts and everything about their membership notes. So, when a member accesses this content in the near future, they can see the content access date too!
Import/ Export Members
Exporting/ Importing members is extremely beneficial when you want to extend member lists or connect with other services. With WooCommerce Memberships, you can import the member list into different email tools via CSV. Also, export members' data to a CSV file and send them to other tools. You can also import members using this method to add new memberships, extend/ modify member data, and get a bulk update by merging existing files with another CSV list.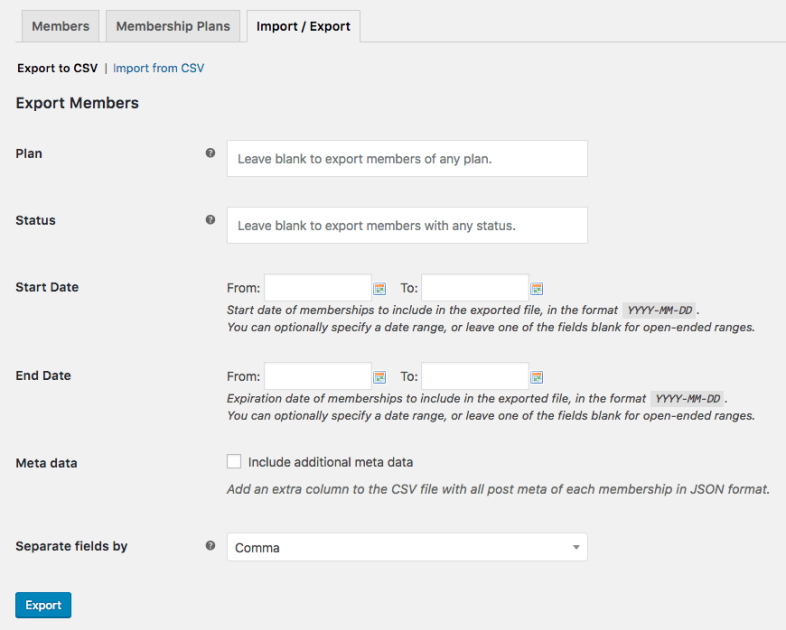 Simplified Communication
Managing membership websites can be tough sometimes! Customer servicing can be an additional pain if you lack a dedicated system. However, WooCommerce Memberships makes it easier. You have "Membership Notes" that can track members' information. You can even add notes as your reference and send them via email to reach any specific member.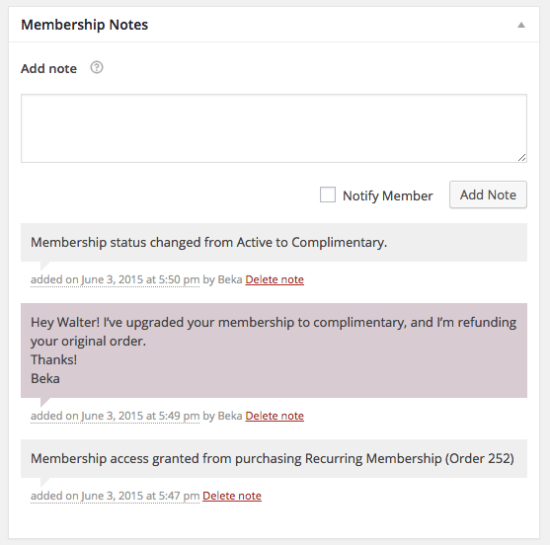 When it comes to emails, send your customers reminders and let them know about their membership expiration and renewal. Thus, keeping them updated with their membership account for an upgrade or renewal.
Subscription Based Membership
WooCommerce Subscriptions and WooCommerce Memberships are two different plugins. Membership works effectively on its own. However, you can use WooCommerce Subscriptions with Memberships to avail of subscription features. This can improve the membership billing process and integrate many useful features.
Recurring billing, payment as subscriptions, free trials, and paused memberships are some of the integrated features you will have with WooCommerce Subscriptions for memberships. Follow WooCommerce Memberships Subscriptions to learn more about this integration.
Sell Group Memberships
It's not just about creating memberships. You can sell memberships to teams, companies, and groups too! Teams for WooCommerce Memberships is an add-on to WooCommerce Memberships. With this add-on, you can sell a group of memberships/ individual memberships to others. However, it doesn't come with WooCommerce Memberships and must be purchased separately.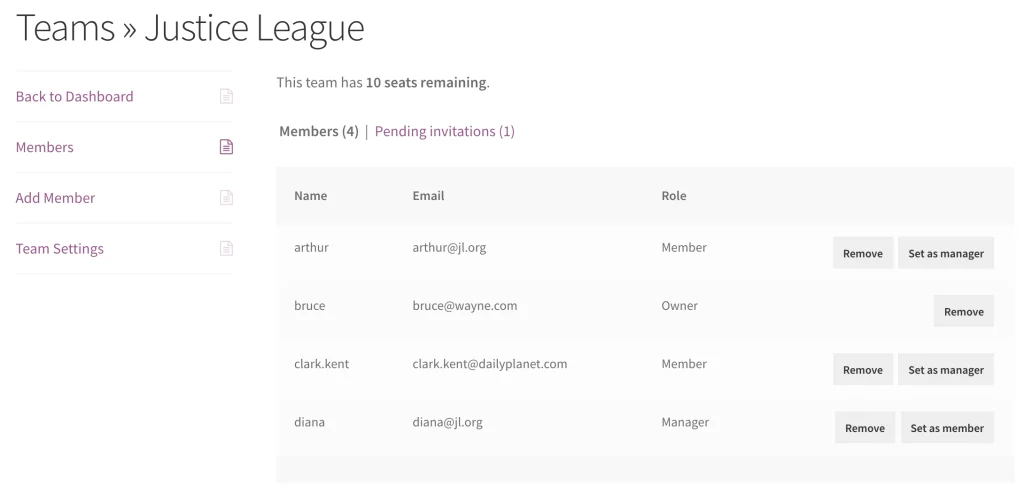 Here ends the list of WooCommerce Memberships. You will find this feature list almost anywhere on the internet. What matters most about WooCommerce Memberships is its flexibility and versatile functionalities.
With over 20K+ active installations, WooCommerce Memberships has earned credibility and customer satisfaction in a short time. It's a 4.4/5-rated membership plugin. You can check out the reviews yourself here.
WooCommerce Memberships: Pricing
WooCommerce Memberships is a remarkable plugin for creating stand-alone membership sites. However, to extend and integrate other features like recurring subscription payments, you must purchase additional plugins – WooCommerce Subscriptions.
WooCommerce Memberships and the plugin will cost you $199/year. No free version is available; it comes with only one purchase model. However, this is only for the membership features.
To enhance other features like billing by subscriptions or free trials via subscriptions, you will need WooCommerce Subscriptions with WooCommerce Memberships. Together it will be $398/year. With this combo, you don't have any bundle package available.
This goes for subscription-based plans. However, if you want to sell group memberships, there are Teams for WooCommerce Memberships. That goes for another $129. 
Here's all about the WooCommerce Memberships. This is an all-stand-out plugin for creating membership websites. However, to extend the features, you will need to spend some bucks on a few WooExtensions! We have listed them here, so you won't have to look in the dark.
Final Words
WooCommerce Memberships is an all-in-one solution for membership websites on WordPress. A large group of community satisfaction backs it up. With this, you can manage memberships and sell group memberships for additional income!
We believe we have covered everything about WooCommerce Memberships in this article. If you want to learn more about this amazing plugin, here is their official docs at your support.
To get more articles like this, subscribe to our daily newsletter at WooLauncher. 👏